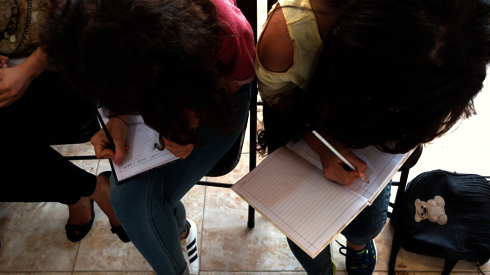 In August 2014, ISIS captured over 6,400 women and girls. They have slowly been released or have managed to escape from their captors. The ones returning now, 2017, have even more complications to their trauma as many must give up the children they got during the time with ISIS in order to be accepted back into their families.
IsraAID recently facilitated two psycho-social support programs that aimed to 1) build the capacity of those who work with the most vulnerable in the camps and 2) to teach young women survivors how to help themselves.
The first training was a young women's empowerment training for 16 girls who are survivors of the atrocities of ISIS. IsraAID's psychologist who took part in the training shared the following:
"Sixteen timid, shy girls walked into the upstairs craft room of IsraAID's partner organization in Kurdistan, Iraq. I really think they had no clue what they had gotten themselves into and were a bit worried. The group leader, a psychologist, soon had them relaxed by her warm personality and they were intrigued by what she had to offer. The girls' serious faces showed anxiety from the time spent enslaved, physically seeing death of close friends and relative, and just the stress of living in a camp in 40 degree C heat and hardly any relief from it all.
This was an opportunity for the girls to get away from the stress of the camp and just be girls. To learn about trauma, stress and coping skills. They found a safe place to talk and ask questions about their situations. One by one they introduce themselves and I remember one distinctly saying she had no family, and the girl next to her said "I'm her family now." Pain was written on their faces, too young to experience the depths of pain they had been through. One young, reclusive young girl said that she liked the sadness, that it felt good. She also liked to be alone, with no motivation to do anything. I talked with her sister who told me that they had people around their house killed in Mt. Sinjar and it deeply affected this sister.
The girls would be quiet as they wrote in their personal journals. They were quiet, contemplating, truly absorbed in the guided meditation process.
There were so many smiles as they went to a happy thought of childhood and to a safe place. It seemed as though the weight of the world was lifted from their shoulders and when they talked about it after the room was full of giggles and happiness. One girl taught the others a few dance moves and we ended up dancing all together. They even discussed games they played as little girls and the room was alight with happiness and fondness, so we played a few of the games.
I know that the girls learned how to talk with each other more openly and safely, how to journal their feelings and many made new friendships. They were encouraged to create safe groups in the camp where they can come together and talk openly and often with each other about their struggles. Through this session, they were given permission to be normal, happy and free even if for just 3 hours of the day."
IsraAID continues to support the internally displaced people in northern Iraq through facilitation of trauma counceling, distibution and through the STEM educational program. With your help we can reach even more poeple - thank you!