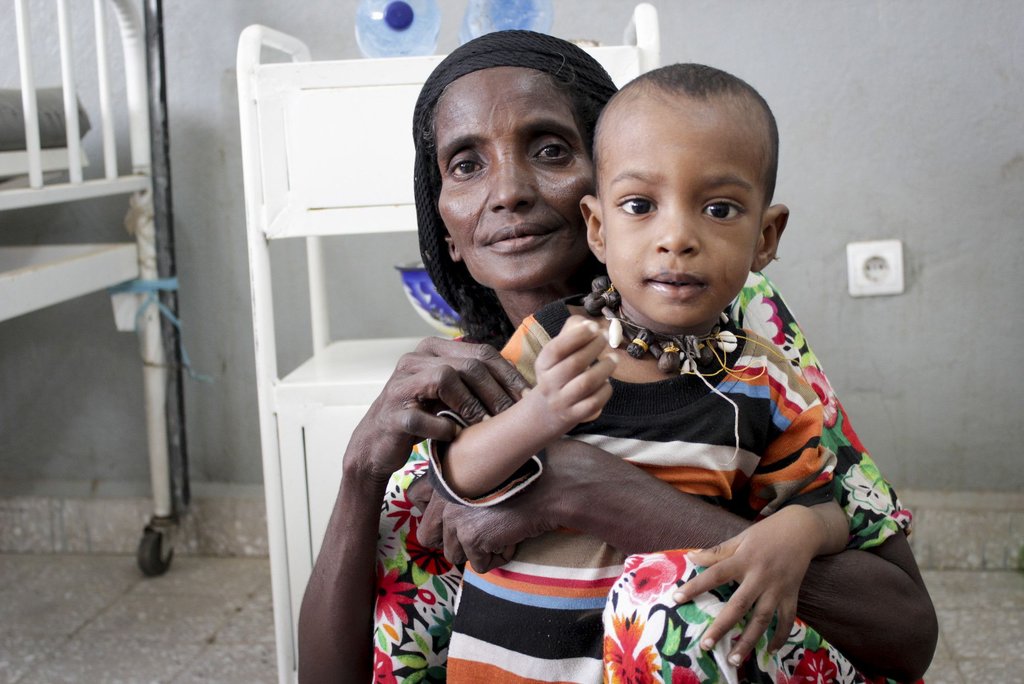 Hawi brought her nephew Ahmed to the Asayita hospital for treatment for severe acute malnutrition. They live in a small rural village in Afar region. Ahmed, two years and four months old, has been in the stabilization center for the past eight days. Ahmed's mother has just given birth to another child and his father has passed away so his aunt and his grandmother brought him to the hospital on a Save the Children project vehicle from where they live. He is now making progress and is ready for release.
Hawi's story in her own words
"My name is Hawi. I am Ahmed's aunt. Ahmed was severely suffering of an illness and was getting weak as days went by. We were referred to come to the Asayita hospital after being assessed at the OTP center in Mamule health post.
Ahmed is now two years and four months old. His mother is at home after having given birth to another child. As she couldn't accompany him, and is recovering from the delivery, we [myself and his grandmother] brought him here. We came for medication and treatment for Ahmed but also received money, (80 birr/day) which totals 640 birr (USD $36). This has helped us with expenses for ourselves while we stay in Asayita, away from our home.
Ahmed's father passed away in a car accident while his wife was still pregnant. Their first daughter also passed away very shortly after becoming sick one night. Ahmed didn't start eating when he reached the age that he was supposed to. He gets sick very often and does not have a good appetite. He doesn't eat normally. Now, his health condition has been improving as they are constantly giving him nutritious milk [F75] and medication.
We commonly eat mufe [made with corn flour that is baked under-ground like bread]. We used to have a farm before we moved to our village but we had to sell that and our animals to come here to start a better life. Now we buy corn from other farmers for our consumption. We get water from a nearby river. Luckily, it passes by close to our home. There are other people that come from very faraway places to get to this river.
I hope we won't get hungry. We [women] usually try and go back to corn-harvested farms and pick the remaining shoots of corn that can be collected and sold. This is an extra income for us to support our families.