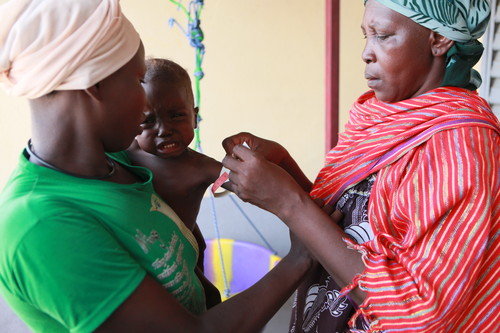 Malnutrition
The United Nations World Food Programme estimates that 925 million people worldwide suffer from chronic hunger and starvation each year. Some of the key causes of hunger are natural disasters, poverty, conflict and poor agricultural infrastructure.
Malnutrition occurs when a diet lacks essential nutritional elements such as proteins, fats, vitamins and minerals over a prolonged period of time. Being deficient in micronutrients makes people susceptible to diseases, impairs physical and mental development (particularly in children) and increases their risk of dying.
How Merlin is Helping
Merlin runs nutrition programs across East Africa in Ethiopia, Chad, Kenya, Somalia, and South Sudan. Our static and mobile clinics carry out screening for malnutrition in vulnerable populations – children under five, pregnant and breast feeding women, those suffering from disease. Those diagnosed are placed on feeding programs and given nutrient rich food such as Plumpy Net®, a high energy, high protein food, or milk formula (for infants) until they gain weight.
We collaborate with partners such as the World Food Programme to deliver food supplies to at-risk populations in some of the most remote locations to prevent food crises from emerging and engage in community education programs to promote healthy nutrition in infants and encourage mothers to breastfeed their children.
Feeding the World
The world now faces a challenge to address the food and nutrition security needs for the millions of people worldwide who suffer from long term hunger or those unable to get enough nutritious food for a healthy life. Equally important is the need to prevent the millions of deaths of children under five. Among the Millennium Development Goals set out for this century, halving the portion of people suffering from hunger tops the list.
This is why the challenge for Merlin to reduce the number of people who suffer from hunger, decrease malnutrition rates and save more lives in the countries we work has such great importance. That is why with your continued support we can remain in place like East Africa to fight and end hunger decisively.