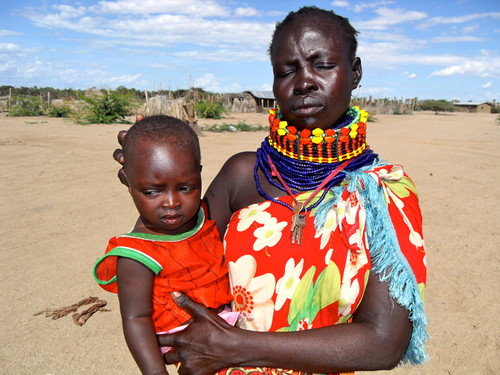 Merlin has been providing nutrition services in Kerio— one region of Turkana province—since 2006. When the food crisis set in last year, existing activities in Kerio's health facility were scaled up, and community health workers began conducting outreach visits to communities up to six miles away from the facility.
One baby identified as severely malnourished by the health workers was eight month old Napeyok. She was immediately referred to Merlin's outpatient therapeutic program at Kerio's health facility.
At the time she weighed about eight pounds and had a mid-upper- arm circumference of 4.29 inches (a measurement of 4.3 inches or below indicates that a child is suffering from severe acute malnutrition). She was also suffering from vomiting and diarrhea, as well as, testing positive for malaria.
Napeyok's mother - Veronica Ipoo— had been raising six children alone in a village near to Kerio. She had 30 goats—the family's source of food and livelihood. The severe drought led to the depletion of green pastures and the death of the goats. The family became malnourished, including Veronica herself, who became unable to provide breast milk to the youngest ones.
However, Napeyok's condition steadily improved after being given medication and supplies of PlumpyNut (a highly nutritious peanut butter paste packed with calories and vitamins, especially formulated to renourish starving children) by Merlin health workers, and attending consultations every week. By November she was still malnourished, but only moderately so, and was transferred to a supplementary feeding program. After a further two months of receiving a corn-soya blend (a fortified porridge), she was finally discharged in January.
Napeyok is now sixteen months old, and the family has moved in with relatives in Kerio who share their meals of beans and maize in return for firewood and water fetched by Veronica. It is a temporary solution, but ensures that the family does not go hungry, and allows Veronica to begin building up her livestock again. She says that, if it were not for Merlin, Napeyok - once so weak and prone to illnesses – would not have survived.