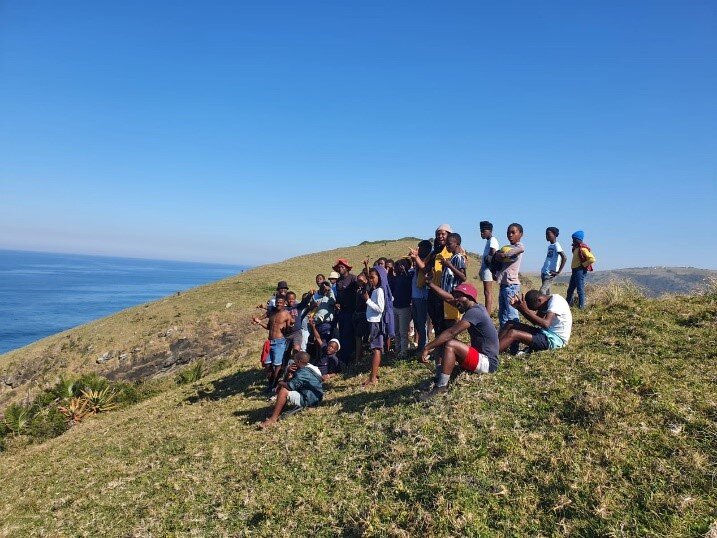 In our previous report we shared with you an update on our Thandukwazi Programme for children in Grade R – Grade 3. Today we share an update on some of our programmes for children in Grades 4 - 7.
Siyazazi (meaning "knowing ourselves") runs on weekends and in the school holidays. It is a full-day programme for children in Grades 4-7 and is held at Thanda's Community Centre, which has ample indoor and outdoor spaces to allow activities to be conducted in small groups. Children attend from 10 a.m. to 3 p.m. on Saturdays and Sundays and receive a nutritious lunch and afternoon snack at each session. For the first half of the day, facilitators lead activities around concepts from Thanda's Creative Learning Curriculum aimed at strengthening children's educational and social-emotional skills and in the afternoon, children participate in their chosen extracurricular activity (Book Club, Creative Arts Group, or Performing Arts Group).
Between January and December 2022, we facilitated an average of 9 Siyazazi sessions per month.
Our Siyazazi children are also of the age where they can enroll into our Girls Programme or our Boys Programme!
Many boys and girls in our community do not receive assistance or information related to puberty from home, and school simply offers a basic overview. Our Boys and Girls programmes are available to children to help provide them with guidance on matters that are still considered taboo in open conversation within the community. In a safe and confidential environment with positive role models, the participants of the Boys Programme and the Girls Programme are able to navigate their way through a challenging time in their development, with a focus on 'real' self-esteem and mutual respect.
These programmes also take place on weekends and are held at least once a month. In 2022 we held 12 Girls Programme sessions and 15 Boys Programme sessions.
Boys Programme Co-ordinator, Thabiso, tells us that all of the topics, from homosexuality to culture to bullying to gender and many more, have been embraced by the boys and that their captive engagement with the topics has been admirable.
Both the Boys and the Girls Programmes aim to provide children with a sense of belonging within a supportive peer group and encourages children to develop interpersonal skills for relating to each other. This is done through various activities such as sleepovers at Thanda, braais (barbeques), outings and visits with important members of the community etc. but the cultivating of a strong group dynamic, where the children trust and feel at ease with each other (and so feel able to completely open up) is often seen most notably during the weekend long excursions that take place during the course of the year.
We chatted to Thabiso about the Boys Programme trip to Hluleka that took place in the second half of 2022. For this weekend away, the boys travelled together with their facilitators to the Eastern Cape (EC). For some children, this was their first time leaving our region, for most it was their first time travelling outside of Kwa-Zulu Natal province. Showing them the world outside the confines of what they were used to was wonderful and very eye-opening for them. At Hluleka they spent time enjoying the calm beaches together and at night they sat around the bonfire. Thabiso shares "It was fun and the boys learned a lot. There were showers there, made of buckets and taps where you can pour both cold and hot water into the bucket and pull the handle the water falls on you –the boys loved that. They kept on saying "I am going to do this at home." Even the food and the way that they eat was different to what the boys were used to. For example, they do not cook curry in the EC, and the boys asked "why does this food not have curry?" In EC, if they are cooking beef, you will have your beef and your gravy separate it's not mixed into a "beef curry" like the boys are used to. We explained to the boys that, in fact, curry is something from another culture, the Indian culture and that some of our grandmothers or great grandmothers worked for Indian people and then adopted the style of cooking. But in the Eastern Cape, the Indian community is much smaller than in KZN so they had not adopted such a way of preparing meals."
The children also learned a lot about Xhosa culture, as Xhosa is the predominant tribe in the Eastern Cape. The children learned about similarities and difference between the Xhosa culture and their own Zulu culture.
They all slept in a hut together and Thabiso says that the extent to which the bond between the boys grew during this time actually surprised him. "There has always been a thing between people from Mlamula and Foksini (two neighbourhoods within our community). If you're from Mlamula you do not get along with someone from Foksini and vice versa. It is an old rivalry story and some of the children still carry that. Putting them in one space (the hut), and giving them opportunity to share and participate together, really made their relationship so much better. By day three, they didn't want to come back home because they had adjusted to each other and the house rules! Since our arrival back I can see the bond has remained strong between them. A bond with each other and also with us, facilitators, since we acted as their parents while we were away."
Siyazazi (Knowing Ourselves) and the Boys and Girls Programmes are integral to our holistic programming at Thanda. These programmes focus on mastery of skills and mastery of self after the discovery stage that we emphasise with the younger children in our Thandukwazi (Be Curious) Programme.
Thank you for your generosity, which contributes to keeping these programmes in operation. Your kindness is ensuring that children in the severely under-served community of Mtwalume, are being empowered to break the cycle of poverty and to thrive as they grow into compassionate, thoughtful, critical-thinking members of society.