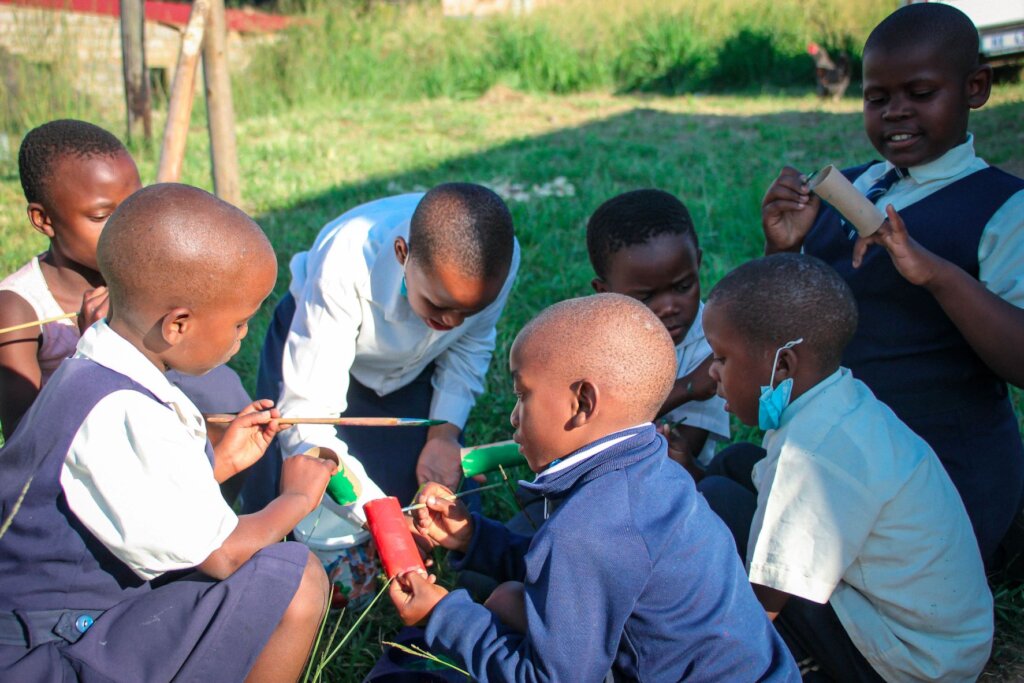 In our last update we shared with you about our wonderful Fun Foundations Programme and the new group that had recently been added to the fold.
In today's update we'd like to share a little about our Thandukwazi Programme and how it helps young children in our community, including one of the wonderful curriculum themes the children have recently explored.
TALKING THANDUKWAZI
Thandukwazi (meaning "be curious") caters to children from Grade R to Grade 3. It is an after-school programme held in 32 different neighbourhoods, usually outdoors in a back yard type setting with the use of a household volunteered by the community for use during inclement weather. Programmes are held twice per week for 2 hours or once per week for 4 hours. Children attend on either Tuesdays & Wednesdays from 2-4 p.m., Thursdays & Fridays from 2-4 p.m. or on Saturdays from 9 a.m.-1 p.m. During school holidays, the sessions are much longer. Our locally hired After-school Facilitators, most of whom are youth who grew up in the community, lead these programmes with the assistance of one local volunteer, selected by the community, who receives a stipend. Your funding has contributed to the running of an average of 7 Thandukwazi sessions per month since the beginning of 2022, with an average of 84% attendance across all Thandukwazi groups.
CURRICULUM
Our curriculum, along with practical skills like numeracy and literacy, teaches children essential socio-emotional skills too. Creativity, critical thinking, empathy, perspective and self-esteem are all important elements of a well-rounded human being and are essential for children to learn in order to become resilient, thriving adults.
One of the most memorable themes explored during the second half of 2022 has been 'Heroes'.
As part of this theme, children delved into the concept of 'the hero's journey' which is a concept Joseph Campbell (1990) talks about, that emphasises the positive story arc experienced by many heroes in novels – after trials and challenges, the hero emerges stronger and more resilient. The children use this concept to create their own 'Hero Books' which sees them create a narrative expression of their own lives through various facilitated exercises. The children (many of whom have already experienced great trauma) are thus led through a healing process, which then helps them recognize that the challenges and trauma many of them have experienced in their lives have actually made them stronger.
As with all our themes, each session for Hero Books had a lesson plan with detailed activities and focus areas and through these sessions. The books created during these sessions now serve as a tangible reminder of the lessons learned throughout the theme.
Some of the ideas, concepts and activities that were explored and unpacked through this theme (and which, ultimately, made up the pages of their own Hero Books) were:
The qualities of a hero
Practical examples of a time when each child had experienced a challenge or struggle and then overcome this challenge
Words that they use to describe themselves in their different roles (as friend, son or daugther, sibling, cousin, neighbour etc) and how they imagine the other parties in these relationships might describe them too
Colours and their ability to express emotion. The children were also tasked with creating a unique colour to represent a complex emotion they felt
They were asked to consider what sadness and fear look like and to draw a picture of themselves feeling sadness or fear
Finally the children drew a 'river of life' which is an exercise that encouraged them to think deeply about themselves and all the people and experiences that have contributed to making them the person they are today, showing them that even difficult situations can be overcome.
Helping children to gain perspective around their emotions is empowering and encourages both empathy and resilience in them. These are critical for success as an adult and at Thanda, we are constantly building on these concepts to ensure that, as children grow, they feel empowered to create the positive change they wish to see in their lives.
IMPACT – BUILDING CONFIDENCE
Mimi tells us about how participating in Thandukwazi sessions shows in the children's behaviors "Last year there was a child who was shy. She would participate but not as much as the other children. She was very timid. But now, wow, you would swear that it is a different child. They are so bold and their participation is now very good! There was another child who was also very shy and would even cry when you spoke to them. Now they happily participate."
Mimi explains that there are materials and training which Thanda provides in order to assist facilitators in helping shy children. "With the shy children, we would use all the material we get from Thanda. I think also just making the children feel seen and validated, boosts their confidence to participate in the group. It makes them feel like what they saying is not wrong. A great tool for this is the Class Agreement. At the beginning of the year, the children all made an agreement that no answer is incorrect and that they would not laugh or make fun of anyone for the answers they give since participating is important and everyone's input is valuable. We spoke about mutual respect and treating others how you would like to be treated. When children feel respected they feel confident enough to participate. Books, such as Desmond and the Very Mean word help to get this message across too. I constantly refer to that book because it has such a great foundational lesson in respecting others."
IMPACT – WORKING THROUGH OUR EMOTIONS
Another example of helping children feel seen and validated is with the expressing of their emotions, which, Mimi says, many of them find difficult. "The Colour Monster by Anna Llenas teaches about emotions. It helps us to explain that everyone has feelings and that it is okay. It gives permission to children to cry or be upset if they need to. For example, last week a child was hit by their parent (in an act of corporeal punishment) in the morning. They kept their feelings about this inside all day but when the child came to the group in the afternoon, they broke down. It was also timed with the fact that we were talking about emotions and feelings. So we allowed a space and time for the child to express themselves. The child eventually expressed what was upsetting them and we made the child aware that it's okay to be upset and that sometimes it can be helpful and healing to share in a safe space. We also have something called 'the love clap.' We use this is if a child is not feeling okay. We all give the child a 'love clap' to help them feel the love from those around them." This child, who had felt uncomfortable to share his emotional state with anyone all day was finally able to open up during to his peers during his Thandukwazi session that day. This indicates that the child understands that Thanda is a safe space where he is accepted and able to feel his emotions openly while he is supported through them with love from the micro-community of his group."
THANK YOU
We hope that you have enjoyed reading about our Thandukwazi Programme and how it is helping children in 2022 to grow into resilient, capable and empathetic adults.
Thank you for helping us to ensure that this programme, in conjunction with all of our other Thanda programmes, continues to empower people to create positive change in their own lives.