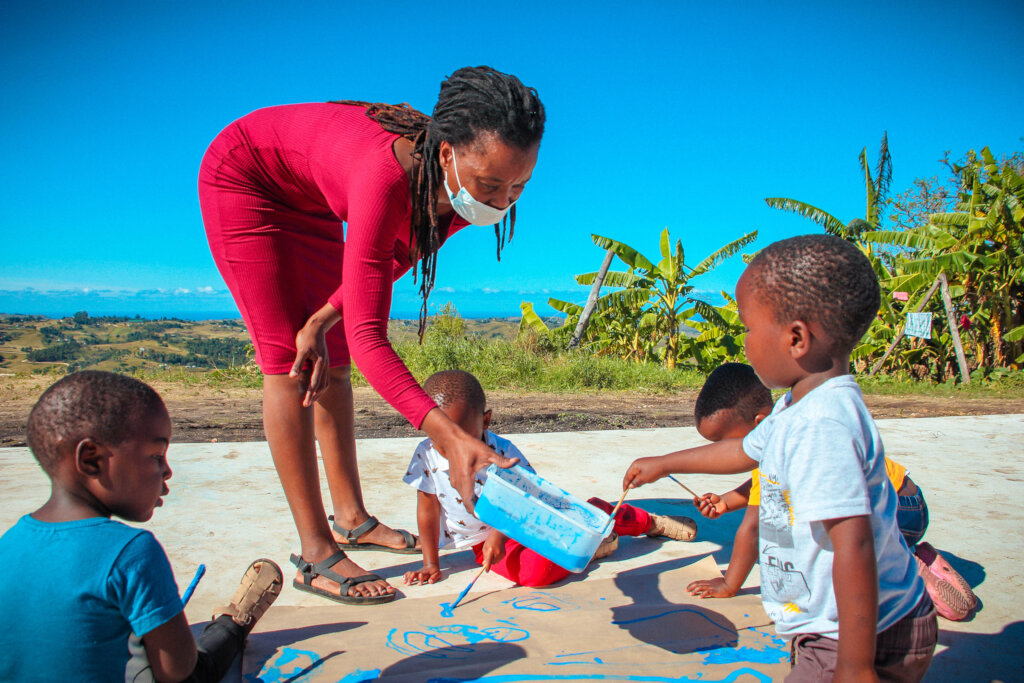 Our Fun Foundations Programme forms part of our Early Learning Initiative and it was started in order to provide a safe space for children who live in very remote parts of the wards we serve, while guardians work on their farms. The groups now follow a combination of our Thanda ECD curriculum and the Singakwenza curriculum and the children are thriving! We currently have groups on 6 farms (with a seventh, Nanini, currently in the process of transitioning to a fully fledged satellite ECD) with a total of 132 children enrolled.
In today's report feedback we highlight our newest Fun Foundations group for a closer look….
ETSHENI
Situated a twenty-minute drive from Thanda's Community Centre, this area has not had access to an Early Learning facility or crèche for over 10 years. We sent team member Bongeka to chat to the women who are cooking for, facilitating, assisting and offering up their home to house the Etsheni Fun Foundations.
This is what she had to say about her visit to the new Fun Foundations playgroup!
We drove to Etsheni with Dudu, the Fun Foundations Programme Manager and she eagerly told us all about the group. She explained 'We were made aware of the need for this playgroup through members of the community. They told us that there is no ECD facility nearby. I think the closest ECD is in eMpucuka if I am not mistaken and this is more than 20kms away. We started 3 May, there were 3 children when we started in the first week. In the second week there were 8. Today we have 11 children, the number slowly growing'. *(As at the end of May 2022 we now have 18 children enrolled with 14 attending regularly).
When we arrived, the small group was outside washing their hands with the assistant volunteer, Zodwa. Reading their body language, it was clear that some of the children were still a little wary. One boy in particular, who we later found out was a new enrolee, was standing at a distance from the rest of the children but, within moments, the volunteer had gathered him in and was asking the children to be his friend.
Zodwa told us "At first it was tricky because the children were still adjusting to the new environment because they were not used being away from their parents. We are also doing our best to make them comfortable and get used to the environment. I can see they are adjusting because they now tell their parents that they want to get ready to come to the playgroup.
We really needed the playgroup in this area… There are children that were sitting at home and not going to crèche because the parents could not afford to take their children to available schools that are so far away because of transport costs."
Taking in the surroundings, we saw two rondavels. The one is the classroom and the other is for cooking as the children receive two meals each day, maize porridge for breakfast and a warm hearty lunch of rice with a protein and vegetables.
The group's cook, Thembisile, shared "I work in the kitchen. I cook and I am gradually adjusting to my role. I love cooking. Yes.. I am a master chef, you can ask anyone, they know, Thembi can cook. I wanted to join the Thanda team because firstly I love children and secondly I have seen so many good things Thanda has done in the community and I wanted to be a part of that."
The community really were the driving force behind making this playgroup a reality as Thembisile's mother, Margaret, was the person who pushed for it to open, offering up her own home to act as the location for the sessions.
Margaret told us "I did not mind opening up my home to Thanda. It was needed because the women in the community had no place to leave their children. Since 2020, I have been speaking to the people at Thanda to help us open this playgroup. They heard us, now we are here."
On the property itself, there is a concrete slab up front, where the children do their outdoor activities such as paint, play, skip and more! When you stand on the slab the rural beauty of the area comes into focus. There are a lot of trees and the houses are faaaaar apart with lots of land in between.
The people we ran into while we were there all had a lively, jovial energy, especially the guardians. One particular gogo, Nokhuthula, arrived to pick up her grandchildren huffing and puffing from the distance she had walked. But when she sat down, she wanted to know all about what the little ones had been up to that day. The gratitude for this programme and the sincere investment by the guardians in their children's learning really was clearly evident.
Nokhuthula shared "I am Siyanda's guardian. He is 4 years old. This is the first time he will be in an environment where he has to learn and interact with other children. I knew it would be good for him be in the group. I have never heard of anything bad about Thanda, in fact I have seen other playgroups that Thanda is involved in and how sharp the children are.… I wanted my son to have a better opportunity than I. I also don't want him to get left behind, going to grade 1 without knowing how to hold a pen or even attempt to write his name. Now that he is here I hope he will learn."
We left the playgroup infected with the positive energy of everyone we met there. The team of women running this Fun Foundations group are truly lovely. They made us feel so welcome and their eagerness and passion was remarkable.
We hope you enjoyed taking a closer look into our newest Fun Foundations playgroup with Bongeka!
We would like to take this opportunity to say THANK YOU for being a part of the Thanda family. It is your generous contribution that makes our work possible. Because of you, and funders like you, 132 children in rural KwaZulu Natal have access to a high quality early learning curriculum through our Fun Foundations Programme (with a current total of 248 children across our Early Learning Initiative). Because of you, and funders like you, 18 children and counting in Etsheni now have a place to learn, play and grow into their fullest potential.
** The photographs accompanying this report were all taken at Etsheni Fun Foundations Playgroup on the day of Bongeka's visit **