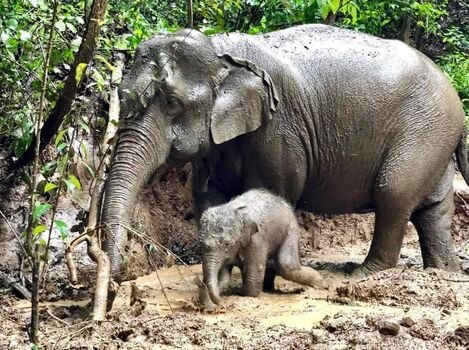 We thank you for your ongoing support of our project.
Let's begin with a celabration. Lah Lah recently celebrated her third birthday! Time goes by quickly and it has been a joy to see Lah Lah learning and developing in her first three years.
This project focuses on education and creating economic opportunities for the community as well as caring for the welfare for elephants.
Education includes English lessons. Being able to speak English is a valuable asset in a country where tourism is so important to the economy. After a couple of years of very little tourism, connecting with the tourism market is more important than ever.
English skills also open opportunities to employment and further education. Your support helps with practical resources for English lessons.
Another focus of the project is supporting community incomes . Community members have a range of. skills and developing these into income stream is sustainable in the longer term. One example is weaving as shown in the image. If you consider this skill, there is potential for selling woven items as well as teaching weaving to visitors to the community.
Our project includes workshops where we can support community members to learn about small business and income generating activities.
Our elephant research continues and our project continues to collect data on elephant behaviour, specifically their interactions with each other and their iteractions with the mahouts. We also monitor how they spend their time.
This allows us to quantitatively monitor the effectiveness and outcomes of our project for the elephants and hopefully show that elephants can be successfully reintegrated into their wild environment. It helps show the health benefits the elephants have being in the forest.
Every two months the mahouts gather for a meeting to make sure they're getting the most out of taking our goals to see their elephants. It's always a great chance for our project staff to get to know them in a more informal setting and teach them about the data we collect on their elephants.
Your support allows us to supply the resources for collecting this valuable data.
We really appreciate your support with this project and as Lah Lah continues on to her fourth Birthday we hope that our project can grow and expand with your wonderful support.