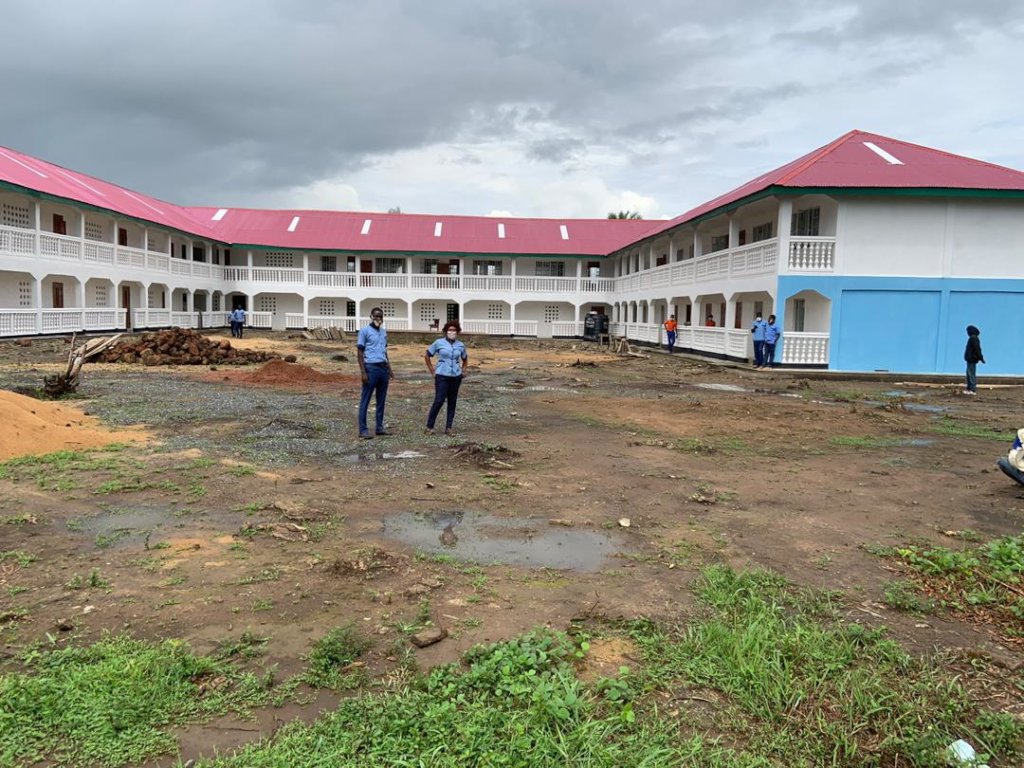 Through the efforts of our board of directors, the generous support of our donors and the participation of the members of the Rokassa community, we are delighted to announce that the construction of the EduNations Hope Academy Senior Secondary School in Rokassa has been completed!
Back in 2014, Pa Alhaji Kamara, the principal landowner and most senior stakeholder in Rokassa village told us: "We have a huge piece of land, but our subsistence farming cannot bring us lasting development. Please build us a school." At that time, the village of about 280 with about 200 school-aged children never had a school, nor had the six surrounding villages of over 1,000 population. The very few people that went to school from Rokassa, who Pa Kamara could count on his hands, had to commute eight miles a day to find the nearest school or live away from their families to attend schools in other towns. With so few people getting an education and no hope for a different future, life in Rokassa brought a high infant mortality rate, undiagnosed illnesses, and practices such as early arranged marriages, child labor, and female genital mutilation. Without schools to provide a catalyst for change, the outlook for the future was bleak.
But with Pa Kamara's invitation, EduNations recognized an opportunity to help transform of the community. The EduNations board voted to build a nursery school and a primary school to prepare students for the National Primary School Examinations. When the first students began to graduate and pass these exams, Junior Secondary Schools were started for these students to continue their schooling. Since Sierra Leone operates a 6-3-3-4 system of education (6 years of Primary school, 3 years of Junior Secondary School, 3 years of Senior Secondary School and 4 years of university education), these students had 3 years to prepare for another national exam called the Basic Certificate of Education Examination (BECE). Planning on their success, EduNations started evaluating options to build a Senior Secondary School.
Given there are other EduNations Hope Academies in Fintonia, Mapainda, Mayatta, Makump, and Gbenekoro and Rokassa was the most central location for all, it was decided to build the Senior Secondary School in Rokassa as a boarding home school for boys and girls which will cater (at least for its first three years of operations) for only students from the EduNations Hope Academies. Our objective was to continue to provide a completely free education in a safe learning environment to these students (some of whom have been with us for over 8 years).
As the students begin taking their BECE exams, we can now turn to the second phase of the project which is to complete the construction of the dormitories and furnish both the classrooms and the dormitories. This is a huge undertaking with a fairly short timeline as everything is to be in place by January 2021 but we have faith that all our needs will be provided. There are many needs still to be filled: shelves, books, desks and chairs for the library; science equipment for the laboratory; computers, desks and chairs for the computer lab; bedding for dormitories; equipment and supplies for the kitchen and dining hall.
Today we chose to rejoice in the blessing of a completely built Senior Secondary school in the village of Rokassa. And the best part of all this is that Pa Kamara has lived to see his dream fulfilled and a different future forming for Rokassa thanks to your support.
Links: