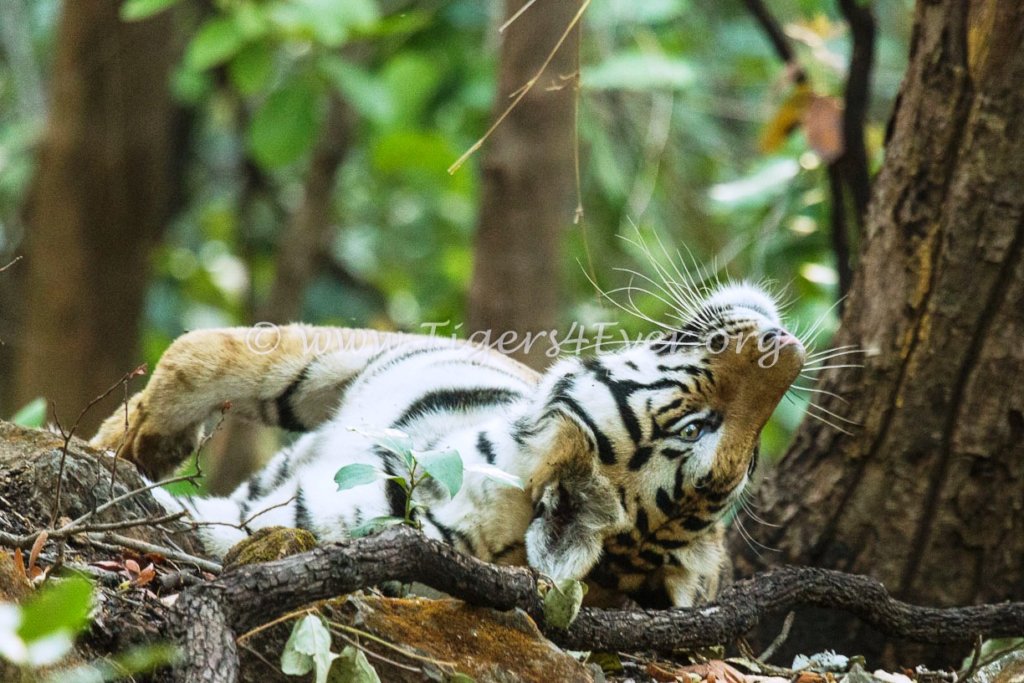 In February, we feared that we wouldn't raise sufficient funds to provide any more than 35 education packs for the poorest children living with wild tigers. Well, it has been a real challenge but thanks to your kind donations we will be able to provide more than double that number, which means that at least 100 of the poorest children living with wild tigers will have the chance to go to school when the new school year starts at the beginning of July. Thank you for helping us to do this, your invaluable support means the world to us.
We have ordered the ecology books for the education packs for the older children today; this will give them the opportunity to see the value of the forest and its wild inhabitants, whilst appreciating the fact that every single action in the forest by them and their families has a consequence. We hope that receiving these education packs and ecology books helps the children to become future protectors of the forest and the wild tigers which inhabit it, rather than destroyers of the forest landscape to make space for agriculture and industry.
Sadly, we haven't raised enough yet to be able to provide education packs for our collaboration with GTCS who run the "pop-up" schools in the poorest rural communities without access to a school for the hundreds of children growing up there. These education packs are a vital component of this project because the basic writing materials are used over and over by many children attending the "pop-up schools" so that the largest number of children possible can benefit. If we can donate just 50 education packs for our collaboration with GTCS then as many as 250 children could benefit from learning about nature and ecology plus gain basic reading and writing skills at these "pop-up" schools. If we could raise another £160 (US$215) by 17 May 2019 we would be able to help these children to give learning opportunities where they don't exist for another year. So could we ask you to forego a coffee or a cake from your favourite coffee store this week and donate what you would have spent here instead: https://goto.gg/32565? We know that knowing that you have made a real difference will make you feel great too.
If you are planning to get fit for that summer vacation on the beach by doing a fun run, cycle event or something wacky, why not chose to do it as a sponsored event? You could have fun, achieve your goals and help us to achieve ours too by ensuring that we can educate the next generation of wild tiger protectors. It only takes a minute to become a Tigers4Ever fundraiser and you even get your own personal page link to share with your friends and colleagues on social media, etc. Act now before it is too late for wild tigers by setting up your fundraiser page here: https://www.globalgiving.org/dy/v2/fundraisers/start/?fundraiser.projids=32565.
We are now selecting one of the small villages around Bandhavgarh which has suffered due to human-animal conflict recently; where we will distribute education packs to at least 100 of the poorest children. It will be a difficult decision because many villages lose crops (and their livelihoods) to persistent crop raids by the herbivores and monkeys, in addition to loos of livestock due to predator (tigers, leopards, wild dogs, etc.) attacks. We will need to use a weighted scale to assess which village has suffered the greatest impact as we are unable to help more than one village this time. Past experience shows that the villages most affected by persistent human-animal conflict are those most likely to leave out baited (poisoned) meat for predators or set a series of wire traps to halt invading animals in their tracks. By helping these villages we hope to mitigate the potential for such retaliatory attacks. We will use the information which we receive form our Anti-Poaching Patrols in this respect as they monitor these potential high risk situations for wild tigers. We know that by providing assistance in affected villages helps the inhabitants to love tigers and other wildlife again, which also reduces the risk of retaliatory action. This year, we will also need to choose our village carefully as distributing education packs to only some children rather than all in a village may have the undesired consequence of inflaming the human-animal conflict situation with the aggrieved parents who can see no benefits of wild tigers as their children have missed out.
As we have mentioned previously, the impact of this project goes well beyond enabling a number of children to attend school, who may not otherwise have chance. It has an impact on the wider tiger community around Bandhavgarh too, as we source all the contents for inclusion in the Tigers4Ever education packs from local suppliers, and create employment for those who wrap the education packs and deliver them to our Indian representatives for distribution.
Unseasonable weather conditions have continued to make life difficult for everyone living in and around Bandhavgarh, including the tigers and other wildlife, in the last three months. This has led to food scarcity for both humans and wildlife, which has in turn, increased the likelihood of human-animal conflict as both are competing for the same scarce resources. Low crop yields have left uneducated villagers with little money for food and few employment prospects, so they have turned to picking tendu leaves (for Indian tobacco) and mahua flowers (for the manufacture of local alcohol), and harvesting honeycombs from within the tiger forest. The income from such high risk activities is a mere pittance whilst the risk of a tiger or other predator encounter is very high. Villagers earn just Rs.125 (around £1.50/$1.75) for the collection of each 5000 tendu leaves. As previously reported, this puts extreme financial pressures on the poor rural people, so when faced with the prospect of buying basic materials for their children to go to school or feeding the family, the latter always wins, of course.
We still hope to provide education packs for 220 children in the villages around Bandhavgarh in time for the start of the new school year in July 2019, but we can only do this if we can raise sufficient funds, a further £986 (US$1321) is still needed for this. Just £10/$13 will help us to provide education packs for 3 of the youngest group of children living with wild tigers. If you would like to make a new one-off donation please visit https://goto.gg/32565 where you can seemany examples of how your donation will help. If you are thinking of helping on a regular basis, matched funds are available from GlobalGiving partners for your donation if you donate for at least 4 months, e.g. a donation of £10 (US$13) per month would be worth £50 (US$65) to Tigers4Ever at month 4, including the bonus matched funds. If you are a taxpayer, living in the UK, you can make an even greater impact by adding Gift Aid to your donation (at no extra cost to you), which would mean with matched funds your £10 monthly donation could be worth £60 to Tigers4Ever after just 4 months (including bonus matched funds and Gift Aid); which would enable your donation to have 50% greater impact for wild tigers!Education is a vital component of saving wild tigers because humans have the greatest influence on the future survival of tigers in the wild. We know that educated families have fewer children.
I would like to thank you for your generosity and support on behalf of the wild tigers, which we are keeping safe; on behalf of the children who we have helped to get an education (and their families who have food on their tables); and on behalf of the wider tiger community in Bandhavgarh, which benefits from providing books and writing equipment for the education packs we distribute.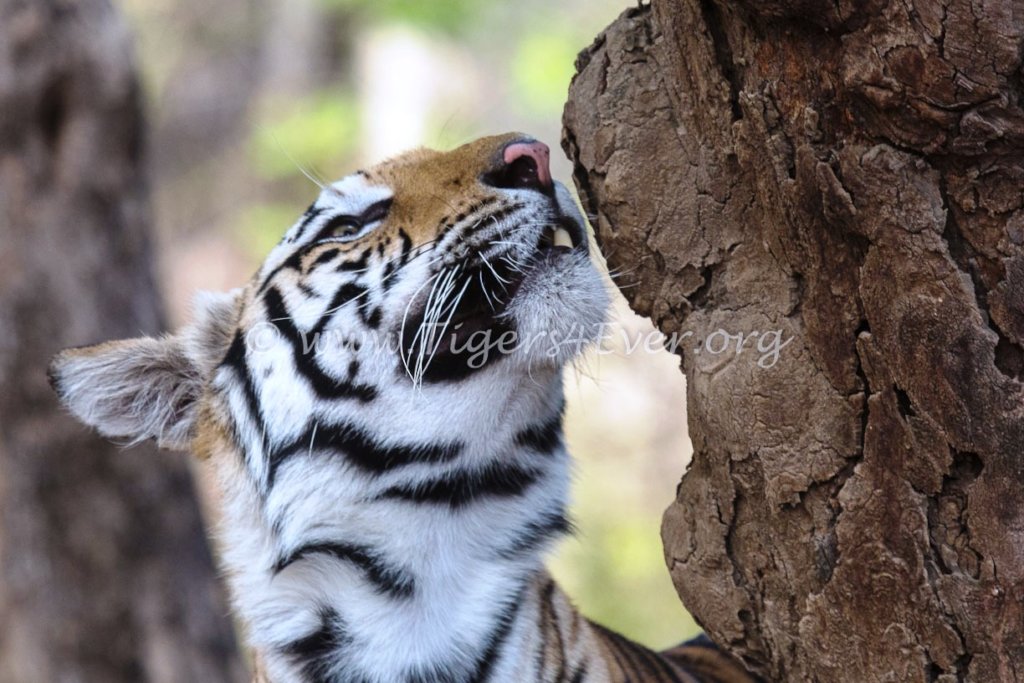 Links: