Project Report

| Sep 14, 2018
Helping Children in Villages without Schools
By Dr. Corinne Taylor-Smith | Project Leader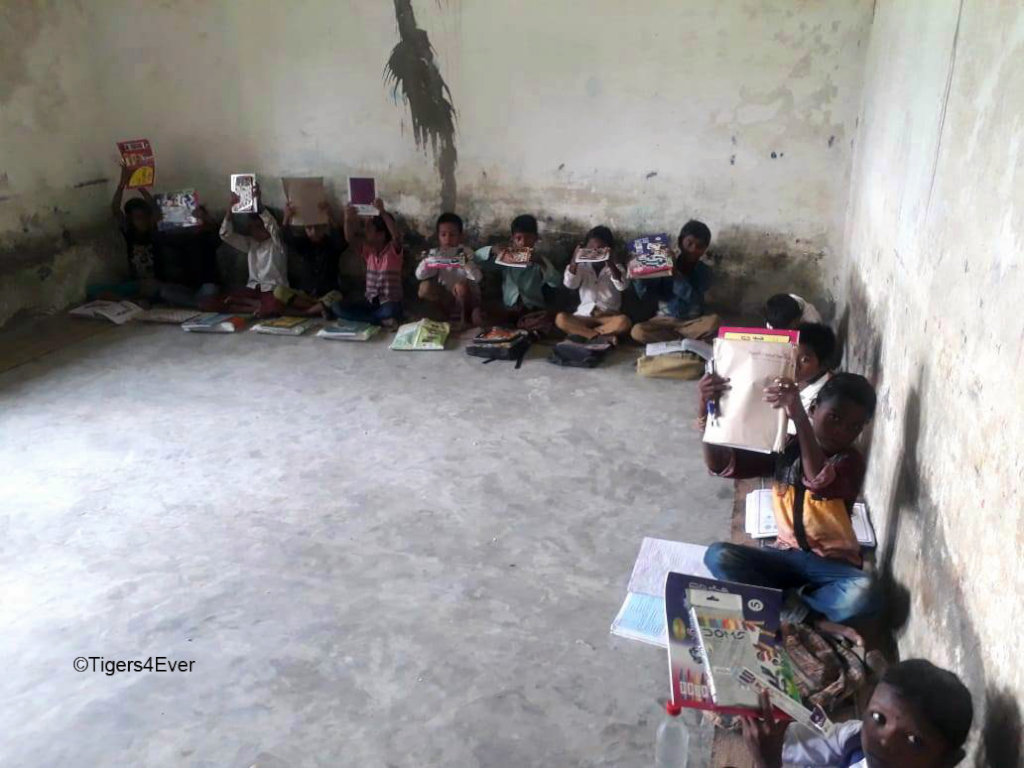 In our last report, we told you about the impact we had in the villages of Ranchha and Dobha, where the young children living with wild tigers were afforded the opportunity to go to school thanks to the education packs donated by Tigers4Ever. We also mentioned how, thanks to our collaboration with GTCS (Global Tiger Conservation Society), a local charity based in Bandhavgarh, we are able to reach out and assist children living with wild tigers who do not have access to a school in their villages. These children are faced with either walking to another village (often 10 km or more away from their home) to go to school or not going to school at all. The walk isn't an easy one because it is through the forests where wild tigers, leopards and other wildlife roam, so in many cases these children don't go to school, instead they work in the fields tending the crops grown by their families or looking after the livestock which provide income from milk sales when the crops are exhausted or fail. Worse still, some of these small children are sent into the forest to collect wood to build fires for cooking or heating their homes in the colder months. Reaching out to these children, to deliver education is therefore a real challenge.
Our friends, at GTCS, help to make this possible by visiting these remote villages and running "pop-up schools" where nature education and basic literacy skills are taught to all who can attend. In these "pop-up schools", the children often sit on the floor in a communal building or if unavailable, a sheltered part of the village close to the edge of the forest will provide an alternative learning area. The children gather around eager to see what they will be given, in order to help the maximum number of children GTCS sometimes split the education parks giving a few pencils or pens and other writing materials to each child. Books, like our ecology books, Hindi-English dictionaries and the books which aid the learning of basic literacy and numeracy skills are often shared between two or more students so that more can have an opportunity to learn. This Summer the pop-up schools were in the villages of Rakhi, Jamunra and Mala and thanks to some of our supporters in the USA we have also been able to distribute some socks and shoes to the children in these villages (socks and shoes were collected by supporters in the USA and sent directly to India for distribution amongst the children).
We continue to include education in our programmes because the humans who live with wild tigers will have the greatest influence on the future survival of them in the wild; and because we know that educated families have fewer children. We were delighted to be able to provide 55 education packs and ecology books for distribution at the "Pop-up Schools" run in association with GTCS, a lack of donations has meant that it has been impossible to do more this year. We have collaborated with GTCS for 2 years; and are delighted to see the impact of our work in some of the poorest rural locations which do not have a village school or easy access to a neighbouring one. Tigers4Ever would have liked to provide education packs for more children in the villages around Bandhavgarh, but even with pooled funds from our offline fundraising activities we were only able to provide 220 education packs so far this year.
Just £10/$13 would help us to provide education packs for 3 of the youngest group of children living with wild tigers. Yet this amount eludes most of the families we meet in most of the villages because their income has been severely impacted by a lack of rainfall reducing their income from crop and milk sales together with the need to buy food to keep their families alive. It must be almost unbearable to live in temperatures of 50°C (122°F) for 4 months with no air conditioning, no electricity and no running water, let alone manage to feed a family of 6 or more from an income of just £5.50 (US$7.30) per week. For those children we help to get an education there is the prospect of paid employment as a protector of wild tigers, where they could earn £23 (US$31) per week. For the unfortunate ones, the struggle to survive on the meagre offerings they can gain from crop farming and milk sales is probably what awaits them.
We are still £2412 ($3184) short of our target for education packs to send for children living with wild tigers (https://goto.gg/32565). We hope that we can raise sufficient funds to cover these costs and keep the progress we have made to date going. If we can reach our target then we can help another 280 children to have an opportunity to become a future protector of wild tigers rather than putting increased pressure on the already fragile habitat.
I would like to thank you on behalf of the wild tigers, which we are keeping safe; on behalf of the children which we have helped to get an education (and their families who will also have food on the table); and on behalf of the wider tiger community in Bandhavgarh, which benefits from providing books and writing equipment for the education packs we distribute.
Links: