Thanks to the amazing support we have received from you since this project launched in April 2018, we have been able to change the lives of 220 children living with wild tigers in Bandhavgarh and we hope to continue this success throughout the remainder of the year and in future years too.
It has been 6 years since we last visited Ranchha and Dobha villages, in the Kithauli buffer zone. Here villagers frequently suffer loss of livestock when tigers or leopards strike during the day or night. 2018 has been a hard year for everyone living in Bandhavgarh because the 2017 monsoon only delivered 40% of the expected rainfall meaning that there has been a severe drought and countless forest fires destroying everything in their wake since the end of January. Such conditions put extreme financial pressures on people living with tigers and when faced with the prospect of buying basic materials for their children to go to school or feeding the family, the latter will always win, of course.
We include education in our programmes because humans have the greatest influence on the future survival of tigers in the wild and because we know that educated families have fewer children. We wanted to see how our work had impacted the villages since 2012 and to help the current crop of young children to go to school. In 2012 there were 125 children in Ranchha and 75 children in Dobha, so we arrived in Dobha village with 220 education packs expecting to see a few more children this time around. Some of the older children we helped in 2012 are now adults and married; to our surprise our efforts with education seem to be helping to impact the number of children more quickly than expected as we witnessed a 27% fall in number to 55. The children gathered eagerly to collect their education packs and thanked us before we left. We then drove to Ranchha where we again expected more children than in 2012; again we found a decrease in the number of children with a fall of 12% since 2012 to 110. We were delighted to see this helpful impact and to still have 55 education packs for distribution at the "Pop-up Schools" run in association with GTCS (Global Tiger Conservation Society), a local charity based in Bandhavgarh. We have collaborated with GTCS for 2 years; and are delighted to see the impact of our work in some of the poorest rural locations which do not have a village school or easy access to a neighbouring one.
Although the observed decreases in population are small, they are important for the long term future of wild tigers because it will reduce the pressure on the forest from human encroachment, illegal woodcutting and the gathering of precious forest resources to provide food for livestock. Perhaps, more importantly, it will impact future family sizes too as more children gain an education and learn about the impact of the human footprint of the ecology and climate of their planet.
Tigers4Ever would have liked to provide education packs for more children in the villages around Bandhavgarh in time for the start of the new school year on 02 July 2018, but once we'd pooled funds from our offline fundraising activities and the GlobalGiving Campaign we were only able to help 220 children this June.
Just £10/$13 would help us to provide education packs for 3 of the youngest group of children living with wild tigers. Yet this amount eludes most of the families we met in the villages of Ranchha and Dobha because their income has been severely impacted by a lack of rainfall reducing their income from crop and milk sales together with the need to buy food to keep their families alive. We can only imagine how hard it would be to live in temperatures of 50°C (122°F) for 4 months with no air conditioning, no electricity and no running water, let alone managing to feed a family of 6 or more from an income of just £5.50 (US$7.30) per week. For those children we help to get an education there is the prospect of paid employment as a protector of wild tigers, where they could earn £23 (US$31) per week.
We are £2412 ($3184) short of our current target for education packs to send for children living with wild tigers (https://goto.gg/32565). We hope that we can raise sufficient funds to cover these costs and keep the progress we have made to date going. If we can reach our target then we can help another 280 children to have an opportunity to become a future protector of wild tigers.
I would like to thank you on behalf of the wild tigers, which we are keeping safe; on behalf of the children which we have helped to get an education (and their families who will also have food on the table); and on behalf of the wider tiger community in Bandhavgarh, which benefits from providing books and writing equipment for the education packs we distribute.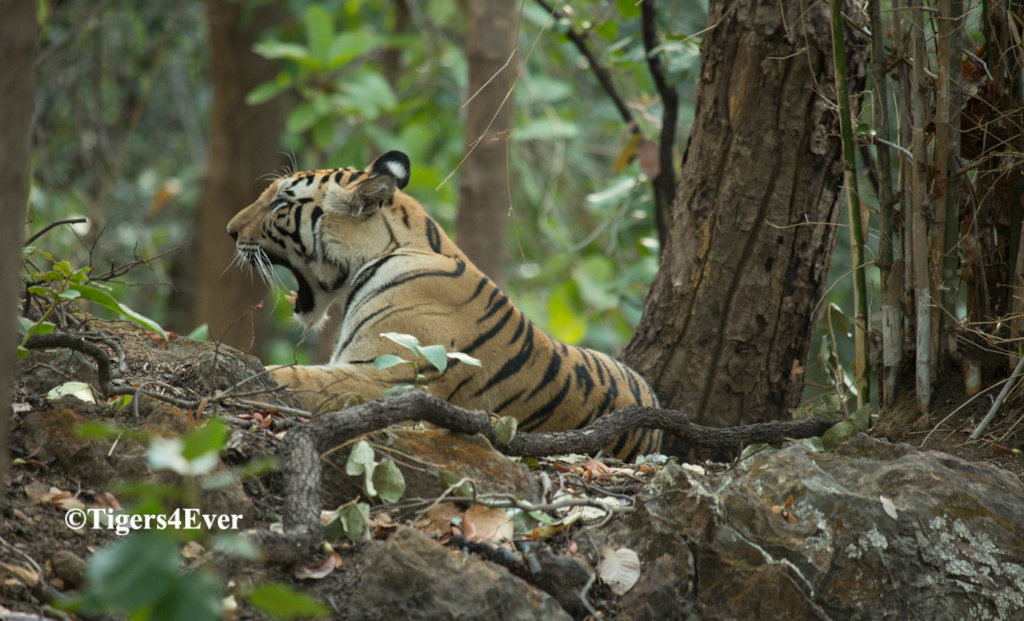 Links: