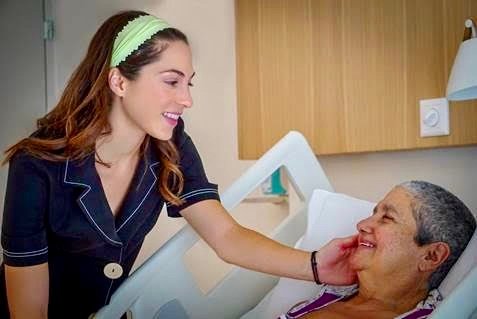 Thank you for your generous donation through the GlobalGiving website to the International Association for Hospice and Palliative Care (IAHPC)" "Education Reduces Serious Health Related Suffering" project. Your donation made an enormous difference.
The Galilee Palliative Care Unit, located in Greece received an IAHPC membership award of an educational scholarship. The scholarship was used to send Emmannouil, a physiotherapist, to visit the Our Ladies Hospice in Dublin. The purpose of her visit was to learn how the Our Ladies of Hospice provided palliative care services to their patients and to apply what she learned to the Galilee Palliative Care Unit.
Emmannouil, stated the "Palliative care is quite a new service for Greece and one of the biggest challenges is to raise awareness: to patients in need, health care professionals, the general public and the government. We believe that providing quality services is one of the most powerful tools to raise awareness and achieve advocacy.
At Our Ladies Hospice in Dublin, I had the chance to closely observe the provision of palliative care by all professionals —especially the physiotherapists — in all settings, including care at home as well as at the day center and outpatient hospice, inpatient unit, and long-term facility. I also learned about special equipment they use for physiotherapy.
This helped me improve techniques we use in our palliative care unit for respiratory management and mobilizing patients. I also gained familiarity with new techniques, such as aquatic physiotherapy and ways to treat lymphedema."
Emmannouil will be applying what she learned by assisting with plans to create a dedicated space for physiotherapy, using some of the equipment she learned about at the Dublin hospice. Moreover, the Galilee Palliative Care Unit is planning to initiate group physiotherapy activities as part of their day center treatments, which will be a new service for their patients.
Their daily practice will introduce some new tools for assessing the needs of patients and mapping the results of the interventions. Emmannouil will also propose some new components, learned during her visit, for the educational program of our interdisciplinary team.
From the entire IAHPC team, thank you for your generosity.
Links: