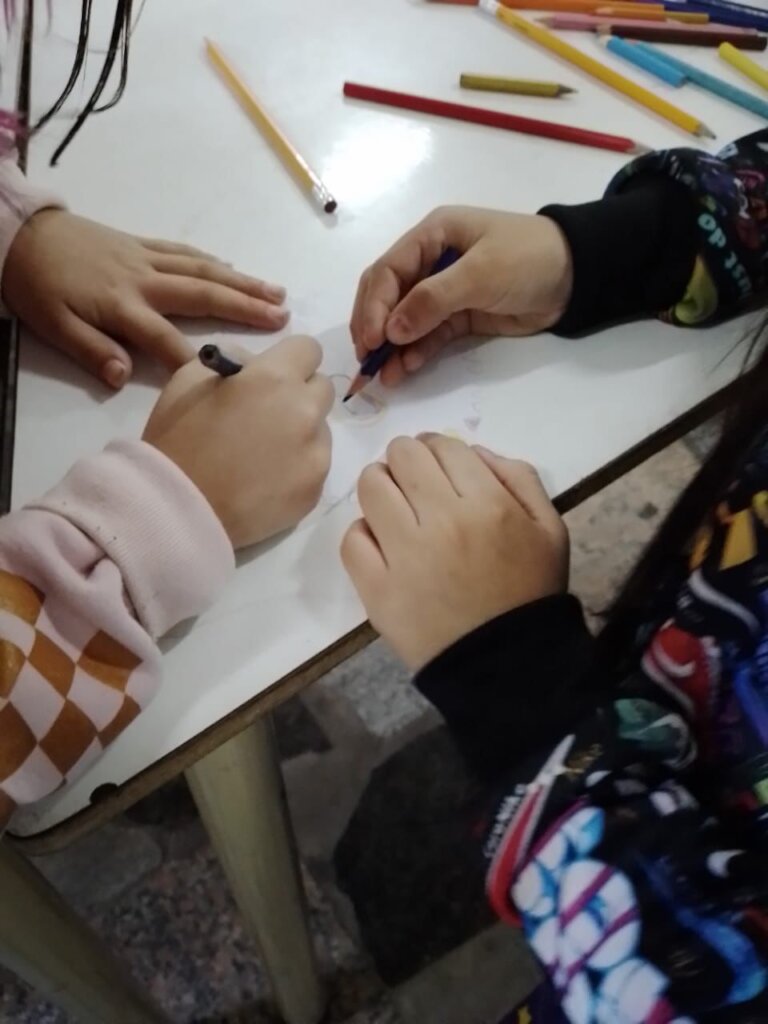 NEW FOLLOW-UP REPORT!
We are delighted to provide you with an update on the progress of our educational program, dedicated to enriching the educational journey of children aged 2 to 8 years.
Program Overview:
This program was launched with the aim of addressing the critical need for early childhood education and literacy development in the Villa 21-24 community. Our mission is to promote the development of language and pre-literacy throughout early childhood before entering school.
This semester program activities included:
Enriched Curriculum: We have designed a comprehensive curriculum that focuses on age-appropriate reading, writing, and language development activities. The curriculum is tailored to suit the individual needs and learning styles of each child.

Qualified Instructors: Our team of dedicated educators and facilitators is trained in early childhood education and literacy instruction. They create a nurturing and inclusive learning environment where children feel encouraged to explore, inquire, and grow.

Interactive Learning: To make the learning process engaging and enjoyable, we incorporate interactive activities, storytelling, arts and crafts, and educational games into our daily lessons.

Parental Involvement: We believe that parental involvement is crucial for a child's educational success. We regularly conduct workshops and meetings to engage parents in their child's learning journey and provide them with resources to support learning at home.

Itinerant Library: We created a suitcase full of books for early childhood so that it can circulate between the houses of the participants and each one has the opportunity to access books and share reading moments with the family
Program Progress and Impact:
Over the past six months, the Focusing on children in Argentina Program has achieved significant milestones:
Enrollment and Attendance: We are thrilled to report that the program has successfully enrolled 150 children between the ages of 2 to 8 years. The attendance rate has remained consistently high, showcasing the enthusiasm and commitment of the children and their families.

Literacy Milestones: Several children have shown remarkable progress in their literacy skills. They have developed a basic understanding of letters, sounds, and simple words, laying a strong foundation for future reading and writing abilities.

Increased Confidence: As children participate in group activities and share their ideas, their self-confidence has grown. They are now more willing to express themselves and engage in classroom discussions.
Challenges and Way Forward:
While the program has seen significant success, we also encountered some challenges, including limited resources and infrastructure constraints. However, we remain determined to overcome these obstacles and continue providing quality education to the children of Villa 21-24.
In the coming months, we plan to:
Expand Outreach: We aim to reach out to more children in the community and extend the benefits of the Comprehensive Literacy Program to those who have not yet had the opportunity to participate.

Strengthen Infrastructure: We are actively seeking support to improve the program's infrastructure, including the provision of additional learning materials, classroom resources, and technology integration.

Continuous Training: Our team of educators will undergo regular training sessions to stay updated with the latest teaching methodologies and approaches for early childhood education.
We extend our sincerest gratitude to each one of you for your unwavering support and dedication to the cause of early childhood literacy. Your contributions have had a profound impact on the lives of these young learners, empowering them with the gift of education.
As we move forward, we remain committed to achieving even greater success and transforming the lives of more children through education. We will continue to provide you with regular updates on our progress and milestones.
Thank you once again for being the driving force behind this transformative initiative.
With profound appreciation,