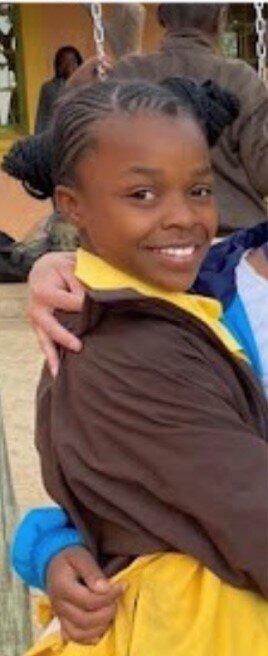 Dear Friends of Mammadu,
In this newsletter you will get to know some of Mammadu's Students: Vino, Mekuu and Rosa! It's a treat for the staff and volunteers to see these students daily, and now you also get to meet them from afar. These are just three of the students who are benefiting from your generous donations!
Vino
My name is Vino and today I will tell you about my life.I attend Elim Primary School, I am 12 years old, my best friend is Ovawa. She is sweet and kind. I love her and I am happy with this friendship. My favorite hobby is singing and my favorite animal is the cat. My favorite school subject is mathematics and in Afrikaans I am very good. My favorite song is "Marry me". In the afternoon I attend the after-school program at Mammadu, so in the afternoon I go to the center, study, eat and play. My favorite color is red. I live in Otjomuise. The names of my family members are: Diana is my mother's name, Rudolf is my father's name, Vemu, Kahuu and Virii are the names of my sisters. I love my family and they love me. So this is the end of my story.
Mekuu
My name is Mekuu and I am 12 years old. My favorite sport is running and at Mammadu I have many friends and we play a lot with board games. When I grow up I would like to become a model and I would like to help my nation. I have two sisters who sometimes help me with my homework. One is sixteen years old and the other thirteen.
Rosa
Hello my name is Rosa and I will tell you my story. I am 13 years old and I attend grade 7, I attend Elim primary school. I live in Windhoek and my best friend attends the same school as me. Her name is Queen, she is so pretty, but sometimes she can be boring. I lost both my grandmothers, and it's really painful. I like to do high jump and long jump. I am very lucky to have a mom and dad take care of me. I really like going to school and learning, it helps me not to remember my grandmothers. My favorite food is cakes and I love them so much. My favorite color is blue, it's so cute. My favorite subject is mathematics. I like to dance. At Mammadu my life is good, there are many people who take care of me. I am happy and lucky to be in Mammadu. I love my brother even though we argue a lot. We tell each other everything and we love each other very much. That's all about me. I hope you like my story. So much love from Rosa.
Rosa said it well! So much love and gratitude from all of us at Mammadu!! Enjoy a few pictures of the students who introduced themselves above, as well as some recent volunteers, and a community event for vaccines hosted at Mammadu.