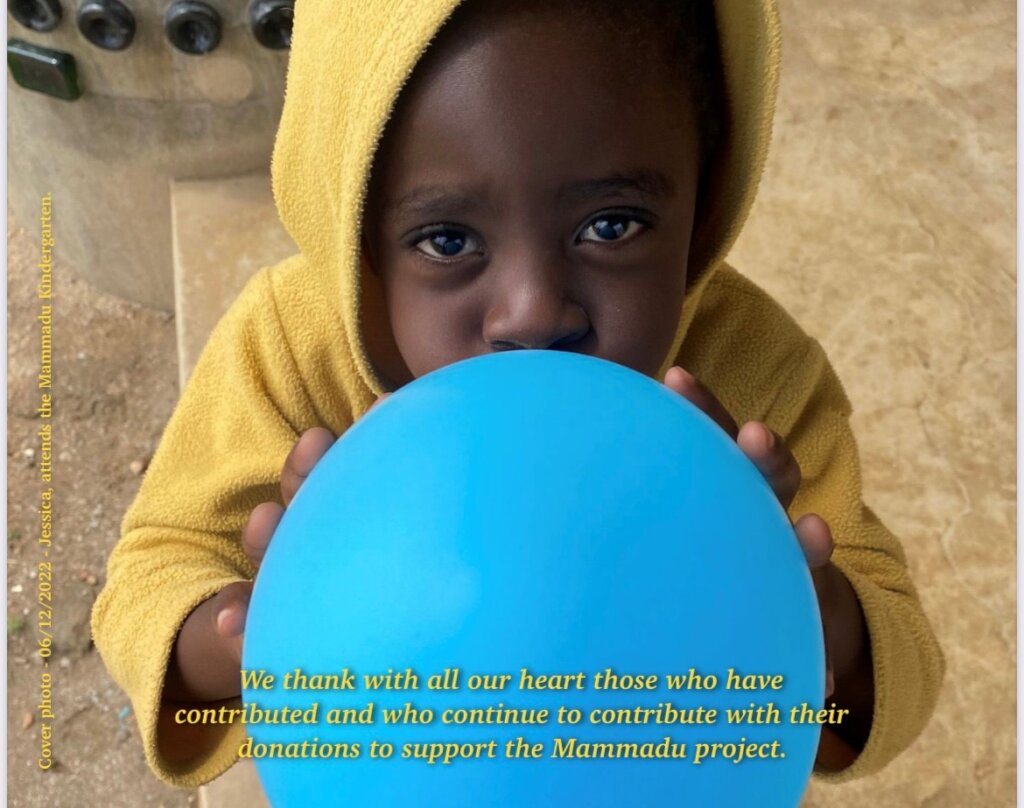 Dear all,
Slowly life in Mammadu is resuming its usual rhythms. The school year is proceeding smoothly after the tribulations of last year, and it is also possible to think of other activities for our children and teenagers who finally were able to embrace volunteers again- the fundamental driving force for making the organizational machine of our Center run better.
In this new issue of our newsletter, with which we try to make you feel more and more involved in Mammadu's life, we will focus on the Kindergarten led by our teacher Yolande who helps raise our 15 youngest children. We also want to dedicate an important chapter to volunteering, which represents an essential resource for Mammadu. We have collected the testimony of Saskia, one of our German volunteers in the hope that the story of her experience can be an inspiration for others who want to have an unforgettable volunteer experience at our Center.
Volunteering is just one of the ways to be an active part of Mammadu's big family, but it is possible to be close to our children and their activities in many ways, even from afar: with the long-distance adoption project; with the sponsorship of paths (particularly educationally and financially demanding schools); with joining the Mammadu Onlus membership campaign, a project that is particularly close to our heart; or, given that finally here too we can return to talking about events, organizing various kinds of initiatives like dinners, theatrical and musical performances, sporting events, etc. for the purposes of collecting funds for the Mammadu Center.
I am sure that you will find in these pages a lot of interesting news that will bring you even closer to our children and young people. We hope you will consider the many opportunities to be part of the beating heart of Mammadu.
Thanks again for your closeness and your support! - The Mammadu Team
THE RETURN OF VOLUNTEERS
Volunteers finally arrive! I was waiting for this moment with so much anticipation, wondering if things would function as before or if they would look a bit different! We have come to realize, with much excitement, that we are returning to normal.
During the period of the pandemic, the importance of volunteers was understood both in terms of the physical presence of people who bring us a breath of freshness, and for the help that all the volunteers offer in the structuring the children's educational and social activities.
Among the recent volunteers was a Namibian art teacher, Leonard who gave some basic lessons to our children and reproduced some Disney characters in our cafeteria. Many of the volunteers bring their work or study experiences which are so valuable! We expect a lot more volunteers in the coming months and we will try to organize working groups focused on reading and learning.
Some more great news ... we are waiting for 2 volunteer girls who are part of the Italian Universal Civil Service chosen from a national ranking. Their stay will be one year and at the end there will be opportunity for an extension. This collaboration began about 3 years ago and has finally succeeded after a long period of bureaucracy and (of course) the pandemic.
SASKIA, A VOLUNTEER
I am Saskia and I was a part-time volunteer in May and June 2022. I am writing my thesis at the same time and I use weekends to explore beautiful Namibia.
I volunteer during the afternoon shift and work with children between the ages of 10 and 16.
During my shifts I always set goals to achieve through small projects that I coordinate. I often prepare an encouraging lesson or story for the children and read it aloud. On some days we relax on the playground and only do the necessary homework. On other days, especially now during the school holidays, we are training to ride a bicycle and we are engaged in table football matches.
But let me start from the beginning. The first few days I was a bit shy. I wondered what the children would be like. I also questioned what exactly is expected of me. I had the feeling that the children were equally watching and curious. Somehow we decided to just be shy together. This gave me the opportunity to listen and get to know people. Very quickly, however, we discussed emotional intelligence, stress management, politics, and studied together for upcoming test. I'm writing this ahead of today's shift and I'm excited to know all about the test the kids studied for. I can't wait to see what stories and other inspirations the remaining time in Mammadu has in store for me.
Saskia (volunteer at the Mammadu center)
THE DISNEY THEMED CAFETERIA ROOM
As previously mentioned, a Namibian art teacher, Leonard, gave some basic lessons to our children and reproduced some Disney characters in our cafeteria.
BIRTHDAYS
Godlieb (April 17) - Godlieb is 11 years old! He is a fairly calm child but also a bit stubborn, if he gets stuck he will never change his mind ... but all in all he is very sweet!
Josia (April 30) - Josia has turned 16, he is a very friendly boy, he gets along well with everyone and he defines himself as a home boy. He misses his father very much but he has many people who are close to him. He is lovely and very responsible!
Regina (May 10) - Our little Queen is growing up, her tenth birthday was on May 10th. She is sweet and sassy, but is always smiling!
Ngunomuna (May 21) - Ngunomuna has turned 15, he is one of the biggest rascals at Mammadu! But behind this hides a different side of him, kind and loving!!
Ashley (June 12) - Ashley is a very sweet, helpful and selfless child. Like all little girls she has her moments of whim, but they are just moments ... she is delightful!
Vemu (June 23) - We celebrated Vemu's 14th birthday. She is a beautiful girl, very introverted and quiet. She likes to spend time with her Mammadu friends and she is good at school. She is very respectful.
A SPECIAL BIRTHDAY
Mekupi (June 28) - Mekupi our young mother has turned 16! He is a very attentive parent, she showers her child (who is often with her in Mammadu) with love. Mekupi has a good relationship with others and you can talk about everything with her! Her motherhood made her grow up quickly, she is aware of it and demonstrates maturity by taking responsibility for it!
A MESSAGE FROM THE CHILDREN
My name is Sesiria and I am 14 years old. I attend Hermann Gmeiner Primary School. I live with my mother, my sister and my niece! A family of women! We live in Otjomuise and are building a new house. I don't really like sports but I play netball with my friends from school. My hobby is to read many books in one day and make people happy. My dream is to study history. My best friend is the best person I know, she likes to make people happy. We fight a lot but we are always very good friends. I love her very much. She lives on my street and she is 14 too.
Hi, my name is Augusto, I am 18 years old and I am in grade 11 at the German school. My hobbies are music, football and cooking. I like to travel to see new places and during my free time I like to visit and discover different areas of my city. I speak 6 languages because I live in a mutilingual country and I study German at school. We are currently in winter and I always try to stay warm. I hope this letter finds you well, greetings to everyone from Namibia.
My name is Josia and I was born on April 30, 2006. I have just turned 16 and I am very happy because I will be able to have my identity document. I live with my mother, my brother and my sister. Unfortunately my father lives with another family, sometimes he comes to visit us to leave some food, but I would have preferred him to be there and fasted! I am very sociable. I like to joke and enjoy my days with Mammadu's friends, but then I go home! I really enjoy studying and trying to get good grades and my hobby is drawing and I'm taking art exams these days! Interesting! I have been attending Mammadu for many years ... about 10, where I have support and a lot of encouragement. This is all of my life as a boy!
MAMMADU AND THE COMMUNITY OF OTJOMUISE
On other past occasions our center has been used for community uses. On May 13th there was a team of doctors (general practitioners, dentists, pediatricians, ophthalmologists) who visited and provided free medicines.
THE GARDEN OF MAMMADU
The children are trying their hand at cultivating the garden. You can imagine the challenge! A desert territory brings many difficulties to overcome ... but in the meantime a lemon tree has already produced fruit!
VOLUNTEERING AT THE MAMMADU CENTER
Volunteering is an experience that will change your way of thinking as it will open up a world that will be difficult to forget.
To be a volunteer you need to have an open mind, a spirit of adaptation and a lot of patience with children. You have to have a great desire to play and a thousand recreational and educational ideas. It is necessary to be available to help in the kitchen and in the distribution of meals to the children. Having knowledge of gardening, art, and music are characteristics that can be very useful.
Once these qualities have been discovered, the first thing to do will be to contact our manager, Mimma (Domenica), by e-mail (Domenica.deiure@mammadu.org). Mimma is the direct manager of the Mammadu Trust center in Namibia and will give you all the instructions for obtaining a work visa (valid for no more than 3 months), a student permit or a work permit for those who intend to stay more than 3 months!
In any case, you will be sent forms to fill in and sign, you will be asked for the authenticity of your passport (in Italy to the municipality, in Germany to the court of the country of residence). Authentication for voluntary work is free, it does not require a revenue stamp.
The amount of forms and documentation depends on the type of visa to be applied for.
Having viewed the documents, Mimma will take care of starting the procedures.
- Work visa (approval requires 10 working days)
- Student permit (approval takes more than 3 months)
- Work permit (approval requires 1 month)
Costs vary depending on the visa required.
For the stay please contact Domenica.deiure@mammadu.org