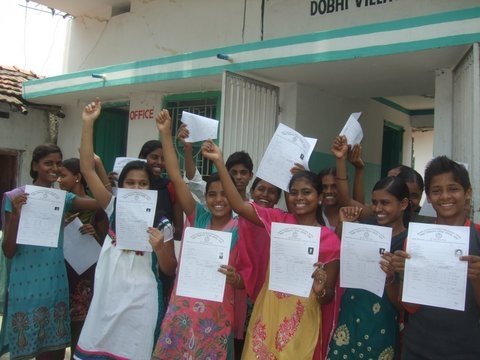 Compliments of the season to All.
Here is a story written by one of our girl students for the due progress report. We have changed the name only for privacy reasons ..
My name is Madhu.
I am I think about 16 years old.
I do not know my Birthday.
I live in a simple dwelling outside the village of Dhobi where I have had the privilege of attending school. Going to school I know is my right but the question is what kind of school? The government school is so poor at teaching that I did not learn anything, and very often the teachers would turn up, sign the attendance register and leave.
I have two brothers, they also attend the school. But for girls the parents sometimes think no need for education, and I needed help and support. Through the girl's education programme at People First Dhobi school I got the support I needed to continue my education and the best day of my life was when was when I got my pass certificate from the government (please see the photo I am on that photo) for my school leaving examinations. My father and mother who cannot read and write are so proud of me.
People First is helping me to seek further study.
Because of the girl's programme which this appeal supports you have helped me to transform my life.
We have a lady teacher at our school who was a girl pupil here and you can see a film about her on the website under the projects /education heading
http://www.peoplefirstbihar.org/projects
Thank you so much
Madhu
Links: