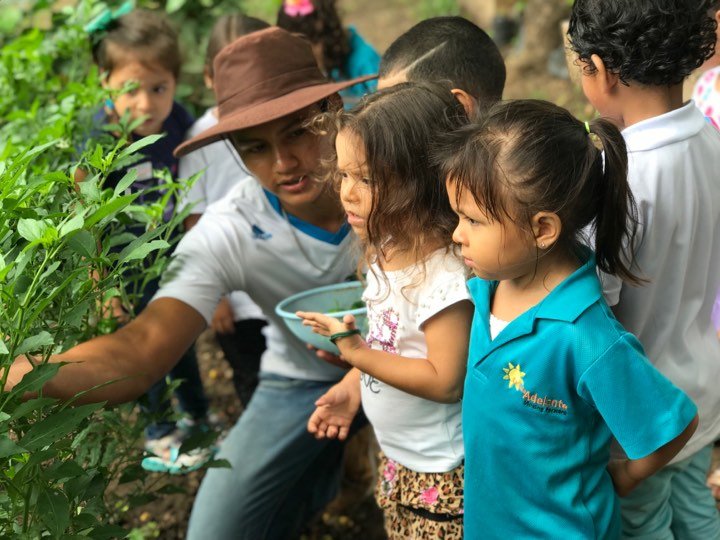 Dear Supporters,
As you're probably aware, Nicaragua is the second poorest country in the Western Hemisphere, and the past two years have brought exceptional hardship. In the struggle to escape poverty, major obstacles for children include malnutrition and a lack of quality education.
For many families in San Juan del Sur and its surrounding areas, Escuela Adelante is the only viable option for a high-quality education and the opportunity to learn English. You've helped make this school a reality, and it's bringing real hope to the futures of hundreds of children.
We've learned that many students don't receive well-balanced meals at home, and we recognize the detriment of malnutrition on a student's academic abilities and overall well-being. Therefore we have begun providing nutritious lunches for our full-day students and healthy snacks for our half-day preschoolers and kindergartners. The school curriculum now incorporates organic gardening and nutrition. Students take part in growing vegetables and collecting eggs from our chickens, which our fabulous cook incorporates into healthy meals.
Escuela Adelante needs to build a kitchen and cafeteria before the next school year starts in January. The tiny kitchen that came with the property is barely adequate for a family, much less an elementary school. We need to start construction in the next few months, but we haven't raised enough funds to do so.
Please consider making a contribution this Thursday. GlobalGiving is offering a one-day matching opportunity for donations of $100 to $1000. The higher the donation, the higher the match. Gifts of $750 to $1000 will be matched at 50%! The match is ONE DAY ONLY: this Thursday, July 18, from 9 am to midnight (EST).
This is a great opportunity to band together with friends or family to make one larger contribution. You can contribute to the kitchen and cafeteria campaign here!
Thank you so much for your continued support.
Sincerely,
The Adelante Team