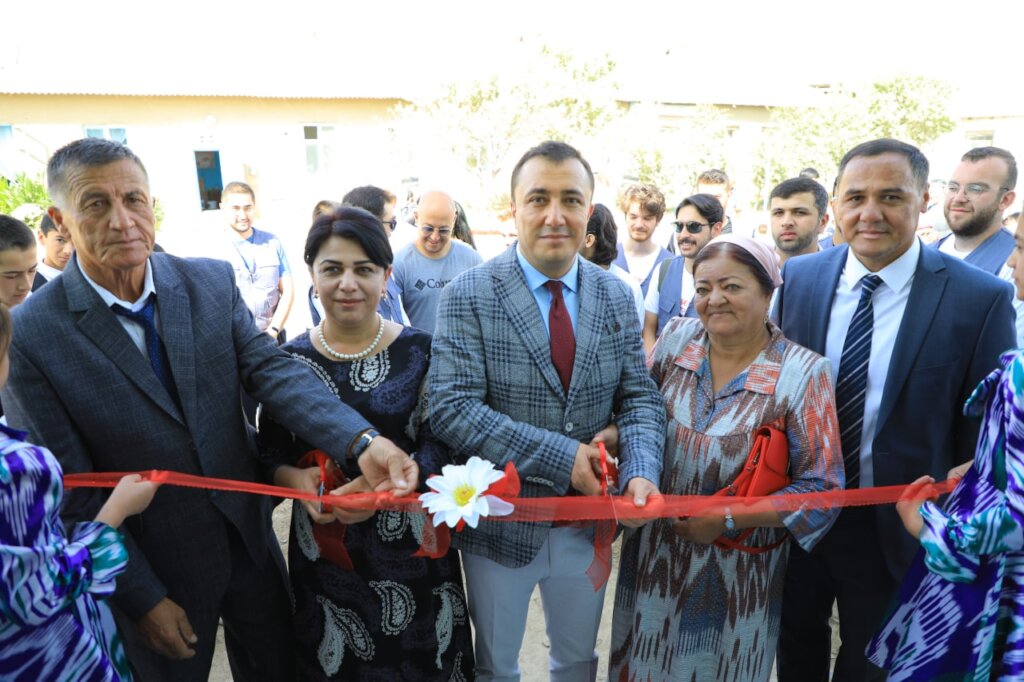 Dear Valuable Donors,
We would like to avail this opportunity to once again thank you for your continuous support to our causes and your significant contribution in improving access to education in rural areas of Tajikistan.
Through this memorandum, we are delighted to inform you about our recent achievements. The Turkish Cooperation and Coordination Agency's Representative Office in Dushanbe (TIKA Dushanbe) generously supported the renovation of the canteen of Secondary School No. 10 in Devashtich District of Tajikistan. This was the first project of this kind in the community we work since it has brought 12 Turkish students as volunteers to support the renovation process and to promote community service. As part of the project, we also conducted Tajik-Turkish Food Festival attended by the Turkish guests and local community, where the two parties offered their national cuisine and hosted each other in a warm family atmosphere. The Tajik and Turkish youth also enjoyed Evening of Friendship and mutual activities, where they performed national songs, and exchanged in culture and traditions.
The school's canteen in an operable state, with lack and broken furniture was in a dire situation before the project as no maintenance and no major renovation activities were performed since it was constructed in early 2000s. Another major deficiency was the absence of clean water neither for cooking nor washing hands. The facility also lacked cooking equipment inside and the cooks had to prepare meals outside in a traditional clay-made oven both in cold weather during winter and hot season during spring. Following the implementation of the renovation project, the canteen has modern facilities in line with the water, sanitation and hygiene standards, which we believe will provide students and personnel with clean and healthy meals. In addition to preventing various diseases and contributing to the improvement of the education environment by supporting and motivating both students and teachers.
The project refurbished the canteen's interior and exterior, upgraded the water and sanitation facilities, installed a new cooking equipment and provided a new set of furniture. It will benefit around 6300 beneficiaries, including nearly 1200 students and 100 teachers of the school as well as 5000 residents of Ghazantarak village by ensuring access to improved hygiene and sanitation conditions for meal intake. The project's total cost is USD 53,000 with two major activities performed, USD 28,000 spent on renovation activities and USD 25,000 channeled for the exchange program to support the visit of 12 Turkish students to Tajikistan as well as administrative activities.
This project was implemented in line with the Turkish Government Exchange Program, which provided a great opportunity for 12 Turkish students to visit Tajikistan, to participate in the canteen renovation activities, and most importantly to get acquainted with their Tajik peers during three days of their visit to Devashtich district. The students from the two countries have participated in mutual activities promoting, discovering and exchange of reciprocal culture, traditions and customs of both countries, and mutually taking part in the project implementation as part of the community service. The students also played a friendly football game, which aims to strengthen their ties.
We take this opportunity to express our sincere gratitude to the TIKA Dushanbe, particularly to its Coordinator and dedicated staff for this excellent opportunity as well as all of you, dear friends, for your continuous support and generosity.
Last but not least, the GlobalGiving is conducting Little by Little campaign on September 12-16, 2022, under which all eligible donations up to $50 USD per unique donor per organization will be matched at 50% for the duration of the campaign. We would highly appreciate if you could publicly share information about this exciting opportunity among your friends and colleagues to mobilize more donations to our causes and enable our organization to support and participate in the growth and prosperity of underserved communities. We stongly believe we can do more with your valuable support, our dear friends!