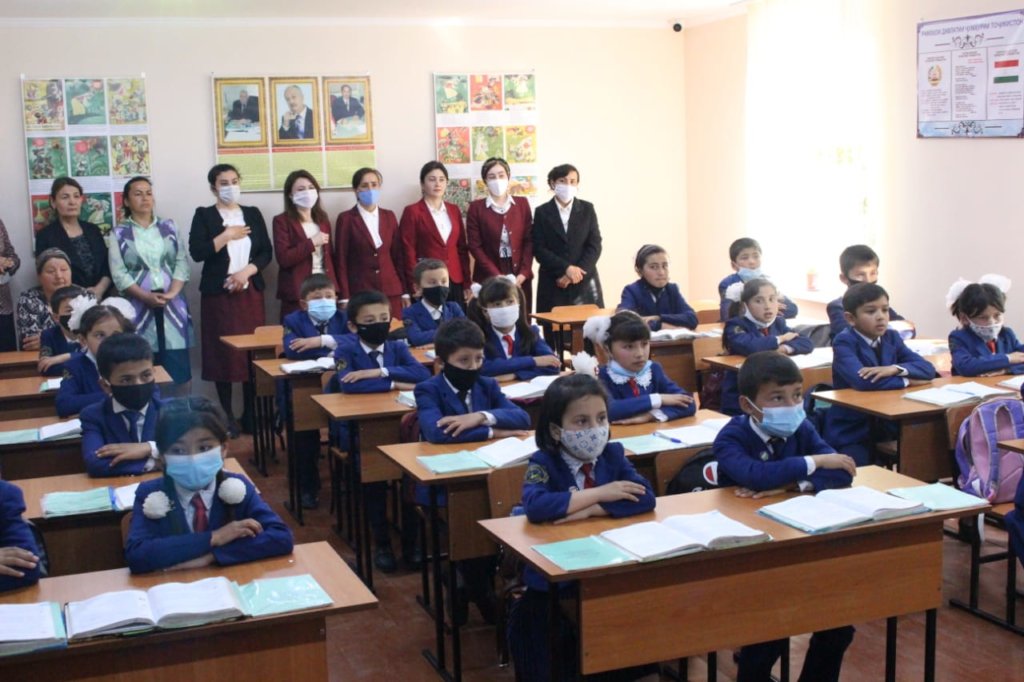 Education is vital for upholding all human rights and freedoms, ensuring adequate living standards of the vulnerable groups, namely children. This project has significantly improved access to quality education of almost 600 children in Ghazantarak village of Tajikistan's remote Devashtich district. It helped create 64 additional seats through completing a construction and equipment of the two additional classrooms in the School No 51.
We are happy to update you on the most recent accomplishments and developments within this milestone initiative.
The project was initiated by the local community in Ghazantarak Village, which for years has faced a severe lack of seats in their secondary school No 51. The existing building had capacity for 360 students while in fact it had to accommodate around 554. This situation has only been exacerbated by the ongoing pandemic and continued negatively affecting the quality of education. The classrooms were overcrowded and the teachers were not able to reach all students with their respective curricula in an effective manner.
With this in mind, in July 2020, the local community, guided by the local executive authorities of Devashtich District kick-started the construction of two additional classrooms with their own in-cash and in-kind contribution. Unfortunately, due to the COVID-19 pandemic the community's economic situation has worsened as the majority of local people are dependent on migrant remittances incoming from Russia mainly and other countries of the region. The 30,000 Tajik Somoni (equivalent to almost USD 3,000) of cash sufficed only to lay the foundation and erect the walls of the two classrooms and so the construction activities had to be put on hold. At this point, Mr Umarkhon Otakhonov, Head of the Local Neighborhood (the smallest unit of administration in the national system) approached our NGO with a request to help them with fundraising to complete the project. Given the dire need and high level of enthusiasm of the local community in advancing education, we have started the fundraising process by launching a campaign via GlobalGiving, as well as by reaching out to a broader donor community.
To ensure a transparent process for management of incoming donations, we created a project transparency committee, comprised of representatives from the local community, parents' committee, school administration and the Head of the local neighborhood. The committee was engaged in the process of procurement of construction materials and responsible for quality supervision of the construction process.
Thanks to ensuring full transparency of the process, we mobilized TJS 143,000 (almost USD 13,000) from different sources, including USD 3,128 from our individual donors through GlobalGiving, USD 2000 from the Peshraft Charity in Tajikistan, USD 500 from Davronjon Okhunjonov and his friends, USD 500 from Shavkat Mamadjonov, USD 2960 from the German Embassy in Dushanbe, USD 1500 from Zeppelin Tajikistan, USD 400 from the Northern High School of Forest Hills Public School in Grand Rapids, Michigan, USA, USD 1500 from the Devashtich District Local Executive Authorities, and USD 3000 (both in-cash and in-kind) from the local community. One of the most encouraging cases is that of Laura Teodore, a student from the Northern High School in the USA. She has approached our NGO herself, and based on our interview she has won the donations competition in her class and channeled the prize amount to our project.
Like in any project, we faced some challenges in the implementation phase as well. Prior to our engagement the School Administration and the Local Neighborhood Authorities assured us that they would ensure free labor contribution by the local community members and we would need to provide construction materials only. However, the quality supervision revealed that the community members, who agreed to install the roof boards free of charge, did their job with a poor quality. Our NGO reacted to this case immediately and after a series of discussions and negotiations with the school administration and local authorities, we reached an agreement on hiring qualified paid laborers to implement construction activities. Thus, the NGO Sadoqat has hired a qualified construction team leader, who was mandated to ensure quality construction by finding local qualitied builders and we were happy with his performance. Another challenge we faced in implementation of the project, was the weather conditions. While we launched the fundraising campaign, mobilized some donations and started the construction activities, winter arrived, and the unfavorable weather conditions (cold weather, snowfall) caused challenges in speedy implementation of construction works. We had to wait for months until the interior plastering would get dry to perform finishing activities. As a result, the project completed, and the classrooms were actually commissioned in March 2021. The official launch ceremony took place on April 27, 2021 with participation of representatives from the German Embassy in Dushanbe, Devashtich District Local Executive Authorities, Devashtich District Education Department, School No 51 Staff, local communities and students.
All in all, we used the mobilized funds to install roof boards, plastic windows and doors, as well as floor board, conducting finishing activities and equip the classrooms with 64 chair sets, two table and chair sets for teachers, electronic board, projector, a laptop and training aids. As a result, the project created 64 additional seats and thereby significantly improved access of the local children to quality education.
Additionally, Zira Media, a local media production company, has agreed to shoot a short video about the project for free in recognition of our efforts, which is published in our social media pages and here on the project page on GlobalGiving.
Finally, we would like to recognize the invaluable contribution of our true friends, particularly Rayyan Merchant from USA, who made both financial contribution as our recurrent donor (though he is a student himself), provided a great support in creating the website of our NGO at www.sadoqat.weebly.com, as well as helped promoting our project and our Organization, to help us mobilize more funds. Last but not least, we sincerely thank all of our distinguished donors from around the globe, who were with us in this process, having supported us both financially and through other means, including spreading the word about our initiative and re-sharing our posts and publications with their contacts and social media channels. We would not be able to accomplish this noble mission without your support.