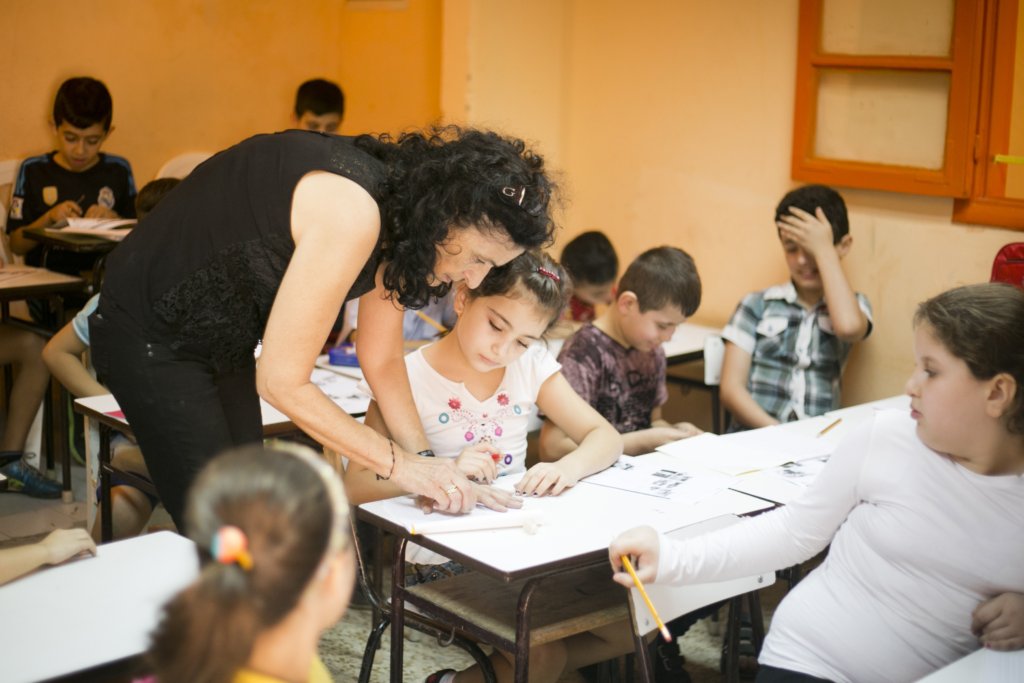 DEAR FRIENDS,
"INSAN SCHOOL", IN ITS 11TH YEAR, STARTED IN OCTOBER 2015 FOR MARGINALIZED CHILDREN AND YOUTH FROM THE NEIGHBOORHOOD, AND THIS YEAR 117 GIRLS AND BOYS ARE STUDYING IN THIS PROGRAM DISTRIBUTED INTO 5 CLASSES.
CLASSES IN ENGLISH LANGUAGE, ARABIC LANGUAGE, MATHEMATICS, SCIENCE, PHYSICAL EDUCATION AND ARTS ARE PROVIDED TO THE CHILDREN ON A DAILY BASIS. THE CHILDREN ARE DIVIDED INTO DIFFERENT CLASSES BASED ON THEIR KNOWLEDGE, ACADEMIC LEVEL AND AGES.
IN ADDITION TO THAT, ALL CHILDREN AND THEIR FAMILIES ARE BENEFITING FROM PSYCHO-SOCIAL SUPPORT PROGRAM. THE SOCIAL WORKERS ARE VISITING ALL THE FAMILIES OF THE CHILDREN IN THE NEIGHBORHOOD AND PROVIDING SOCIAL SUPPORT FOR THEM. MOREOVER, CHILDREN WITH SPECIAL PSYCHOLOGICAL NEEDS; SUCH AS TRAUMA, ANXIETY, ETC.. ARE BEING COUNSELED BY OUR PSYCHOLOGISTS. INSAN'S PSYCHOLOGISTS ARE ALSO ORGANIZING GROUP THERAPY SESSIONS FOR CHILDREN, YOUTH AND FOR ADULTS.
WITH YOUR DONATION, INSAN HAS BEEN ABLE TO OFFER TO MORE CHILDREN ACCESS TO EDUCATION, PSYCHO-SOCIAL SUPPORT, PURCHASE NEEDED EQUIPMENT, PROVIDE CHILDREN FREE TRANSPORTATION TO THE SCHOOL AND SERVE A DAILY LUNCH.
THE INSAN SCHOOL PROGRAM AND THE PSYCHO-SOCIAL SUPPORT ARE ONGOING AND WILL CONTINUE ALL YEAR ROUND. CONTINUE TO SUPPORT THE MOST VULNERABLE CHILDREN, BY CLICKING ON INSAN / GLOBALGIVING
ON BEHALF OF THE ENTIRE TEAM, I SINCERELY THANK YOU FOR YOUR GENEROSITY, FOR YOUR SOLIDARITY WITH THE CHILDREN OF INSAN SCHOOL, AND FOR YOUR SUPPORT TO INSAN'S PROJECTS. SEE YOU SOON AT INSAN SCHOOL.
WARM REGARDS,
INSAN TEAM