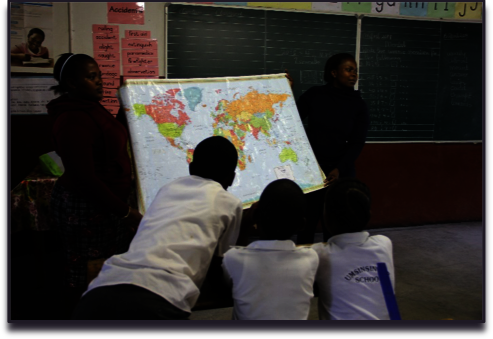 The Gr 4&5 group and their facilitator, Sandile, took part in a pen pal exchange with children at a school in Canada, which was implemented by our Education Mentor, Kristine Fowles. The exchange enabled children in our After-school Programme to swap letters, artwork and information about their lives and homes with children in South Park Elementary School, Victoria in British Columbia. The ethos of this inner city school is very similar to our ethos at Thanda, where experiential learning is also used to teach children and the importance of the environment and art in everyday life is highlighted, too.
Children in our After-school Programme and children in the Canadian school prepared letters, pictures and videos to share with their international pen pals telling them all about life in their respective communities. To prepare children to write to their pen pals in Canada, Sandile and his group learned about continents and located Canada on the world map. Once they found Canada, they looked at a map of Canada and learned lots of fun facts about the country. They then learned some really interesting facts about Canadian culture. When asked if children enjoyed learning about Canada, Sandile said, "Every year children like to learn about other cultures. Especially cultures they are unaware of. They find it very interesting. They know about countries [but not cultures]."
They also learned about braille because Canadian money has braille on it. Sandile used this opportunity to take his group on a little adventure that really showed them why inclusivity is important. Everyone broke up into pairs. Sandile blindfolded one person and the other person made sure the blindfolded person didn't fall over. Sandile then made everyone do a trust walk where he gave the blindfolded children instructions on where to walk. He also stopped them from speaking for 30 minutes to explore other ways to communicate, and they even tried to learn some sign language, but that wasn't quite so easy. Everyone then discussed how it would feel to be blind, deaf or to live with some other disability.
Looking at Canadian wildlife, children in Sandile's group watched a video about Orcas (Killer Whales) that inhabit the waters around Vancouver Island. They then watched the video Plastic Ocean to learn a little bit about the extent of plastic pollution in the ocean and how it affects the animals and plants living there. They also learned about the Pacific Garbage Patch and efforts to reduce marine plastic pollution. Once they knew a little about the challenges marine life face, children turned their attention to looking at some iconic creatures closer to home. They got to be marine biologists, investigators and critical thinkers when they played Shark Detective. Children were shown a shark jaw and some loose shark teeth, which they had to examine to determine the shark's species. Everyone carefully handled razor sharp sharks' teeth and got to compare them with pictures to work out what type of shark they were looking at. They even got to touch and see a real shark's jaw bone with teeth still attached. Children were asked various questions about the teeth to help them think about how sharks hunt and eat, like 'why do you think the teeth are the shape they are?' Everyone cut and decorated their own shark picture and collaborated on a very cool painted shark cut out.
To finish things up with sharks, children played a really fun game where they had to throw bean bags at a shark target to score points and get their gross motor muscles moving. All of the information children learned about sharks is now prepared for sending to their pen pals in Canada so they can learn about sharks too. Canadian children are preparing their letters and artwork about whales for children in Sandile's class so that they can learn more about whales too.