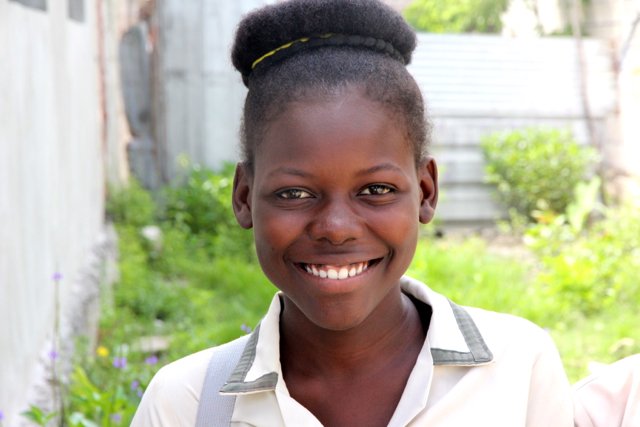 The kids you support continue are thriving in 2014.
A few of our students, like Zach, are a bit behind – but thanks to you we have the funds we need to offer him extra help outside of school hours. That extra support will help him stay on track.
Another one of our students – Nathaelle – also got a comment from her teacher, but this comment made us smile. "She only wants to learn English!," said her teacher. "In math class, she asks when is Enligsh. In writing, same question. With Nathaelle, all is English English English!"
Nathanelle is excited to go to school and learn English every day because she wants to build a bright future and she knows that language skills will help her get there.
Thanks to you, we have the funds in hand to keep Zach, Nathaelle, and their classmates in school through the rest of the 2014 school year. That means that we're already putting funds away for 2015 and considering whether or not we'll be able to add new kids to the programme next year.
This Valentines Day, we're hoping that you'll help our programme grow in 2015 by giving on February 12th. Why February 12th and not 14th? Because on February 12th, GlobalGiving will match your donation by 30%!
That means that if you give just $10, GlobalGiving will add $3 to your gift, and we'll have the funding we need to buy a school book for a child. Please give what you can on the 12th.
Thanks so much for all you've given, and if you have any questions about our work please don't hesitate to email Emma@IDVolunteers.org.