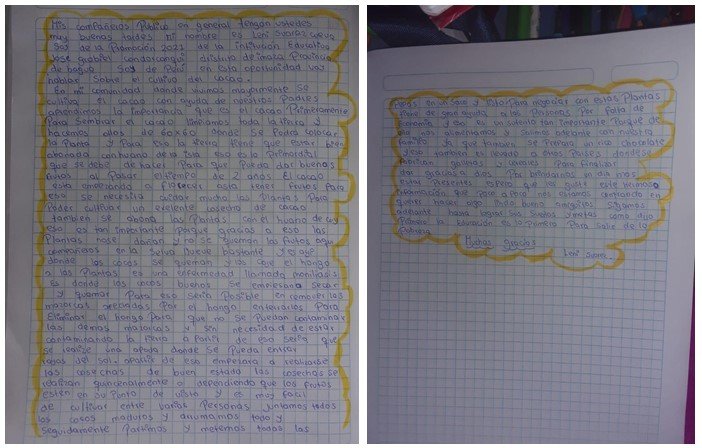 Teachers from the community Tupac 1 (Amazonas) and from La Zanja community (Cajamarca),together with their students, through the exchange of letters, were able to share the experiences and typical customs of their own communities, sharing their day to day, the work and the traditional festivals of the town.
Thinking about different experience he could bring to their students, Javier, fellow from Enseña Perú's Leadership Program and a teacher at the "Agro Industrial Jose Gabriel Condorcanqui"school (Amazonas) spoke with Camila, also a fellow, who is working as a teacher in the school 101148 La Zanja (Cajamarca) and together they created a learning experience in which their students had the opportunity to exchange knowledge of the crops of their owns communities. The initial idea was that students could have a video call through the Zoom platform, however the weak access to connectivity, characteristic of Imaza, the area where the Javier's students live, invited them to identify and explore new ways of communicating.
At the end they worked through sending letters, the experience lasted a few weeks in which the students wrote about what crops they had, shared information about the care they have to take into account and exchanged advice.
In Amazonas,the students were surprised by the idea that someone in another region wanted to know about the crops of the jungle and also, they were curious to know about the crops of places they did not know. They were able to exchange their vision of the land and also realize the similarities in their beliefs despite living in a different context than the Cajamarca students, in addition, they ended up motivated to investigate and explain a common theme for them and their families that in the majority are farmers.
The students were able to develop the following competencies: in the area of science and technology,they developed competency 20 of the national curriculum: investigates using scientific methods tobuild knowledge and competency 21: explains the physical world based on knowledge about living beings;matter and energy;biodiversity, earth and universe.

After the activity, both Javier and Camila, realized that the main learnings of their students were: how the climate and height are predominant factors to determine the plants that existin a certain place and that there are plants and ways of growing them different from those that exist in their own community.In addition, the teachers were able to verify that collective learning of students in times of pandemic and social isolation is possible thanks to connectivity and innovative and motivating experiences for students.
Working together can generate great learning.