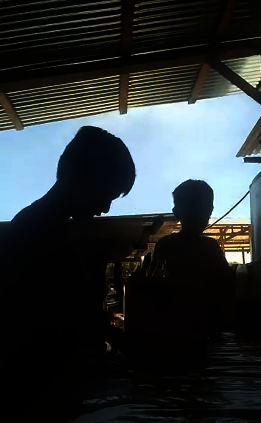 Our fellow Jhon, knows Betuel and Alexis since 2019, they are his students. They are very different form each other, in performance, qualities, but they have some things in common: they have interest in learning new things, both of them are in the same class and they are cousins.
Betuel's father and Alexis's mother are siblings, however they did not have a cousin relationship an it seemed that they were having troubles, which generated curiosity in their teacher (our fellow Jhon) who wanted to understand what was behind; during 2019 he tried to integrate them through activities but could not get positive results and although he did ask if there was something wrong the year finished without an answer about it.
Then, the year 2020 was a very challenging year for students, teachers and parents with distance learning, but it was also very rewarding as it brought families together, helping them reflect more on the things they faced alone and uniting them in this situation.
Last year (2020) achieved that the Betuel and Alexis parents reconcile, the problem was that they did not speak to each other since 2018 due to very typical conflicts in the Imacita community (in Amazonas); this directly affected the cousins' relationship since they were not allowed to interact with each other. But, the magic happened when Beutel and Alexis agreed on a multiple call organized by their teacher to do a group class, there the cousins spoke again and began to ask each other how they were.
When working together to develop new skills, Betuel and Alexis began to communicate more often and all of this gave as a result that, thanks to the science and technology classes, both students had meetings to work on the activities and challenges of each week. Then, their parents began asking them about their sibling, so the students quickly began to tell them how they were, what they said about each other, finally getting them to talk again. Now their parents allow Betuel and Alexis to be together at home in order to support each other.
The holidays were surely wonderful for both students with their reconciled family.