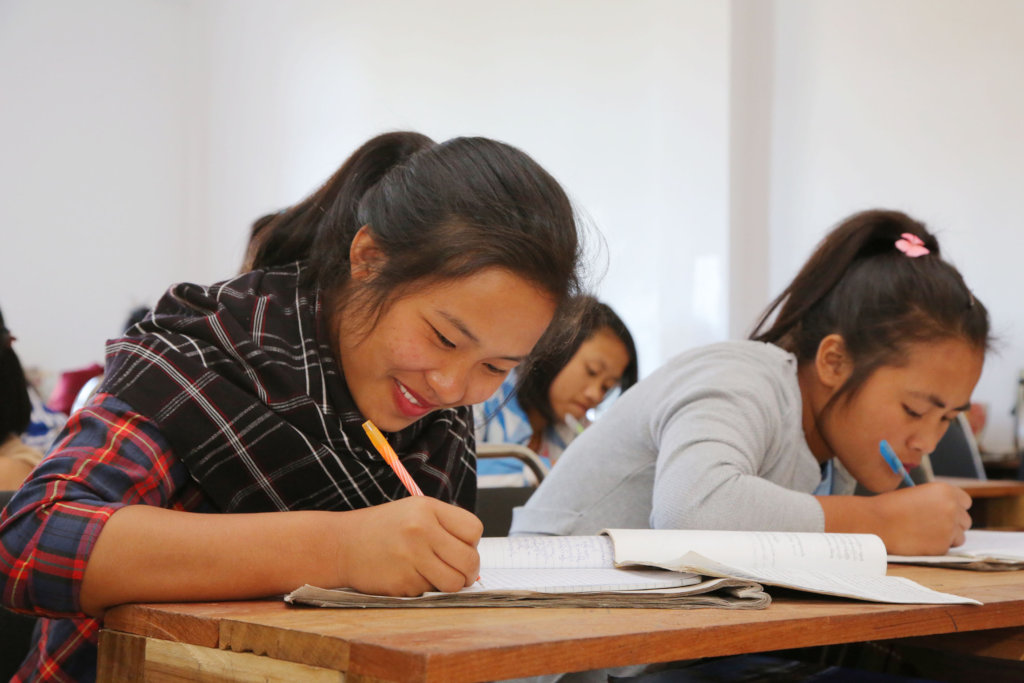 Just a few weeks ago, 96 students who have been part of the Education for All project this year completed their final exams. Although we won't receive the results for a few months, dependent on the COVID-19 situation, the students came away feeling positive and hopeful. Education for All has given them a unique opportunity to pursue their dreams.
One of the students who was part of the programme this year is Esther. She is 18 years old, and one of six children from a small village in Chin State. For the early part of her education, Esther studied in her village with all classes being taught in the local Mara language. However, after Year 8 she needed to move to Secondary school, where all her lessons were conducted in Burmese. "When I got to the school I couldn't understand. I was learning the language rather than the subjects. I don't know how I managed to pass my Year 9."
Esther moved on into Year 10, which is when students sit their main school exams. Even though she had a better understanding of the Burmese language, the syllabus was too demanding: "The school was very good, but I lacked basic education from before, and I just could not pass my exams."
In 2018, Esther found herself in the same year as two of her younger sisters but unable to pass the Grade 10 exams. "Just before our results came out, a teacher called Peter from Health & Hope visited our village and told us about the Education for All school that helps students who need to repeat their Grade 10 year. I started to hope that, if I did fail my second attempt, maybe I could join the Education for All school."
But when the results came, and Esther discovered that she had failed a second time, her father told her that she needed to stop her studies. She was now 17 and the financial burden is often too much for families to continue to support children in school when they could be working or helping on the family farm.
At that time, wonderfully, one of Esther's cousins came to visit and said that he would sponsor her to continue her studies through the Education for All project.
"I was so happy, and so thankful to God. Coming to Education for All is a great privilege for me. I am so thankful to Health & Hope for providing me with this life changing opportunity. In the future, I want to be a nurse. In my village, there are no professional nurses to look after people. I have seen many people suffering from illness. There are a few traditional birth attendants but they cannot help patients with serious diseases, and some patients die from common illnesses. If I can pass my matriculation, I would love to be a nurse, and work for my people as much as I can."
We recently put together a short video showcasing the Education for All project, which can be viewed on our website.
As we eagerly await the results from this years' exams, the education team are already busy making plans for next year. Of course, the present global crisis is causing some concern for the vulnerable communities in the region with schools currently closed in the region. However, we still expect to start the next years' Education for All project in June.
During the school break, our teachers are supporting the huge logistical efforts required in our response to the COVID-19 crisis. You can read more about our work to reach 140 villages across western Myanmar on our website.
Thank you again for your continued support and partnership with us in this project - we are truly grateful for every individual who has chosen to give to our work, especially at this challenging time.
If you have any questions about this or any of our other projects, please do get in touch with me via email: philippa.wilford@healthandhope.org.
Links: