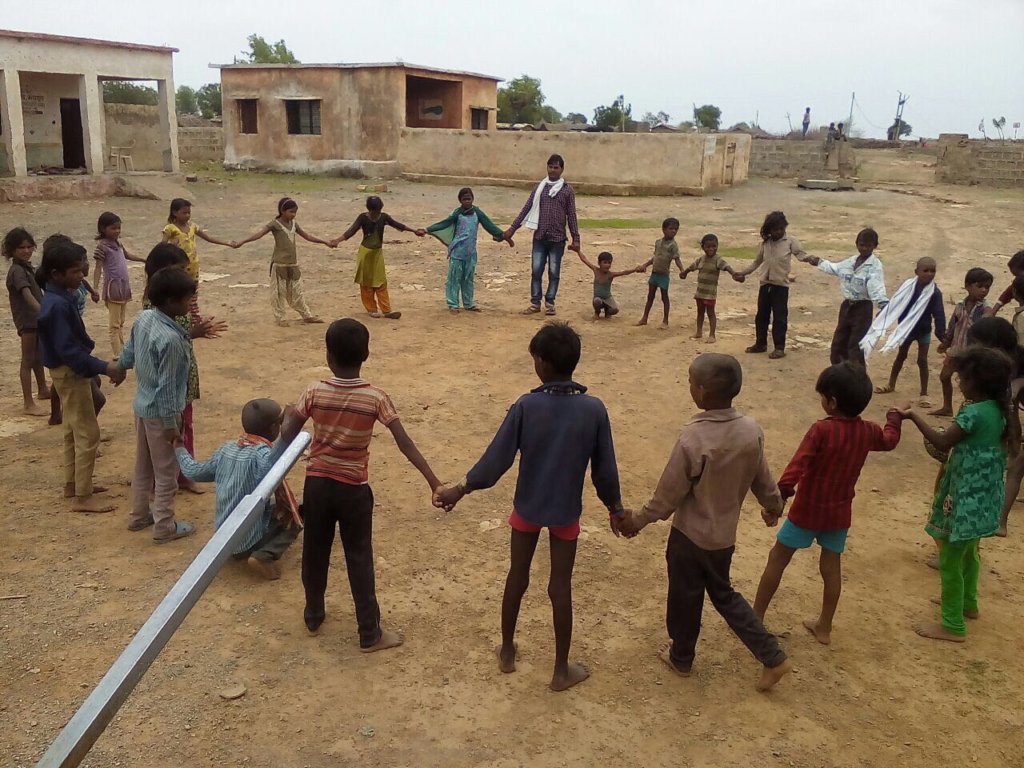 Dear Donors,
Happiness multiplies when shared! Thus, we are overjoyed to share with you the news of opening two new Satellite Resource Centers (SRCs) from this session. We started the initiative of SRCs in 2012, with opening of our first SRC in village Badi Khajuri. The rationale behind opening village level SRCs was to make sure no child gets deprived of quality education because of lack of access. Observing the success of the SRCs, we slowly extended its reach to other villages as well, and now in 2017, with the opening of two new centers, we have a total of 17 SRCs in 17 different villages. These SRCs cater to nearly 1000 young learners from Sahariya community.
The vision behind SRCs was not only to provide easily accessible quality education to children, but also to provide employment opportunities to young school graduates. We always encourage our own students to join SRCs as teachers, learn new skills & capacity, and earn their livelihood to pursue their future education. This year as well, out of the 10 newly appointed SRC teachers, 6 are Adharshila graduates. Rammurti graduated from Adharshila this year; he says "I always dreamt of teaching and I'm glad that I got a chance to be a part of Adharshila team…Spending time with children and doing various activities to engage them is something that I enjoy…I have enrolled myself for BSc and will continue my higher education".
Teaching children in classroom is just one aspect of SRCs. It also includes regular interaction with community stakeholders, constantly addressing their concerns related to schooling of their children, and connecting the community life of children with their schooling experiences. The idea of a teacher at Adharshila has always gone beyond the 'transaction of curriculum', and focused on 'education for real life'. Our teachers are our actual torch bearers in this journey. For young graduates as well, SRCs become a mode of learning and gaining experience as teachers and community mobilizers.
Sirnaam has been our SRC teacher for 5 years now. He joined SRC in Nayagaon, soon after completing his schooling from Adharshila Middle and High School. He is known for his sincerity and hard work as a student and as a teacher. He is creative, has a deep insight on the schooling process, and always looks for opportunities to learn something new. At various events, he showcased his leadership abilities. Therefore, it didn't come as a surprise when he recently gave an interview for the SRC coordinator and got selected. The transformation in him after teaching 5 years at SRC was evident. As a Coordinator, he is now in-charge of 6 SRCs. "Teaching at SRCs have been a learning experience for me. I'll try my best to do justice to the post of coordinator…earlier I had to manage 50 students and now I have the responsibility of 6 schools…I'm really looking forward to organizing the first major event of Kho-kho and kabaddi competition as a Coordinator". As an organization, we feel very proud of Sirnam, and seeing his wonderful journey from being a student, to a teacher, and now as a coordinator, we are sure he will achieve many milestones in life. We wish him all the luck!
You all have been our constant source of support and the journey that we have shared in last few years has been a memorable one. We have a long way to go and your support is a prerequisite to the success of this initiative. Please spread the word about our work. We look forward to your comments and suggestions.
Warm regards