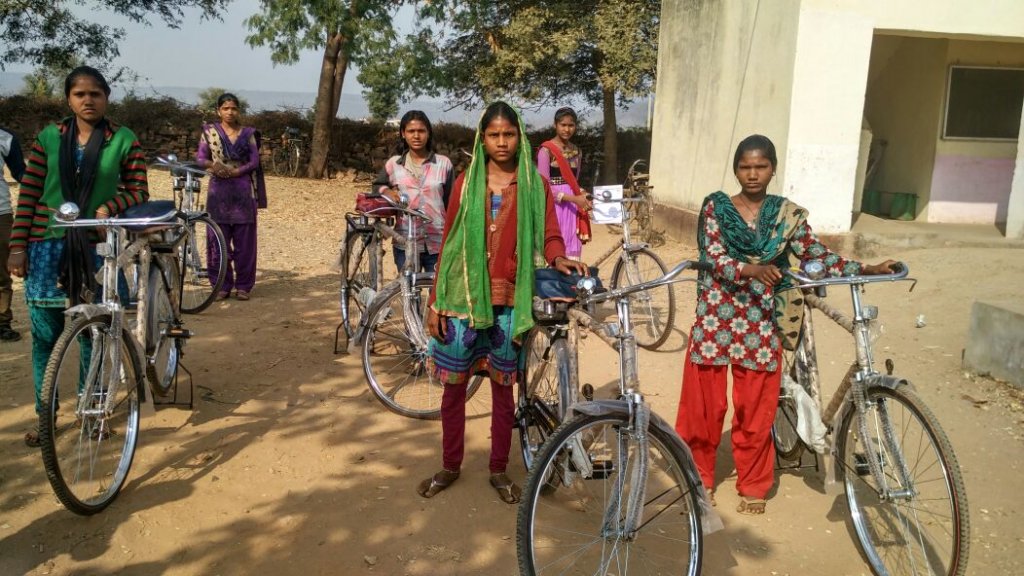 We started the New Year reflecting on some of the persistent challenges that Adharshila has been facing and identifying measures to resolve them. Regular attendance at school by our students is one such challenge. Adharshila considers regular attendance essential for quality learning attainment. However, our students, given the extreme poverty in which their families live, find it difficult to be regular at school.
Older girls often face difficulties in reaching school regularly because they have to walk the entire distance, sometimes as much as 5 km each way. Many girl students reported that when they are walking alone, their parents are generally unwilling to send them to school, and sometimes they find it difficult due to the weather too. We decided to provide bicycles for senior girl students coming to Adharshila from distant villages. This has made a tremendous difference to their enthusiasm, and also helped them to reassure their parents about safety and security.
Manisha, a class 8th student who comes to Adharshila in village Agara from village Ahirwani (8 kms away) said "My parents used to ask me to stay back at home and help in the daily chores. They said there is no need to walk miles to attend school, but now I don't have to listen to them".
Ramshree from Nayagaon, who studies in Class 8th at Adharshila, says "Getting a cycle is dream come true for me!"
A class 9th student Amravati, who walked 8 kms from village Ahirwani to Adharshila every day, said "Due to long distance it was becoming difficult for me to attend school on daily basis, but now I'll be able to devote more time for my studies and will be regular at school".
Inadequate warm clothing similarly causes sharp dip in attendance of younger children during harsh winters. We decided to distribute woollen sweaters to all the younger students enrolled at the satellite schools to help them deal with the bitter cold and focus better on school activities. It has been a heart-warming sight to see the children snug and warm in their new sweater, attending their lessons actively and with enthusiasm despite the cold winter this year.
It is support from generous donors like you which helps us to make things better for the kids at Adharshila. We're grateful for your support, and we hope you will spread the word about our initiative in your circles. We'll be delighted to receive your comments and suggestions on our work.