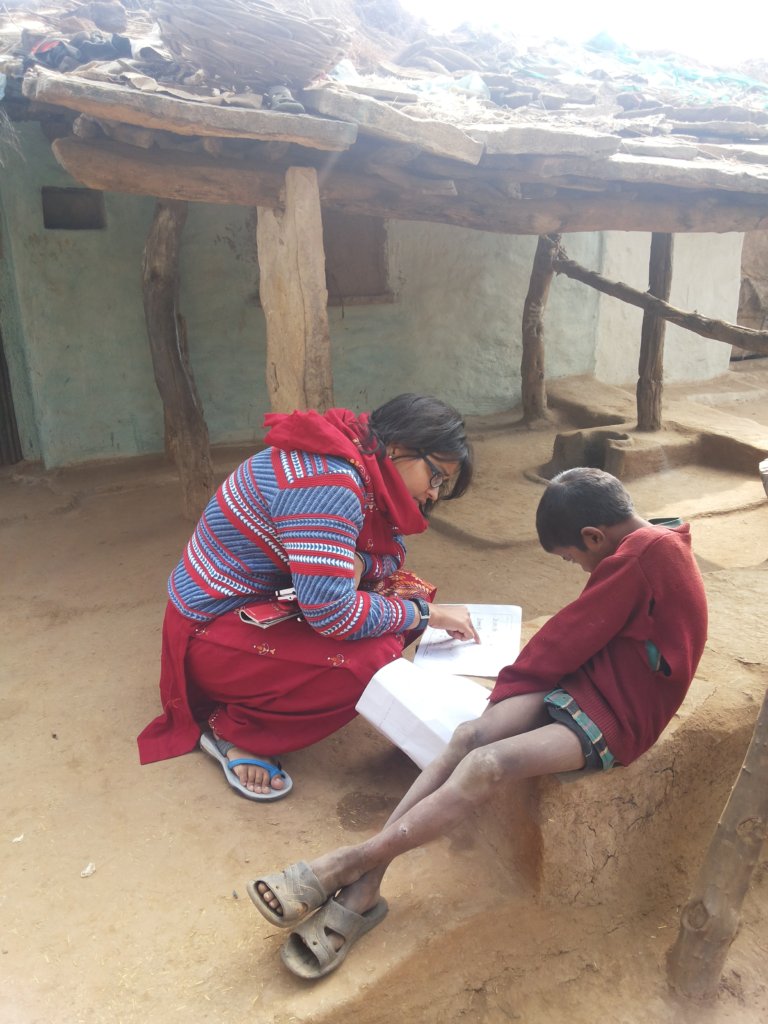 Adharshila is located in village Agara which was one of the host villages for the relocated Sahariya tribes displaced from Kuno Wildlife Sanctuary in Madhya Pradesh, India. The tribal villages inside the sanctuary were resettled in and around village Agara. It was a challenge for Adharshila to mobilise Sahariya tribal children from nearby villages to get enrolled for the Primary classes because of the villages are distant from the School. It was then decided to reach out to the children in their own villages and teach in the dysfunctional government school buildings. Before that, it was needed to collect household level data in each of the selected villages to understand the need of intervention, and also run a baseline learning level assessment for the children. To collect the baseline learning level data, we adopted a widely used assessment tool in the field of education. The tool was to test the levels in Hindi language on the scale of 0 to P (0: Nothing; L: Letter; W: Word; and P: Paragraph) and in Mathematics on the scale of 0 to D (0: Nothing; NR: 0-9; NR2: 10-99; S: Subtraction; and D: Division).
Initially it came out as an effective tool for Adharshila School to start its intervention through Satellite Resource Centres (SRC) in the selected villages. The analysis of the assessment data gave a clear picture that most of the children were in 0 levels in both Hindi and Mathematics as they never attended the school. Few others were able to get through levels 1 in the both Hindi and Mathematics. It alarmed a need for Adharshila School to intervene through our SRC. It took around two years for teachers appointed at SRCs to reach to a level where most of the SRCs' students who were in level 0 initially, now reached up till level 2. The students who were in level 1 initially, by now reached at level 4 and 5. The assessment tool at this stage did not give much chance to the students performing well to reach to the next levels, as there were no further levels defined. As the SRCs evolved, classroom teaching was more than what the assessment tool was assessing. The team now knew that the students know much more than what we are assessing by using this tool.
With time we started understanding that language development is more of an emergent process where the child learns the language with putting their realities into the new language. This means the child starts comprehending the world around in the new language with genuine meaning making. The process does not start with an alphabet or a letter but with a more meaningful comprehension. Keeping this approach in mind, our pedagogy underwent a major shift. This new pedagogic approach demanded a new kind of assessment which would focus on meaningful language development rather than near technicalities.
Similarly in Mathematics, children use a variety of skills while dealing with daily mathematical concerns. Another major concern was that the existing tool was assessing children in a very linear way whereas under each subject a more comprehensive approach was required. This gave way to an understanding that not only one but many skills, which are equally significant, under each subject need to be a part of the assessment tool.
The team then thought of developing a new tool for children's learning level assessment. We needed a tool which is more flexible, to which learning levels can be added at later stages, if needed. The assessment tool was designed with an understanding that each child is unique and their understanding may differ with each subject and competency. The tool assesses children in Hindi and English languages and Mathematics. As per the whole language approach both the languages were divided into four linguistic skills i.e. are Listening, Speaking, Reading and Writing. Each of four is divided in three levels with given codes. These levels were conceptualized keeping in mind the context and developmental stages of children. Similarly four basic competencies were identified for Mathematics as well related to the daily lives of children. These competencies are Number sense, Number operations, Estimation and Approximation, and Geometry. Under each competency, three levels were coded.
All these levels in Mathematics and Languages were conceptualized as per the principle of concrete to abstract. This means level 1 engages the child at the most concrete and experiential level whereas level 3 demands a more abstract and relational thinking.
To ensure appropriate usage of the assessment tool, all the SRC teachers were given an orientation by the team. Along with this, the tool was piloted in front of teachers with four children of different age groups. Teachers witnessed the entire process, and it helped them greatly while implementing the tool in their own classrooms. We envision to regularly assessing the learning of children through the assessment tool, which will be modified as per feedback from teachers at regular interval.