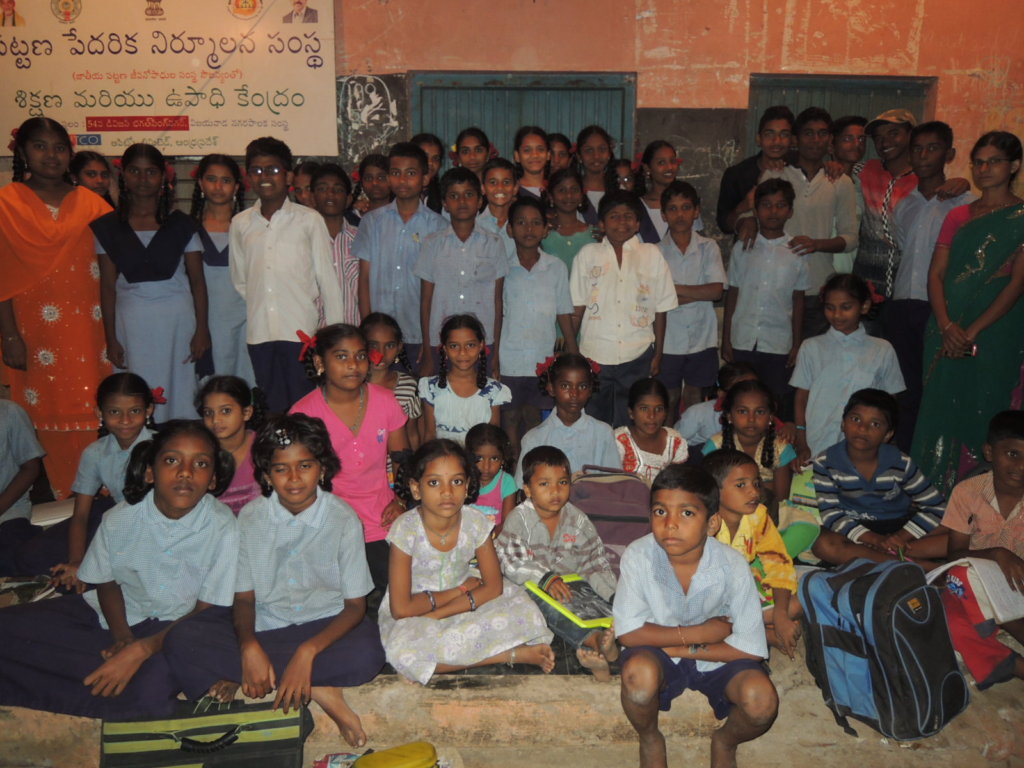 Machilipatnam:
The Machilipatnam Children Education Centre consists of 53 children, all of them are from very poor households and belonging to the lowest rung of the society, Children from Class 1 to Class 10 come to this centre to benefit in their education.
Firstly the Association of Relief Volunteers (ARV) team enquired about the whereabouts of the children, their education, improvement, health and results. ARV is happy to see that many of the children are getting good results. They are gaining confidence in themselves and are not only improving in their studies but also in their overall development. They are participating in extra curricular activities like sports, singing and dancing. The children coming to this centre come from different areas like Adarshnagar, Radar Centre and Arunodaya Colony, and they come by walk as they cannot afford a means of transport due to their poverty ridden circumstances. But the interest of the students to study does not waver as they showed tremendous potential and secured gifts from their teachers by achieving good marks in September, October and November.
Some of the students who excelled in this Quarter are:
1. Shaik Hussein is studying Standard 10th in St. Francis Telugu Medium High School. Hussein is a school first student and in this Quarterly Exam, he secured 467 marks out of 480 and topped the class of 90 students. Not only that, he secured the School first prize in Essay Writing competition and class first in Telugu Poetry competition. He doesn't have a father and his mother works as day labourer and takes care of her 2 sons. Many a time the family cannot even afford a square meal per day.
2. Naga Phani is a Class 8th student in St. Francis Telugu Medium High School. He is a class first student among 80 students. This student as mentioned in last year's report received a cash gift of Rs. 2000/- from the school management for securing school 1st in Class 7th. He secured good marks in this quarterly exams and the School once again gifted him English to Telugu Dictionary. Naga Phani's mother works as a labourer as his father left them.
3. Raghupatamma is a Class 9 student from RCM High School. She secured class first in the Quarterly Exam and the School Management gifted her with a cash prize of Rs. 300/-. She also got first prize in school for Essay Writing Competition on Mother Teresa. She doesn't have a father and her mother works as domestic help.
4. D. Sharon Pradeepa is studying Class 6 in St. Francis English Medium High School. She secured good marks in the Quarterly Exams and stood second in class. She is a sportswoman and secured many prizes in various sport events like Track, sipping, shot-put and long jump. She got the first prize in 800 metres running event competing with even Class 10 boys and girls. She received prizes in other competitions like English hand writing and listening skills.
5. G. Dhanalakshmi is a Class 7 student from SKHUP School. She is a good student and secured many prizes conducted on the eve of Children's Day celebrated on 14th November. She got first prize in Singing and frog jumping competitions.
Chevuru:
ARV team visited the Chevuru Educational Centre to find out the Quarterly progress of the students. This Centre has 68 students from Class 1 to Class 10, coming from rural background, deprived community of Schedule Caste and from very poor households mostly single-parent families. ARV met with the teacher and enquired about the conditions of each student, their academic as well as extra-curricular development. The team also tested the knowledge of the students by asking questions in their respective courses. Most of the students have improved but there still few backlog students and we found that the teacher is paying added attention on them. ARV team also requested the teacher to take personal care about these children.
These students study in Chennuru High School, Chevuru Upper Primary School and Sahaya Matha School in Mudinepalli. In a Mandal level survey the school management did a survey on August 15th to see which students secured first marks in each subject, it was found that many of the students studying in our Centre secured good marks. Among them are:
1. Medisetty Naga Jyostna from Chevuru Upper Primary School is studying in Class 7. The school management gifted this girl a cash prize of Rs. 3000/- for getting good marks at Mandal level.
2. Tantepudi Bindu is a Class 9 student from Mudinepalli Sahaya Matha English Medium School. She and her team secured the second place in State School level Kabaddi Championship. She also participated in many games organized in Nagpur and Hyderabad.
3. Andugula Lokesh Babu is a Class 10 student in Chennuru High School. He is a class first student and not only good in studies but also an all-rounder, received prizes in various Sport events like Kabaddi and shot-put.
4. Boddu Prasad and Boddu Ajay are also Class 10 students securing good results. Not only in education, they are excelling in every sport events in the Mandal level and winning prizes in Kabaddi, shot-put and volleyball.
Perikeedu:
There are 64 children in the Perikeedu Centre and like the other centres, the children are showing outstanding progress not only in academics but also in sports and other curricular activities. When the ARV team visited the Centre, it was happy to find that many of the children secured good marks in their exams. Even the parents were surprised and expressed their gratitude for the opportunity that ARV provided to their children to improve their studies.
ARV team visited the centre and enquired about the whereabouts of the children. The children were very excited as they had received their progress cards. They showed their Report Cards to the team on the improvement they made in their studies. All the children showed good improvement by securing good marks in the exams. They promised to work still harder and secure good marks. ARV was extremely happy with the progress of the children and appreciated the teachers for their valuable service.
ARV handed over the scholarship given to the 17 children by Mr. Robin from 'No More Starving' through ARV. They expressed their sincere gratitude to ARV and Mr. Robin for assisting their children in their education. The parents expressed their anguish in their inability to educate the children with the meager amount they earn. They responded saying that the wages they get is barely sufficient to feed the family let alone educate them.
Kandrika:
The Kandrika Education Centre has 60 students coming to the centre after school hours to facilitate them in their studies. The students come from very poor households and their parents are day labourers living and educating their children with the meager wages. ARV with the assistance of GlobalGiving and other sponsors gives an opportunity to the children to improve their studies through the tutoring facility. Many students expressed their gratitude to ARV and the sponsors for their support.
ARV team visited the centre to check the quarterly progress of the students. They enquired the teacher about the progress of the students and found there was satisfactory improvement. They are securing good marks and also developing all-round. They are showing immense interest in sports and games. They are participating in different competitions and winning prizes. Through this the students are gaining confidence in themselves. ARV team tested their academics progress by putting forward questions in the various subjects. They were satisfied with the enthusiasm and progress of the students.
Some of the students who excelled in studies and Sports are:
P. Prasanna Kumar, P. Anand Kiran, K. Rajesh and A. Venkateswara Rao from Class 9 secured good marks in their class. They also won a Gold Medal in an inter-school sports event.
The girl students Bhavishya from Class 8, Karima and Ramya from Class 9 got class first in the Quarterly exam. Mohammad Shamima Parveen from Class 9 got good marks in Hindi and received a prize and certificate. K. Tanuja from Class 9 received a certificate and prize for securing first in an exam on Traffic Rules.
ARV is happy and proud to report that the students in all the Education Centres have progressed not only in their studies but also in extra-curricular events. The Centres are not only assisting them in their studies but also giving them confidence in themselves to go beyond education and find out their talents and strengths. The children expressed their gratitude to everyone working for their upliftment.