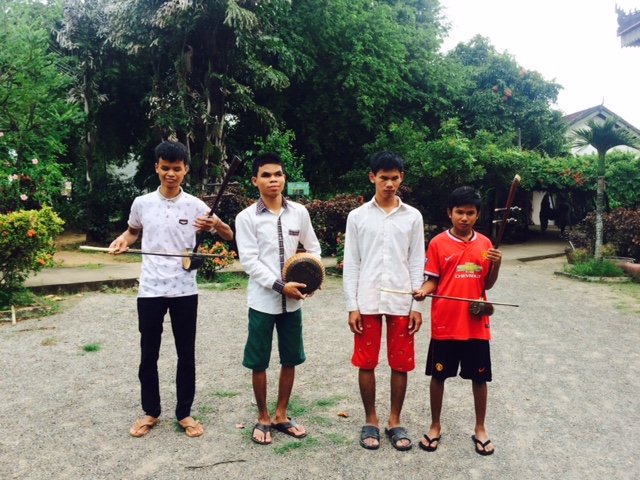 Background
Tai is a very special boy with exceptional qualities. Born in a remote village in Kampot Province, he has been blind since early childhood. In Cambodia there is very little hope or opportunity for blind people. Those born in remote and poor villages are usually destined to live and die in extreme poverty, sometimes begging in the city, but tragically considered shameful or useless in Cambodian society.
Several years ago a small shelter was set up in Kampot by an Australian man, himself blind, to offer a better opportunity in life for blind children in Kampot. Last year our school was contacted by this very same gentleman who asked us to teach music to the children in his shelter. We agreed and began giving free tuition of Mohori music to the children. From ten children the number settled to eight, because two children moved to the capital Phnom Penh.
In a short space of time the children's hardwork and patience bore fruit and they began to put together their first Mohori orchestra ensemble. Coming diligently to our school everyday they studied with our Mohori master and our own sighted students resident at our school also helping the music master in teaching. Mohori music is an excellent form of vocational training, because Mohori music and Plein Ka music (a branch of Mohori) are used for festivals and weddings and because in Cambodian society, weddings are not considered complete without Plein Ka, then it is possible for musicians of this music genre to earn a good living. Forming an ensemble can help them have their own professional working orchestra.
One day we were told that their shelter was to close, through lack of support and funding and because the creator was himself elderly and no longer able to manage. He had already asked us earlier in the year whether we were willing to care for his children should the worst come to pass and we promised him that we would do all that is possible to help them.
So today we now care and house these children at our school. We met their parents and we were given their permission together with the Department of Social Affairs in Kampot to help them in the development of their young lives. We also contacted the other few organisations concerned with the blind in the capital Phnom Penh to ask for their advice, which they kindly gave.
We felt that we had to help them, not only had we grown so fond of them during the months that they had studied with us, but also we knew that back in their villages, they had no chance of ever creating a sustainable future for themselves. The two Braille teachers allocated to the entire Province were available in Kampot town only and not able to teach in the different, isolated villages, so rather than send them to an institute in another Province far away from their families, we said a big "Yes" to caring for them.
This means a lot of adjustment for our staff and children, not only on a physical level, (adapting our bedrooms and bathrooms to be more user-friendly for non-sighted children), but also to find Braille teachers and sponsors for Braille equipment and materials and to employ a special house-mother who can be on call for them 24 hours (doing shifts with two other staff already at our school).
Who is Tai?
Tai is one of our students aged 15 who in learing Mohori music at our school, revealed an extraordinary musical talent and a most beautiful voice. In July of this year, the Cambodian Ministry of Culture invited our school to participate in the ASEAN Conference "Art for All" in Thailand. So Tai together with our Pin Peat teacher and a representative from the Ministry of Culture, went to Thailand and performed at the conference to great acclaim. Tai and the other children are very important for Cambodian society, because their success teaches Cambodians to recognise that all people have a special value and can contribute to their country.
Now Tai and the other children are at our school, continuing their studies. Two passed their recent scholastic exams and are getting closer to their dream of university
Their presence has brought our children and staff great joy and empathy and they enrich our lives with the special qualities that they have.
Thank You
Thanks to your continued help and support, we have been able to help these special children. However we would like to receive your support in the future too, because we must provide extra food, medical care and clothing, as well as support for the Braille teachers and the special housemother. Please help us make this project a long-lasting one, so that not only these children are assisted, but all those children who are blind and who need help in Kampot can come to our school and build a future. We would like you to know that this is now the only special needs school -centre for blind children in the whole of Kampot Province.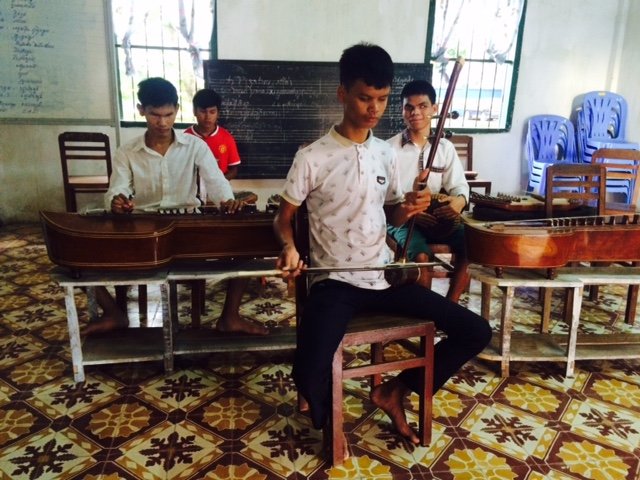 Links: