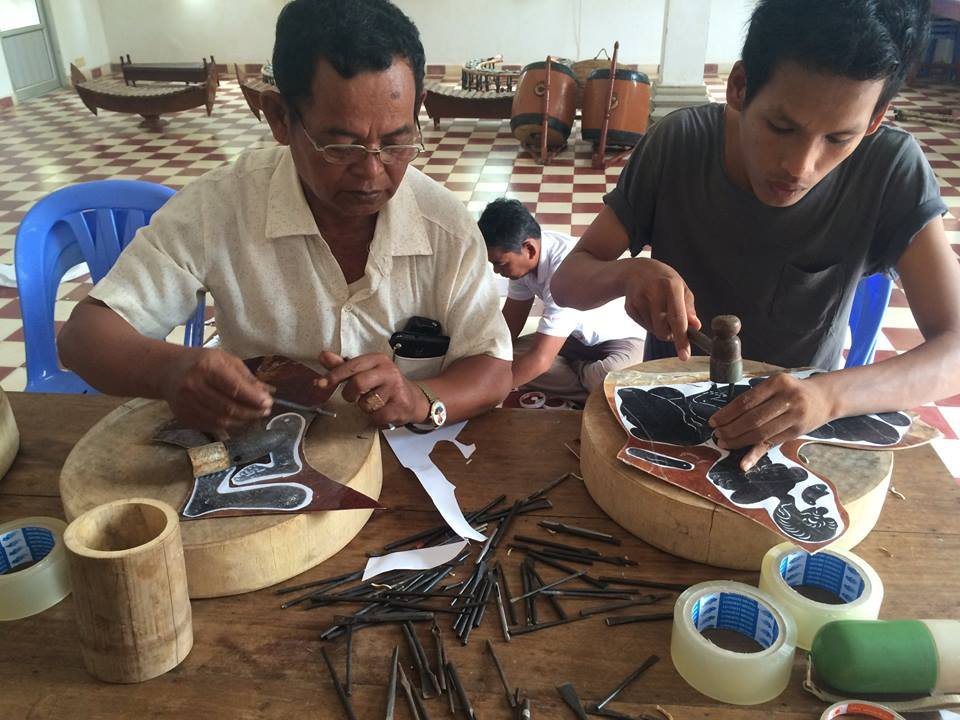 Looking at the Past
During the period of the Khmer Rouge genocide, it is estimated that perhaps 90% of Cambodian artists died.
If you look at old photographs taken of the Royal ballet and the Royal musician's troupe some years before the Khmer Rouge took power, there are hundreds of people, smiling and hopeful, completely unaware of the future that awaits them. The capital Phnom Penh in the 1960's was not only a hub of traditional music and dance, but also in nearly every Pagoda in the countryside there was a Pin Peat orchestra, the villages had their own Mohori and Plein Ka wedding ensembles and one could be sure that there would be a marvellous shadow puppet troupe in the Province, touring from village to village.
Cambodia was also the epicentre of rock and roll, with the King himself an enthusiastic musicians and composer, fusions of musical influence from abroad thrived in this beautiful country. Famous singers such as Sim Sissamouth sang popular songs. There was an acceptance and harmony between old and new.
First came the overthrow of King Sihanouk by General Lon Nol and the descent into corruption and war with the Khmer Rouge guerillas, who graduallly overtook Cambodia, then the secret bombing of Cambodia under US Presdient Nixon and Seretary of State Kissinger, causing over one million refugees to flood into the capital Phnom Penh. Then from 1975 - 1979 the Khmer Rouge took power and evacuated the capital Phnom Penh forcing the entire population of Cambodia to live in the countryside. Cambodian artists were among the first to be executed. It is said that the singer Sim Sissamouth was forced to dig his own grave. A beautiful ballet dancer who danced a duet with the son of the King was decapitated and the list is so long, that it has never been compiled or completed. Only at the end of the regime, was such a great emptiness and the few survivors began looking for each other and trying to rebuild from scratch a history which had spanned over 1000 years.
Sabaik Lakoun Toch (Shadow Puppetry)
Today in our school we have several tradiitonal cultural formations, including the tuition of Pin Peat music, Plein Ka and Mohori music, Traditional Cambodian ballet, folk dance, ancient Yike dance and theatre, Trott dance and Chayyam dance. These art forms are taught by skilled Cambodian teachers who come from the National Theatre and Royal University of Fine Arts in Phnom Penh. For a long time we have wanted to add to our teaching curriculum the art of Shadow puppetry.
It is thought that this art dates back at least a thousand years. Shadow puppetry still brings great pleasure and is much loved by Cambodian people, however in the Province of Kampot where our school is based, there are no surviving puppet artists at all and so no puppet troupe exists in the entire Province.
With the assistance of Cambodian Living Arts we have been running a workshop for our students and teachers, as well as local state school students and teachers on the art of making and performing Small Shadow puppets.
The puppet master comes from Sovannah Phum in Phnom Penh and he has been teaching how to cure cow leather, to paint it, cut it, draw puppet characters and ornament them, then make bamboo sticks to move each puppet. Shadow puppets are figures held up by thin sticks which propels the characters along. The performance takes place behind a lighted screen to the accompaniament of voice interpretations and Pin Peat music. Small shadow puppet theatre as opposed to Large puppet theatre (Sabak Lakoun Thom) gives artists the freedom to create themes and mix ancient characters and art forms with modern day social themes. In this way, especially for our school the process becomes highly educative.
Students not only learn handcraft skills in making the puppets, (therebye ensuring a vocational skill for the future and the continuation of this art form,) they also experience freedom of expression, have much fun and give lease to their creativity in interpreting the voices of the characters. The creation of a theme which reflects current society, also offers teachers and students an opportunity to examine themselves and their surroundings, identifying areas which they feel need special attention, which can be AIDS prevention, the promotion of education for girls, the importance of education for all as a brighter future and so on.
On this course, our students and teachers have been enjoying themselves enormously and the puppet master has been quite suprised by their skills in learning. We can't wait to have our first puppet performance!
Although the course itself has been specifically sponsored, still we would not have been able to go ahead or even exist if donors like yourself had not assisted us in the first place. We still have to feed, clothe, house and care for the many children at our school before any course can take place.
Therefore thank you for believing in our school and for all your generous help.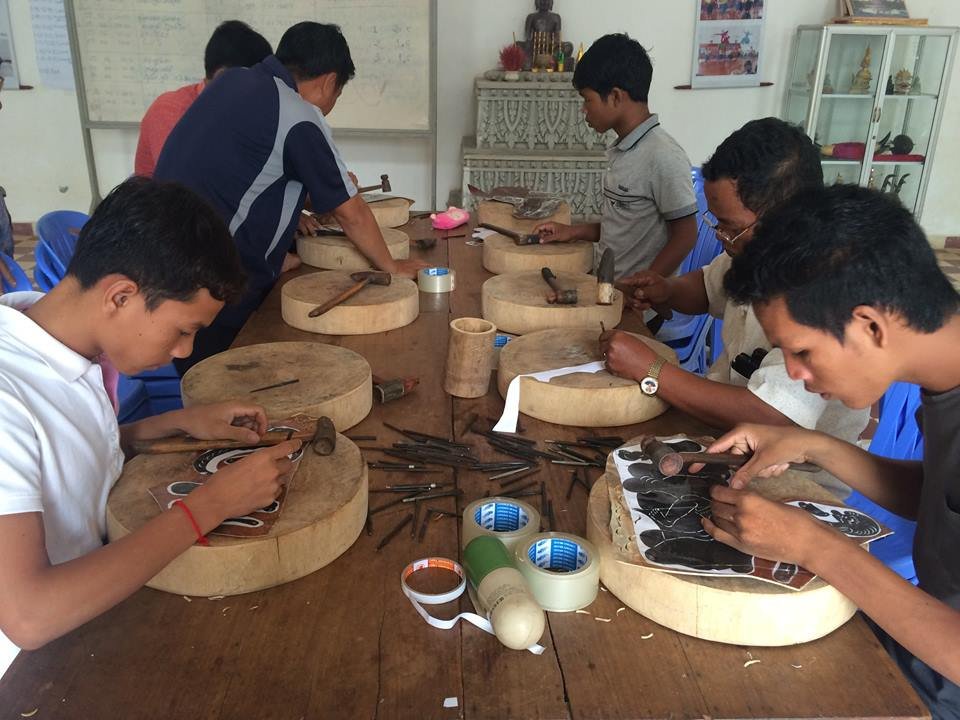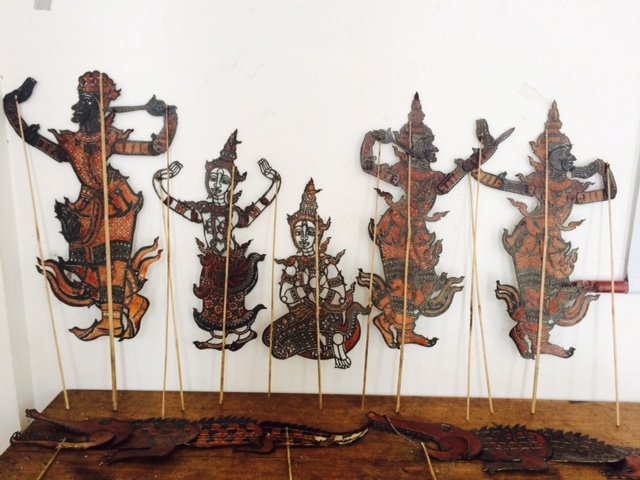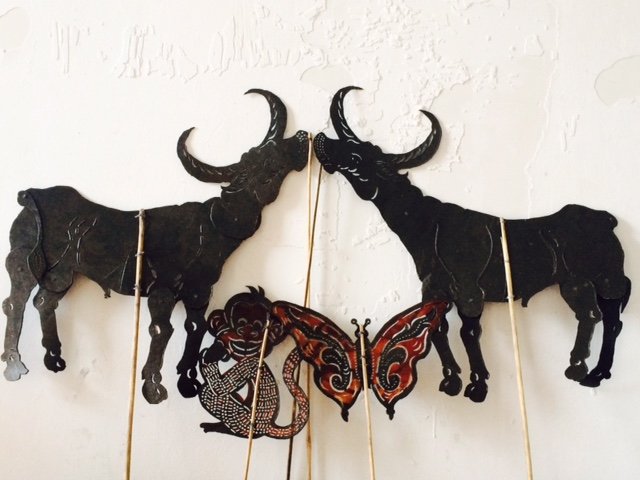 Links: