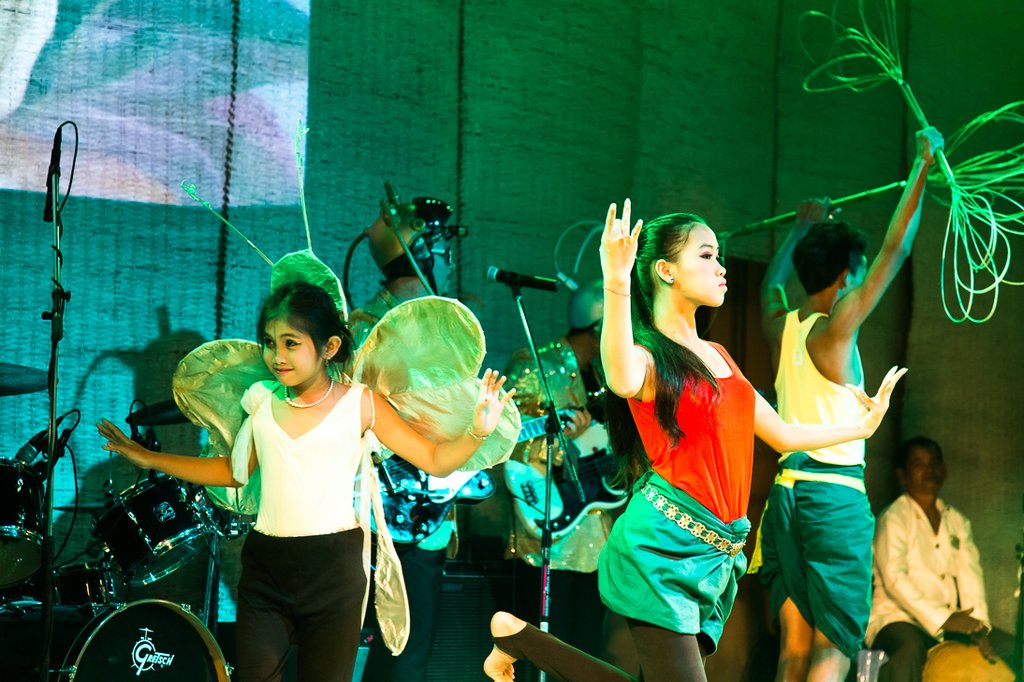 Dear Friends and Supporters of Kampot Traditional Music School KCDI,
December is nearly here and on behalf of everyone at school I would like to thank you all for your marvelleous support to our program and to our children here in Kampot that you have given. In a short space of time we've raised over $2,000 and it's all thanks to you.
We recently completed a spectacular event which we hosted but which was organised by the Cambodian Space Project rock group, Intimate Spectacle Theatre group from Australia, Australian theatre directors and in partnership with the local contemporary art space, Lightbox. Our children and staff were delighted to be part of an incredibiliy imaginative and creative event, combining traditional Cambodian music and dance with contemporary music, theatre and stage effects! The story about a monkey who finds a piece of old space rocket in the jungle and decides to go to the moon, reflects the story of the migration of many Cambodians from rural poverty to urban living and the many challenges and changes they face along the way. We were honoured to have both the very famous Cambodian rock star Chanthy, as well as the great master Kong Noy, most famous of the Cambodian Chapeye musicians.
Our children were involved in workshops to create puppet space monsters, to paint their own ideas of space and to try out different sounds on their traditional instruments. They learned new choreographies and fused their traditional music and instruments with modern ones. Our staff and children learned many things not only about contemporary music, but also their own traditions and there was a happy mix of ideas from round the world, culminating in 2 evening performances at our school to packed audiences. The event was also widely publicized in Cambodia and abroad.
Here is what the theatre director said about our school,
"This project has been a fantastic experience. It is such a privilege working with so many talented people. The KCDI atmosphere is healthy and fun. Bravo to all the artists, students and teachers. (I felt) Very blessed to be part of the show!"
and the head of the Space Project rock band said,
"It's been an inspirational experience working with all the staff, teachers and students at KCDI. We couldn't have had a better project partner than KCDI"
Recently we welcomed 4 new little children into our school, according to the requirements of the Ministry and Department of Social Affairs. We are now busy integrating them into daily life and helping them adjust to their new lives, which is certainly a big challenge for them and requires a long period.
We are preparing the way for university for our biggest girl who received her maturity exam and was only one of very few (30%) to be successful in the whole of Cambodia. We are looking into the possibility of reintegration through vocational training and apprencticeship for 6 of our largest students in their village of origin.
We are creating our own miniature instrument making and Yike drum workshop and we are looking forward to creating our first Lakoun Sabaik Toch (Ancient small puppet theatre) for 2015...but I'll talk about that in our next report!
Christmas Appeal!
We have a big opportunity to reach our goal of $10,000 if you all join our Christmas appeal in December 2014.
Last week, we were turned down once more by a major donor, because we don't fit into their criteria. This happens very frequently, because we are involved both in the arts and with orphaned children, which can be quite awkward, although to us it feels the right decision. Also Cambodia is not on people's thoughts very often. Very rarely is Cambodia mentioned on the news and because of the appalling political fallout at the end of the Khmer Rouge genocide, many people througout the world, never got to know how dreadful it really was. This means that we have a double job of creating awareness about the past, in order to achieve recognition of our presence and our future. We are trying to be more and more economically self-sufficient and miniature instrument making and puppet theatre is a way forward, along with our CD sales and performances. However your help is vital!
From December 1st 00:00 (midnight) EST (Washington DC time) until 31st December at 11.59 pm we have been fortunate to have been selected by GlobalGiving to join the Year End Campaign. Please Join Us To and Make a Huge Difference!
We have to raise over $3,000 and have at least 30 different donors to be able to win $3,000 from GlobalGiving. We are aiming to have 100 donors!! Because we really want to ensure our school is supported through 2015.
All donations go towards feeding our chldren, clothing, medical care, teaching programs and child carers. There are no unecessary overhead costs and no expatriate costs. All contributions go directly to our school.
This is how you can help. If you have given an occasional donation, then please do give a donation to our school. Tell all your friends, use your social network, invite your work colleagues, everyone you think might be interested.
Please kindly take note of a few GlobalGiving regulations here below, so that donations can be made without any hitches!
° If you wish to donate by cheque, please do so by 23rd December 2014.
° Giftcards and Texts are not valid
° Reccuring donors cannot be taken into consideration. if you have given an occasional donation, then you can still participate in our challenge, but if you are registered as a Reccuring Donor, sadly your donation cannot be included.
Please make sure to donate to this project Education/Arts Orphans, Disabled Children Cambodia #16371
We have a Free Arts Training Project, please don't donate to this, because if some of you donate to one project and others to the other, then we won't win $3,000 from GlobalGiving. Please remember that all donations go towards all our projects at our school, because we are one entity and both our orphaned children and our arts-training children benefit, if our school is supported and remains open!!!
From us all in Kampot. Wishing you all a Happy Christmas and a truly Peaceful and Happy New Year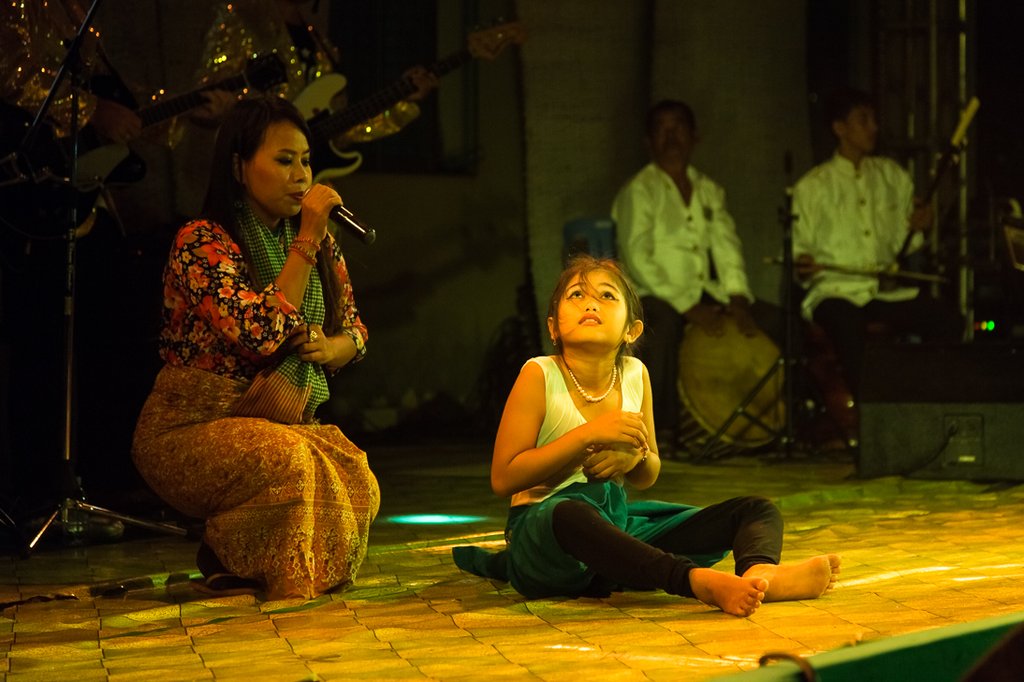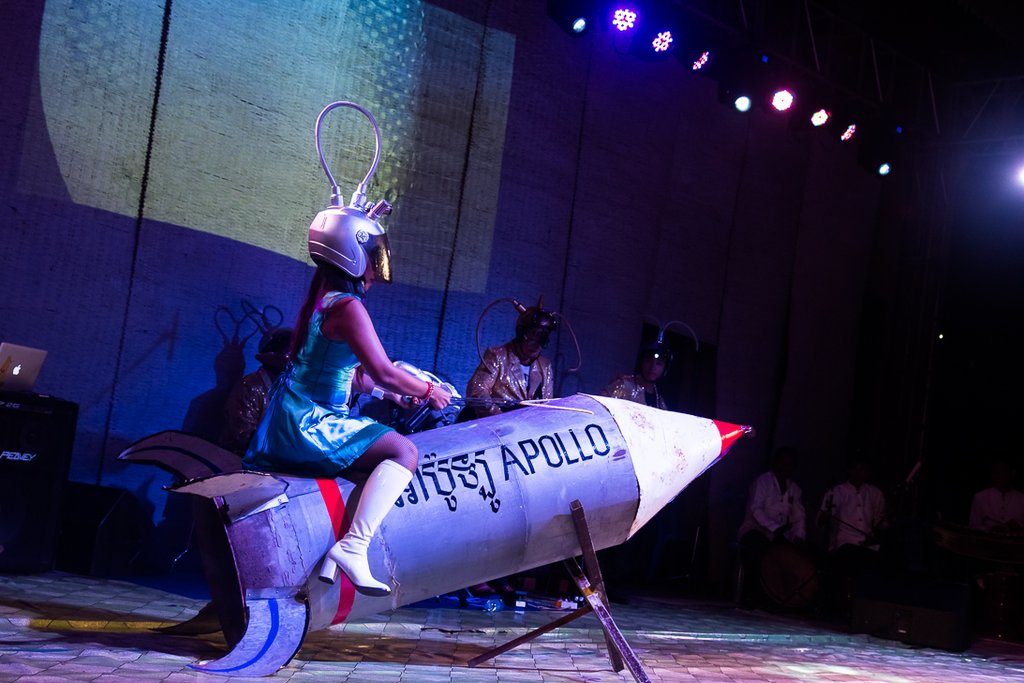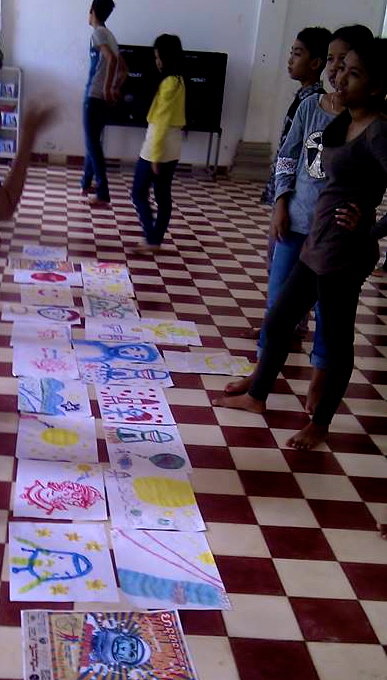 Links: