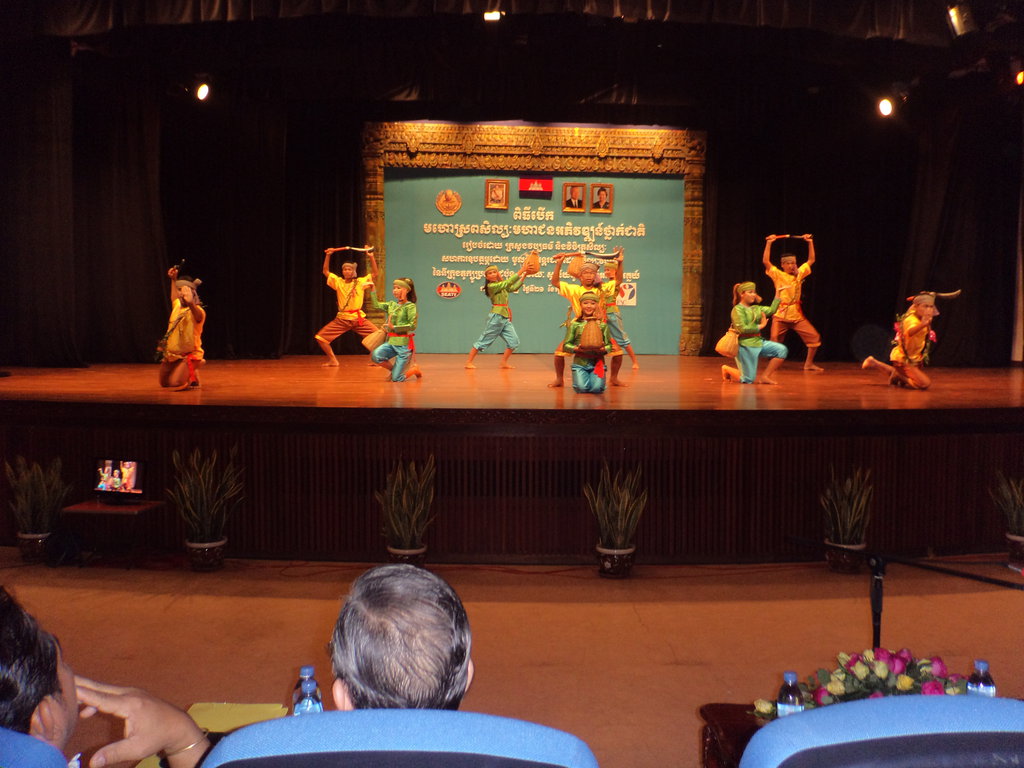 What we Do
Since 1994 the Kampot Traditional Music School for Orphaned and Disabled Children KCDI, (Cambodia), has been helping very vulnerable children in the Province of Kampot. These children have lost their parents, or have been abandoned or abused. Working closely with the Ministries and local Departments of Social Affairs, Culture and Education, our school has developed a detailed program to provide care and training for these children. We also focus on the preservation and development of Cambodian performing arts, almost lost after the Khmer Rouge genocide which killed up to 90% of Cambodia's artists. Through the use of the arts as well as scholastic education, we can help children find a sense of identity, purpose and vocation, whilst working towards the conservation of Cambodia's cultural heritage.
Many grown up children have graduated and gone on to University, become professional artists or have jobs and families. At the end of each report, we will write about the different students who have graduated from our school.
Our Activities and Current Children
The group of children who are today under our care, are aged from 11 to 17. They receive formal scholastic education until University level. This year, one of our students will be doing her high school diploma and going on to University. She is both bright at her academic studies, but also a highly talented classical ballet dancer. Both our educational officer and our classical ballet teacher, will help her to make an informed choice about her future studies, as she has the opportunity to attend either ordinary University or the Royal University of Fine Arts.
Our children return from their scholastic studies at midday and have lunch and a rest, before going onto extra scholastic language and science courses. They then study traditional Cambodian music, Pin Peat and Mahori, classical Cambodian ballet, folk dance and ancient Yike theatre. Our school KCDI carefully coordinates lesson timetables to fit our residential children's needs with those of children coming on our Community Arts Outreach Program. These latter children come mostly in the afternoons for their lessons, on those days when the Community Outreach Children don't have lessons, then residential children can have afternoon lessons.
Some Saturdays are taken up with public performances, either official ceremonies or performances given by KCDI to help students perfect their skills in front of a public.
In general, children rest on Saturdays and Sundays and play volleyball, football, watch television, enjoy the large garden and sit under the Tamarind trees. Together with their housemother they also do group games, painting, drawing, clay modelling and meditation. Sometimes the local Buddhist monk comes to explain children about Buddhist teachings, Cambodia being a predominantly Buddhist country. The school is situated in large gardens with many flowers and trees and two ornamental fish ponds. This provides our children with a sense of peace and security. There is also a vegetable garden and fruit trees.
Thanks to your support we will be able to continue running this program, providing our children with food, clothing, medical care, staff support, academic education and training in fine arts.
Performance at the National Theatre
On the 22nd of February 2014, our children performed the "Bokor Dance" especially coreographed for them by a dancer from the Kampot Department of Culture. Our children were invited to perform this Folk dance, depicting the people, animals and forest of the Kampot Bokor Mountain National Park, by the Ministry of Culture for the occasion of the National Cambodian Arts Festival in the capital Phnom Penh.
Last year the Kampot Traditional Music School for Orphaned and Disabled Children KCDI, was cited as a role model for the rest of Cambodia, by the Minister of Culture.
Future Plans
In the future we would like to expand our cultural program to include Bassac Theatre and Cambodian shadow puppet theatre. These art forms will help to enrich our children's knowledge and enjoyment of Cambodian arts, as well as helping preserve them and bring them to Kampot where such performances are very rare.
We would also like to care for the two younger siblings of children already resident at school. Due to current lack of funds we cannot responsibly take them under our wing, despite them being in great difficulty. The local Department of Social Affairs has already given its permission for our school to assist them.
Ex Student News
Lena and Noy*
Lena* graduated from KCDI last year as a Plein Ka and Mahori musician, as well as a Folk Dancer. She then married and set up her own performance group with her brother Noy*. Noy graduated from KCDI as a musician and a painter, as well as a Folk Dancer. Together with other students graduated from our school, they perform at traditional weddings and ceremonies in Kampot. They help conserve Cambodian traditions, whilst running their own business. Lena also teaches performing arts during the daytime at a local German NGO.
*The names of people mentioned have been changed to protect their privacy. All those photographed here have given their permission