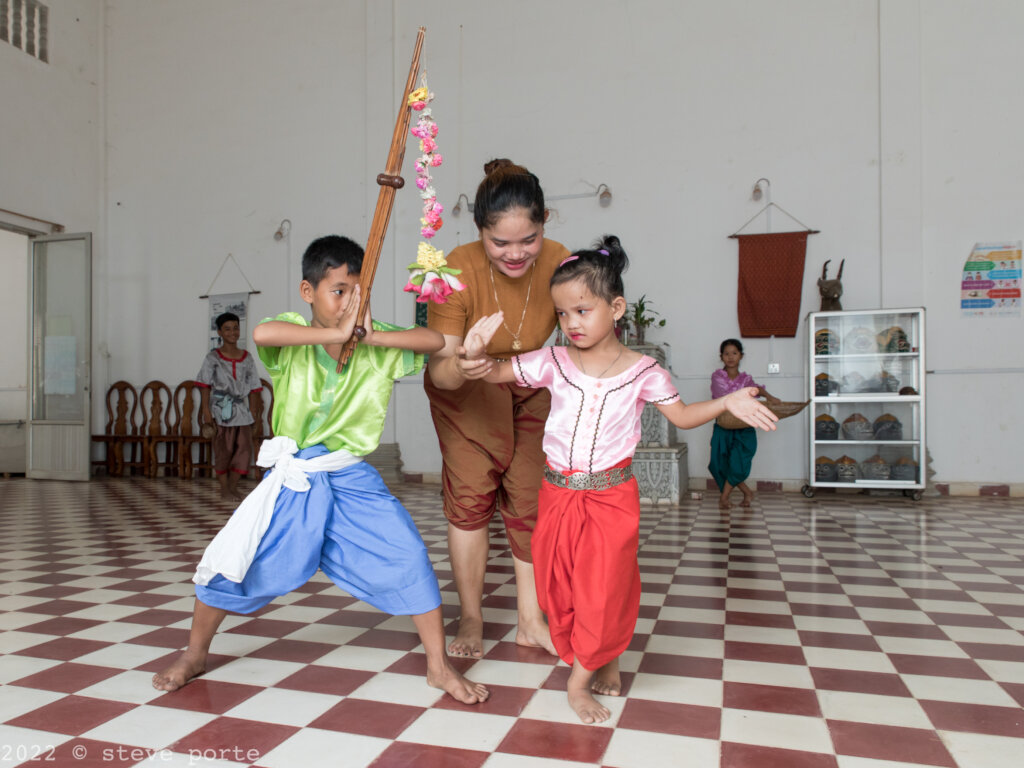 Dear Kind Donors,
Thank you all for your most generous and kind help to our School!
This year, we celebrate twenty-eight years since I founded our School. We have seen War, Shelling, Khmer Rouge strongholds, Kidnapping, We have known Cambodian Colleagues killed by the Khmer Rouge, then Disarmament, Peace, the influx of Expatriates, Covid and now a very unstable World, on the verge of World War Three.
I can only feel immense Gratitude and profound Awe that our School has been so Protected and Helped... and that I have the most Wonderful Cambodian Colleagues, who have dedicated their Lives to the Preservation of Traditional Khmer Music and Arts and to our Children, past and present. I also feel immensely moved looking back over the years, at all our Children. now grown and with families of their own. We are nearly all in touch and get visits from many of them. I have over one hundred Grandchildren!!
My Work in Cambodia, began thirty-two years ago, at the age of eighteen, first compiling a report on the Violation of Human Rights by the Khmer Rouge in areas affected by war, and then a year later, whilst teaching Violin at the Royal University of Fine Arts in Phnom Penh and then living in a Cambodian village without electricity or running water, during the civil war and during the post-Vietnamese, Communist Government, I saw every suffering imaginable. At the same Time, I taught as a therapy the Traditional Tro Sau instrument to Cambodian veteran soldiers, badly mutilated by the War at the Khean Khlang Rehabilitation Centre. In those days the bridge over the Mekong had been blown up and I would travel by bicycle and then boat accross the river. Both teaching at the Royal University and the Rehabilitation Centre were done without stipend and as a volunteer.
At the Royal University of Fine Arts, I saw that Traditional Khmer Music was in danger of dying out forever, as those Masters left alive after the genocide, numbered only seven, and the Traditional Music Students were too poor to be able to come and study frequently. It is estimated that the Khmer Rouge killed 90% of all Cambodian Artists. I loved Traditional Khmer Music very much and studied Mohori Music. Later with funds from the British Embassy I ran a Scholarship Project, to financially support Traditional Music Students for a year, so that they could afford to come and study and keep alive their precious traditions. Still to this day I am moved to tears when hearing Traditional Khmer Music beautifully rendered, or watching the Royal Cambodian Ballet.
In those days the International community did not recognize the importance of Traditional Cambodian Arts, and my efforts were not yet understood. Later in the year 2000, UNESCO was to declare Cambodian Performing Arts, (which date back over a thousand years), as "World Intangible Cultural Heritage"
When living in a village, early in the morning, around 5.30am I would wake and come from my rented room and find on the verendah, Children and adults with infections, cuts and wounds and I would treat them with my first-aid kit. Those Children who had no parents or whose parents were ill, were suffering from severe malnutrition.
All these Profound experiences, enabled me to envision our School in Kampot (then greatly affected by the war). I knew that in order to restore Traditional Khmer Music and the Arts for future generations, we must help those Children who were most in need with practical, loving help and education.
The land on which our School is built, was donated by the Governor of Kampot (this in itself a story of its own) and ratified by the Ministry of Culture. I began the building of our School in 1994 during the hostage crisis in Kampot and when government forces attacked the Khmer Rouge stronghold of Phnom Voar.
Yet despite all the terror and chaos around us, an Oasis of Peace was Created. Our School has four buildings and a beautiful, mature garden full of large trees, fruit trees, fish ponds and vegetable gardens and plenty of green space for our Children to run around in and play.
Now we are in June 2022, In these last three months, we have received into our School, Children in great difficulty.
One little boy aged six came into our Care after both parents were put in prison and his relatives disassociated themselves from him. He has settled in really well, which is quite miraculous after what he has been through. He plays with his new friends and chirps about and joins in with everything.
We then took under our wing, a young Mother with two babies. Her husband had also been imprisoned. Unable to pay the rent, she had been evicted and was sleeping with her babies in the market. Her food, cooking stove and money were stolen from her there. We paid rent for her and took her for medical visits, brought clothing, food, baby diapers etc; In the end she came to our School with her babies, because she was suffering from exhaustion. We will help her get her strength back and then very gradually help her find employment compatible with caring for two infants. This is long-term, because both she and her babies are in a very precarious and vulnerable position.
We are also looking after a boy and girl, aged ten and fifteen, after they too lost their parent to prison.
Another two little girls, aged six and eight are with us too, because their mother left them and their Father is very ill. We are also helping their Father and while we care for the two little ones, we try and keep everyone together.
Our Children who have been with us for some years now, are all doing well!
Our Bind Students have been joined by another youth who would like the opportunity to study Traditional Khmer Music as a vocation.
Our Mohori Teacher who is in his seventies and is our treasure and School Grandfather, broke his leg in a motorcycle accident near his home two months ago. He is now well. He survived imprisonment by the Khmer Rouge and was shackled to other prisoners, narrowly avoiding execution.
There are not words enough to Thank you all for your constant support and kindness through all these years.
Each of you has helped in some way, even to save the Life of another Human Being and to render possible that our School stay open year after year.
With my most Profound Gratitude
(Photographs taken of our Students and Masters with their Permission. Kind Courtesy of Steve Porte)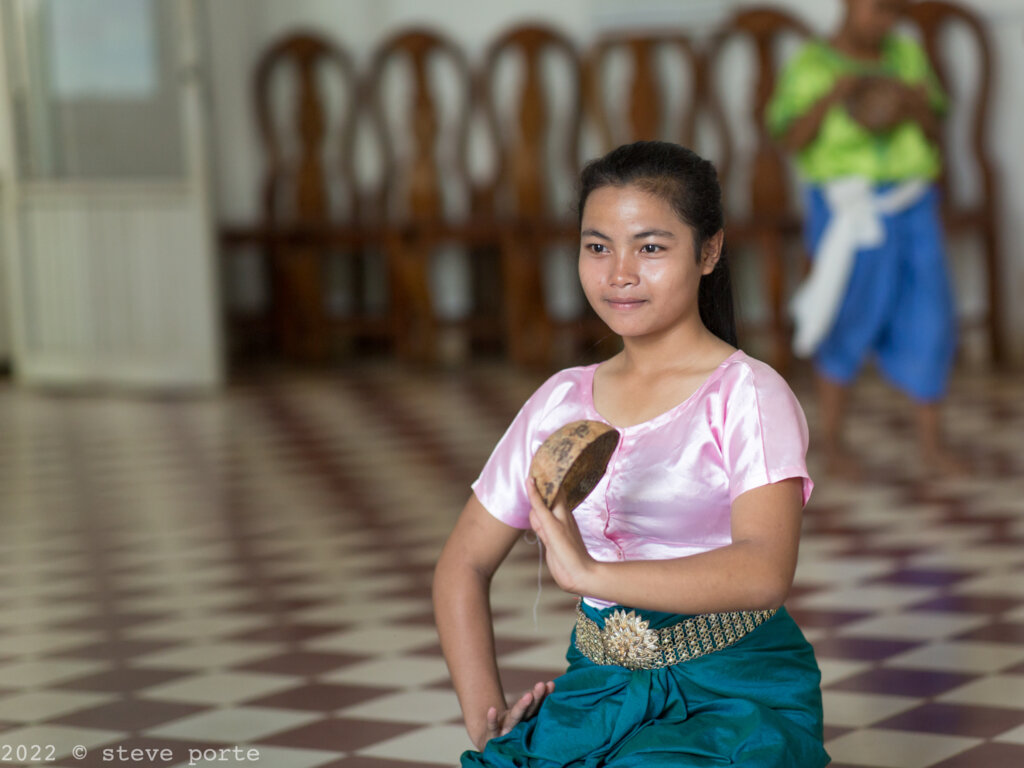 Links: