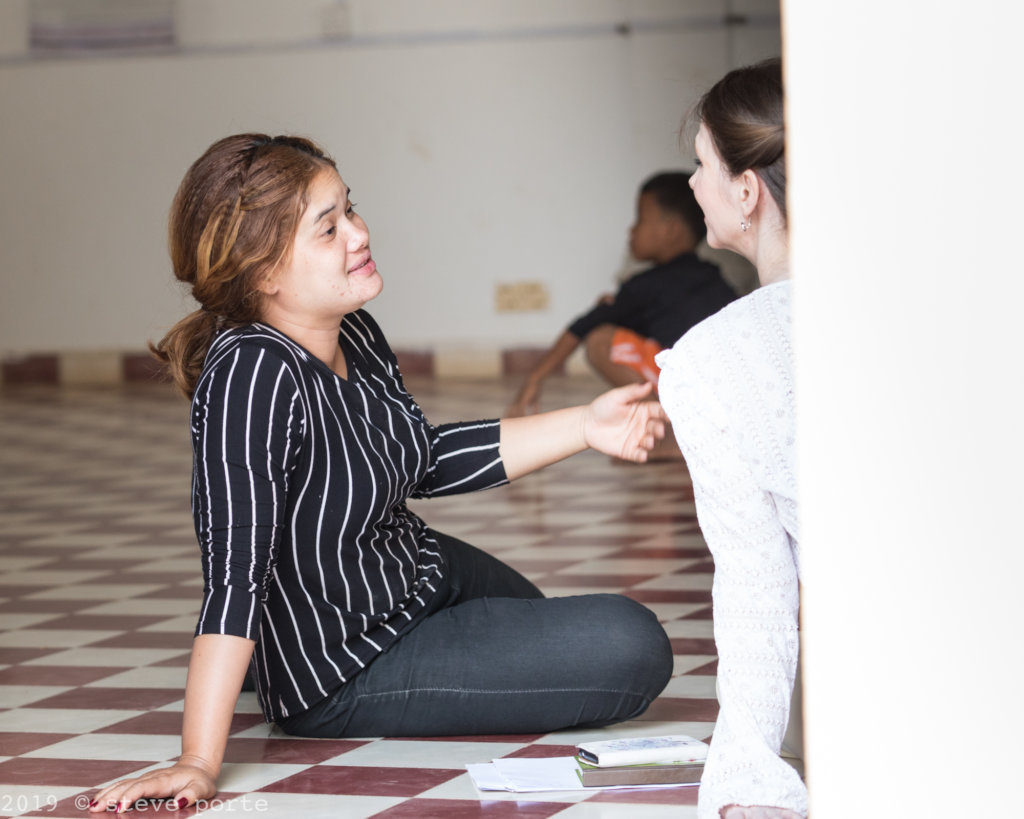 Dear Friends and Kind Supporters of our School,
Thank you for your wonderful help these last three months and to all those who so generously give each month.
You may wonder what happens to our former students when they graduate from our school. Well one boy Sameth who had lost both legs to an anti-personnel mine and who graduated in 2002, won both a scholarship to Thailand and then to Switzerland. He is now married with two children and a manger of a resort in Siem Reap. Sambo who also graduated in 2002 went to University in Phnom Penh before working at the National Theatre and Royal Palace as a Pin Peat musician. He now works at our school part-time whilst working at the Department of Culture in Kampot. He also specialises in research of minority artists and assisting Pin Peat musicians in the Province of Kampot to further their skills. Mao became a Pin Peat teacher and teaches in her district in Chumkiri. Saveth worked first for the Ministry of Culture and worked on a notation project to document traditional Cambodian music to prevent it from being lost. She now works in the Council of Ministers. The list goes on. Some former students went to teaching college and are teachers with a speciality in the arts, others decided to be farmers, accountants, technicians and most have married and have children. A very few sadly got lost on the way, but most have built their own lives and are well.
How about Lyda? Lyda came to our school in around 1997. First came her older sister Di in 1994, then Lyda who was the youngest and then Ngèth who was the oldest of all. He walked to our school when the Khmer Rouge were still active and the police took care of him and fed him when he came to a checkpoint. He decided to come when his granny wanted him to stay at home. They lost their father when they were very small, then their mother disappeared for many years, during which time the children came to our school. She then returned out of the blue. The children were then able to re-establish loving contact with her, but less than a year after her return she got sick and died. We nursed her in hospital, but alas there was nothing the doctors could do.
Lyda is a lovely, mischevous person and full of fun. We still remind each other when she rolled Sameth's wheelchair into the fish pond. Luckily Sameth wasn't in it at the time.
She is (like her brother and sister), extremely talented. Di after graduating from University now teaches dance for a local NGO in Chumkriel and Ngèth performs in a jazz band as well as working with Lyda. But Lyda is the one who is full of courage. She formed her own Dance Company which not only teaches local children in her village, but also as an accomplished singer, she sings while her brother performs the stringed Tro in weddings and exhibitions. They are becoming more and more successful. Lyda manages the bookings both for dance performances and music, as well as managing the other artists attached to the company. She is married and has a lovely little son aged three.
Lyda also works part-time at our school as our Folk Dance Teacher. She is an excellent choreographer and is loved by us all. She regards our elderly Mohori music teacher Loak Kru Samouen as a father and comes to him for advice on all aspects of Mohori and Wedding music. Mohori music is used to accompany Folk Dance as well.
Our director Mr Sothy gave Lyda and her husband (when they were newly weds) the use of his countryside cabin to live in and he paid for their electiricty and water until such time as they were self-sufficient.
Lyda's students recently performed during the visit by Her Excellency the Minister of Culture Phourng Sackona to our school and also during the opening ceremony of the Kampot Arts Festival in January 2019.
One of my favourite photos is one taken in January of this year when Lyda has come back from perfoming in a wedding, she is very tired, but is her usual optimistic, hilarious self and she and I are sitting for a chat during a pause at our school during Folk Dance lessons. The photographer Steve Porte took it quietly without us noticing! He comes from time to time and with everyone's permission goes round and takes photographs of our daily life.
Just a quick note about our main hall roof. After raising some funds, but unfortunately not all the sum we needed on our GlobalGiving microproject, we have at last begun to repair our roof. We had to order tiles from Vietnam as Cambodia does not make them anymore. After interviewing nearly ten construction companies, we at last found one willing to scale the roof and to wear protective ropes etc; I also did raise a little funds in the UK in a concert in Leominster in April. Those donors who gave support towards our roof will be receiving their project report in the next few days.
* The full names of former students are not given in order to protect their privacy.
** Our thanks to Steve Porte for his beautiful photographs. The third photo was taken in 2000 before we knew Steve!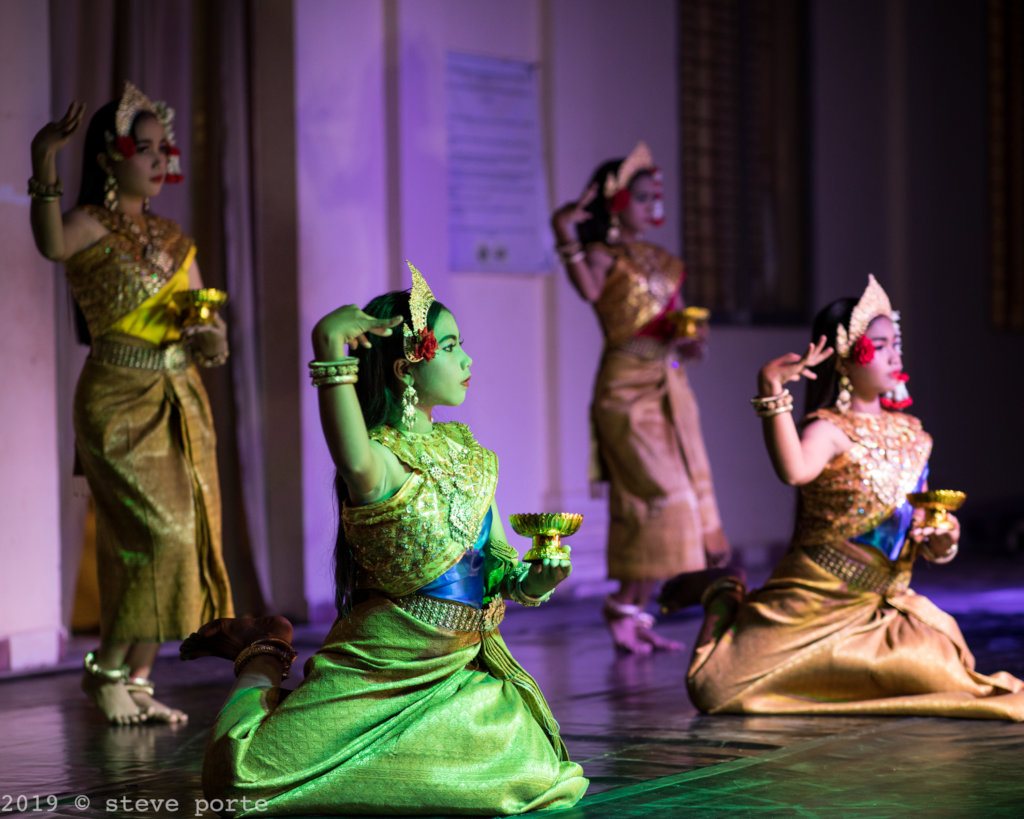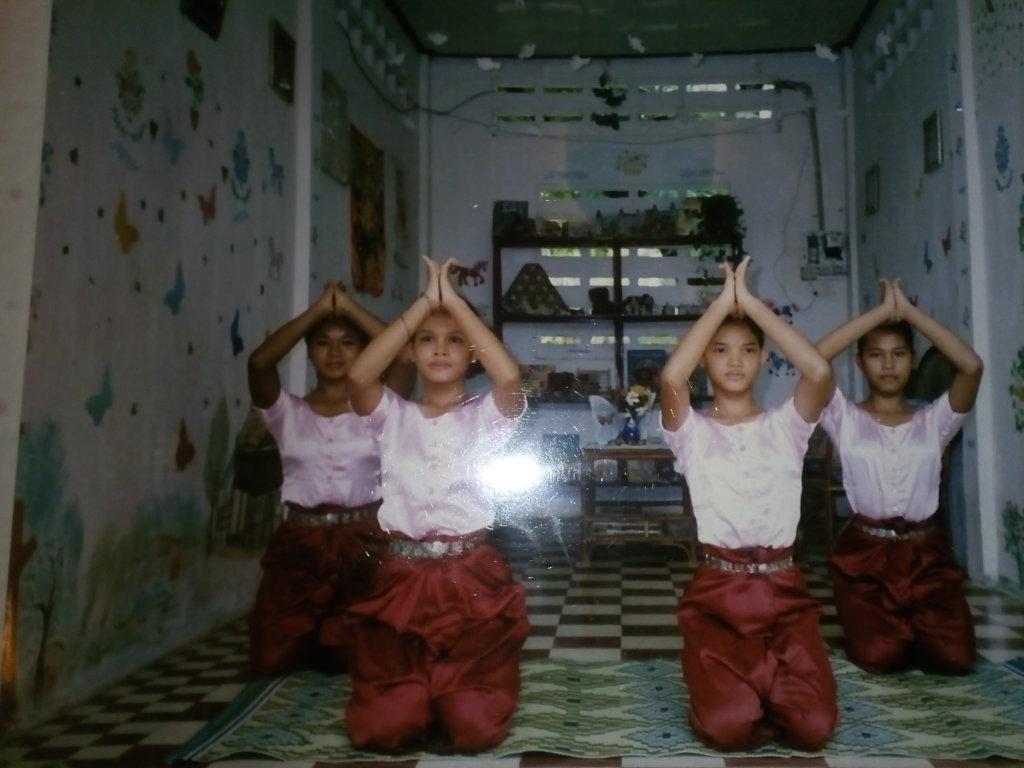 Links: