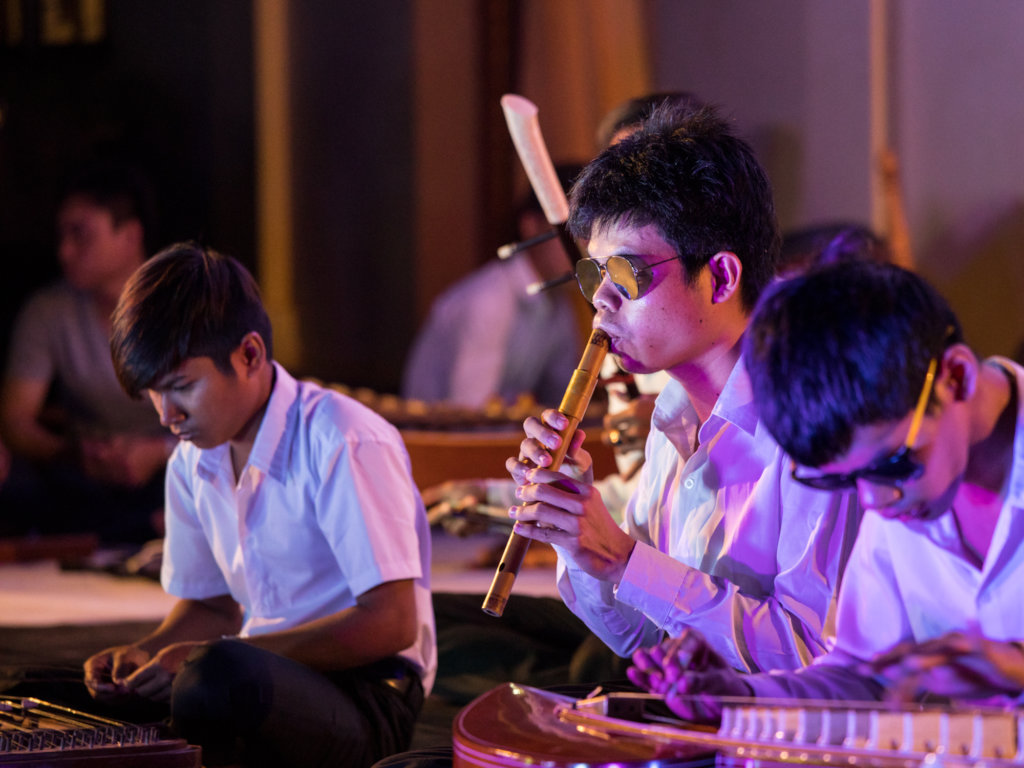 Dear friends of our school,
Thank you all so much for continuing your vital support for our school. We send you our gratitude and warmest regards!
In this report I would like to focus on our blind children, but before doing so I feel it is important that you all know about the current situtation both in Kampot where our school is and in Cambodia as a whole.
In July Cambodia will hold elections. However the prime-minister who has been in power since 1980 (except briefly after Cambodia's first free elections when the opposition party one), has imprisoned the opposition, whilst others have gone into exile. Many human rights activists are also in prison. Some environmental activists have been killed, as well as one political activist who exposed corruption within the ruling family. Many newspapers and radio stations have been closed down, including the Cambodia Daily, Radio Free Asia and Voice of America. Cambodian journalists including an Australian journalist have been arrested and are in prison
In the past Western countries had a significant influence on Cambodia's freedom of speech and the press was relatively free. However in the last five years the role of China has increased ten-fold, with a donation of 500 million US Dollars for "Cambodian development". This sum has dwarfed any Western contribution including the USA, reducing any voice the West may have had on democracy, the environment and human rights. Chinese development includes the building of large dams, power-plants, rubber plantations, garment factories, the Chinese tourist industry and so on. The negative effect on the enviroment that these developments have had, have been well noted, but continue none the less.
In parallel to these developments, Cambodian society has also begun disintegrating at an alarming rate, with Cambodian youth particularly at risk with widespread drug-use and glue-sniffing addictions, as well as alcohol and gambling addictions in both young and older generations. New very dangerous drugs continue to be churned out with seemingly little control or ability to stem the tide. Kampot which is a micro-cosmos of Cambodia has also been much affected by these unfortunate developments. The drug problem is now so serious in Kampot that some families have invited the police to arrest their children in order to save them from further drug use. There are even some police who have been arrested for meths use. Tuk-tuk drivers offer drugs to foreigners and several tourists have died in Kampot from drugs cut with sand or cement. The drugs problem is so overwhelming that we are all reeling and have not yet any statistics or figures to hand. We now have to be very careful that our own adolescent children from our school don't get involved in drugs through some fellow school-friend, when they attend state school for their scholastic lessons.
Exacerbating these severe social diseases, has been rampant, uncontrolled tourism. Many tourists are now coming to Cambodia for it's reputation of cheap drugs, as well as pedophillia and the sex-trade. As Thailand has been clamping down on these unsavoury persons, so they have turned to Cambodia. Many tourists then settle down in Cambodia on longterm visas and places like Kampot are now tragically full of alcoholics and people of dubious background.
If one can immagine what effect this must have on a society still overcoming deep trauma from the effects of the Khmer Rouge and the civil war which lasted until around 1999, then one can understand how devestating it is.
Paradoxally many foreigners in Phnom Penh come to do business and major business companies are now part of the capital city. Very expensive, private schools stand next to slums, there are luxury resorts and golf courses and many foreigners and wealthy Cambodians live well, quite cut-off from the tragedy which is unfolding in the rest of Cambodian society and possibly oblivious to the poitical state of the country.
Another fall-out is from well-meaning, more respectable tourists "pitying" what they think are homeless children and giving them dollars, gifts and food. Encouraged by this wealth, children are abandoning their families and becoming sucked into the horrors of life on the street. Many get stuck in gangs and become addicted to glue-sniffing and drugs, whilst their families are desperately looking for them. Unwittingly tourists have contributed to a very serious social problem and made it worse.
In the midst of all this, our school sits in Kampot town and we are blessed with being on land that was a former Pagoda, where we have a large garden with flowers and trees and our staff do their very best to give loving guidance to our children, to protect them and keep them well and safe. It is a challenge and we are deeply worried about what is going on outside our school. We stay positive and focus on that which is good, but we remain aware and alert.
Having been in Cambodia for twenty-seven years and with my school since it began for twenty-four years, I am profoundly saddened with what I see. It feels a little like walking in the darkness and searching for a light to see the way ahead. This also applies to the never-ending search for funds to support our children's needs and run our childcare, education and arts programs. My staff are wonderful and are always making efforts to help our school by growing some of our own fruit or vegetables, spices, making shadow puppets to sell and so on, but these efforts though valient are not enough to support all our needs. Yet although the world has moved on from Cambodia and taking care of orphans is no longer "in vogue", there are children at our school, more than at any time in our history, who have endured tremendous suffering and have nowhere else to go, making it imperative that we help them.
Our blind children are doing well. Since they began nearly three years ago, they have developed in their music studies wonderfully and are able to perform with great musicality Mohori, Pin Peat and Yike music. We would also like them to learn the Chapey Dong Veng instrument and we will look for funding to enable them to do so.
They are also progressing well with their academic studies and being assisted by their Braille teacher. We thank the wonderful NGO "Krousar Thmey" for supplying us with Braille paper and paper-punching frames, abbacas for maths and so on. Our school of course sponsors our Braille teacher and all other expenses. Our secretary Miss Sophea also teaches them English and computer studies, meaning that they have the widest skill learning range possible, so that even if they don't choose music as a subject when they leave school, they will have other important skills as well enabling them to work in the civil service for example.
Thank you all for your marvelleous support.
With best wishes from us all at our school!
(Photographs by kind courtesy of Steve Porte, taken with our childrn's permission)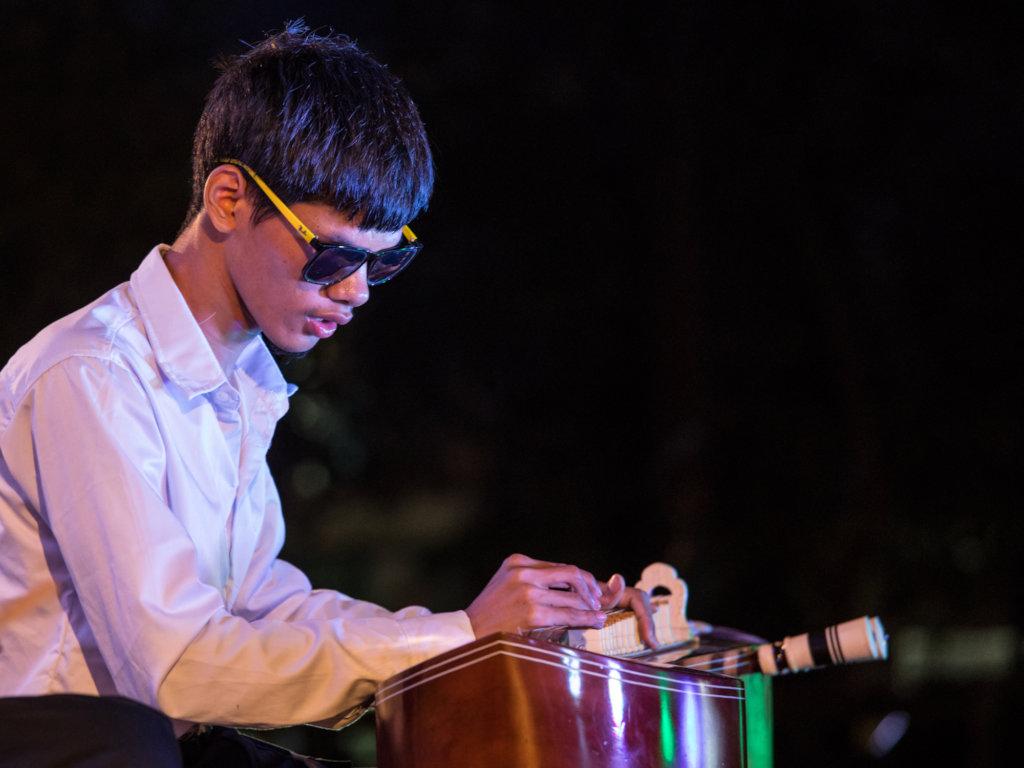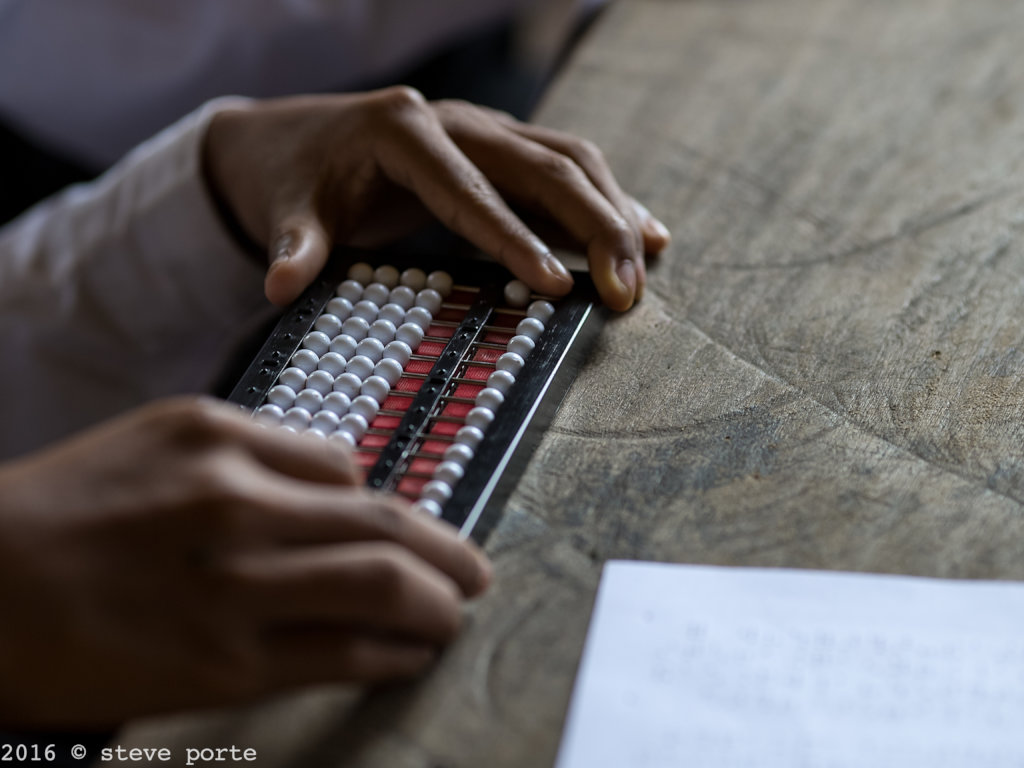 Links: