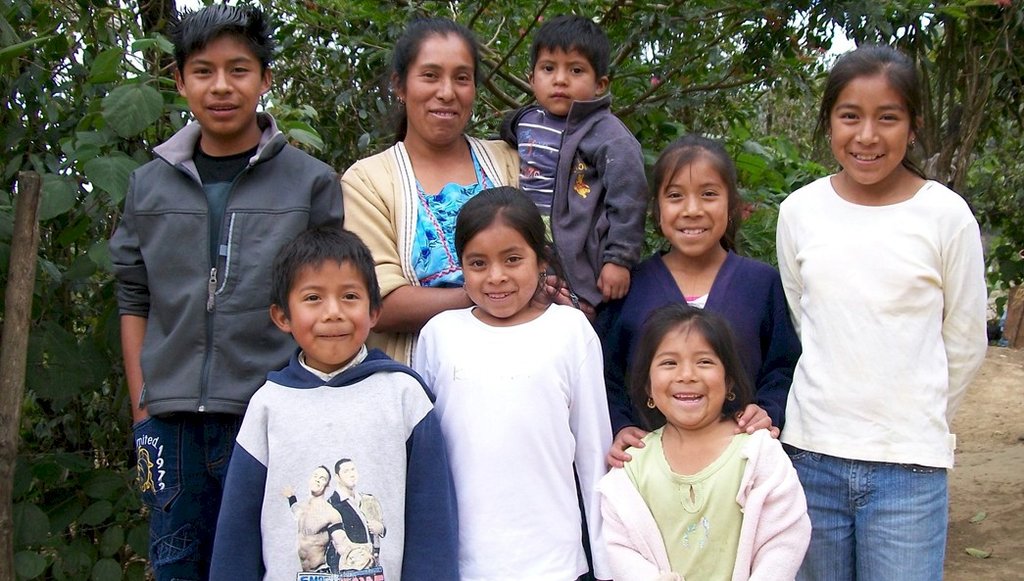 THE ARCHILLA FAMILY
We met the Archila family early in 2011. They live in a charming area only five miles from Antigua called "Bella Vista" (Beautiful View). It is indeed beautiful but also a very isolated community. For a location that is so close to the UNESCO city of Antigua Guatemala, transportation and communication are not easy. Work opportunities are non-existent and most of the people have to travel to Antigua or to Guatemala City. This means getting up at four o'clock in the morning to get a bus to go to work and not getting home until after seven in the evening.
For instance, this family's father has to work in Guatemala city as a mason's assistant and he earns about 200USD per month. His wife takes care of the house, their seven children and sometimes she works in the local agricultural cooperative earning about 50USD every two weeks at harvest times.

This is a lovely family and the parents really wanted their children to study so that they would not have to endure the same kind of life that they have. But, with such small salaries, much of which is spent on transportation and food, their hopes for giving their children an education were never bright. But they didn't give up.
When they learned about the Integral Heart Foundation through one of our former partners in the area, they were willing and happy to open the door of their home to us. It is a very charming block house that the father built with his own hands, little by little when he had some extra cash. Humble but homely. In the beginning, they only had an adobe hut without running water or a sewage system and just one light bulb.
From the moment we met them we started to look for, and evenually found, sponsors for their children. This opened the possibility of buying uniforms, school materials, shoes and paying the required monthly tuitions. This family is now also benefiting from a double monthly food and home provisions basket.
As part of our sponsorship program three of the kids are currently attending our critical thinking (CT) classes provided weekly by the co-Founders of the Integral Heart Foundation and also our Saturday morning tutoring class. This is a program run by the Integral Heart Foundation that is being taught by one of our senior CT students who is also a certified teacher. In this class they work on their homework and performance at regular school.
The kids are happy and doing great. The eldest one, Conal, is studying to be an architect and the second oldest one, Sonia, is studying to be a chef. The others are in various levels of high school. The parents told us how grateful they are for this possibility of learning and study. They knew they wanted it for their kids but never thought it would be possible.
There are other connections we make that are important to progress. The family had the chance to meet two of their sponsors and to welcome them in their home. On one occasion when Andy, the sponsor of Conal, went to their home, he donated a solar unit so they could have their privacy and light for doing their homework.

Please see pictures below of this amazing family and children and our big thanks to all of you who are making this possible.

From the bottom of our hearts, thank you very much!