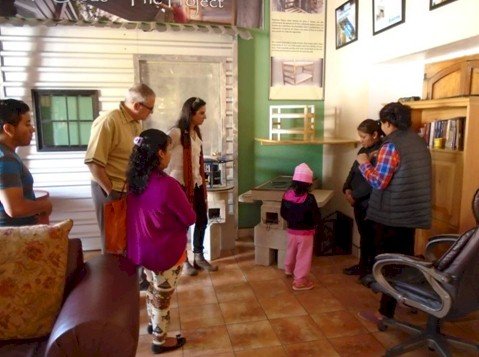 We here at The Integral Heart Foundation are excited to begin a new year full of surprises, adventures, new students and opportunities. We are thrilled with you, our sustaining sponsors who have trusted to support us for over four years now and the newest sponsors who have joined our great heart family.
Just last week, we had the honor of a visit of board member and sponsor Patrick Goonan. As part of Pat's tour of our work we visited the home of one of the little girls he is sponsoring, Dulce. The family didn't have a proper stove to cook with, so part of this visit was to arrange to have a fuel efficient stove installed for them.

And this is the topic for this newsletter.

As part of the sponsorship program, Marisol, our social worker, visits all the families in the program once a month. She makes sure that things are going as well as can be expected withing the family dynamic. She also pays attention to see that the family has descent bedding, suffient lighting, and an adequate bathroom.

One thing she's noticed for some time is the cooking situation at a number of our families. This means; several of our families don't have a stove or stovetop and as is the case with many, the family has a wood-burning stove without a chimney. This leaves most of the smoke inside the homes making them and their children sick and with pulmonary deseases.
As many of you know, we teach our philosophy classes at the Iglesia del Camino in Antigua, a local church whose Pastor, Pastor Mike, gracefully donates that space for us. La Iglesia del Camino uses Cosas Mejores (Better Things), a commercial local company whose field of expertise is to desing and manufactuer wood-buring, fuel-efficient stoves, bunk beds, water filters and other items that are in great need in the surrounding communities. The stoves that we use are sponsored by our donors, made locally and installed by Cosas Mejores. This stoves have the capacity of serving a large family and utilize only 40% of the firewood compared others.
The Integral Heart Foundation have already installed four of these stoves. Today we are going to give an overview in phtoso of some of these families as an example of how we manage the sponsorships we so kindly receive from our donors.

The photos are below and the descriptions for each are as follows:

1. In the cover photo, we are at Cosas Mejores, getting instructions with the family members on how to use this stove.

2. Isai's family is already benefiting from this aspects of our sponsorship program. Before they had an open fire surrounded by blocks without chimney, as you can tell in the picture below:
3. Now they have a fully functioning and more efficient stove. In the house live the father, the mother and four siblings. The mother makes a living by making tortillas and now the cost was reduced considerably, the kids don't have to breathe the smoke and the environment is also wining with this stove. Isai's mom with two of her youngest children.

4. Another image of Isai's family stove in full use.

5. In the case of another family, from the photo you can appreciate the poor state of Dona Sara's original cooking area. As most of our mothers she also makes tortillas for a living.

6. Doña Sara is a widow who is taking care of her four children on her own. She is not getting any widower's pension and her situation is precarious. She receive a monthly food basket from Integral Heart, support for her kids to study and now a more affordable and more efficient way of making her tortillas.

7. Dona Blanca is Dulce's mom. Dulce is being sponsored by our visiting board of director's member, Pat Goonan. In the picture below you can see him at Dulce's home after their stove was installed. Four families live together in this location and they will all use the same stove.

8. Dulce and her grandma beginning to enjoy their new stove

9-10: Here are some images of other families' kitchens that currently need some help. We are looking forward to be able to install new stoves for them.
At the Integral Heart Foundation we feel blessed to be able to do this work and to facilitate small improvements in the lives of those we serve. And this wouldn't be able without the hearts and financial help of all of our donors.
We will continue to sponsor dignity in what that we often take for granted such as having a basic stove.
Thank you so much for following us, for your hearts, for your donations, and for your moral support. It means a lot to us.

With all our love.