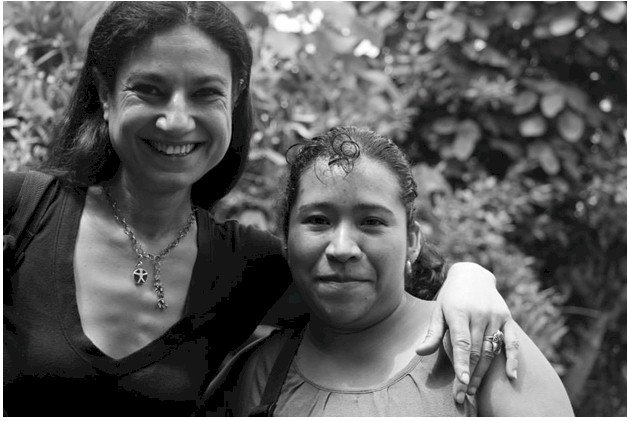 Here at the Integral Heart Foundation we thought that we'd honor one important aspect of our vision; that is the importance of the personal relationships between our sponsored children and their benefactors and Godparents.

As part of our on-going process of forming and sustaining relationships we asked the kids to write letters of appreciation to their sponsors (you can see images of them below). The response was amazing. Not only did the kids do a great job but also their parents joined them in this beautiful effort. We have over 50 sponsored kids now and below is just a small example of the content of letters written by the children and their families.

We hope you enjoy them as much as we did while working on this project.
From Marisol to the sponsors of her children, Zaida, Jose and Freddy:
"I am grateful from the bottom of my heart to you for the help you provide to me and all the families. I was in a bad situation in which I had no idea of what to do, I had beside me a bad man who did not treat me and made me feel very small. He would say things like I was useless, he ignored me and his children and he didn't love them. When I met Debora our lives changed completely. She taught me to value myself and not to be afraid. I am very grateful to my children's godparents because with your help we could make it. My children eat better and have a better home. Thank you very much for all the support you offer us and God Bless you. Because of you my children are studying and will have a better future!"
From Zaida to her Godmother Lisa,
"Hello Godmother Lisa, I hope you are great. Thank you for your support. I would like to tell you that I like to study and I want to learn English and that I like dogs. We have a little puppy and I love her very much, her name is Panchita (NOTE: This is Debora she named her dog after our golden retriever named Panchito! Isn't that cute?). I want to know you and I would love if you can send me a picture of you. I am happy because our mom loves us very much. God bless you and take care of you forever. Saying goodbye to you with lots of love."
From Keyla to Godparents Michael and Michelle:
"Hello, How are you, I hope you are doing great, the reason why I am writing to you is to be grateful for all the help you have been giving me and my family. God bless you, I love you very much and I hope you like my letter ~ Keyla Camey."
From Dona Consuelo to Keyla's sponsors:
"I am very grateful for the help you are giving us. Before they were in a very precarious situation and now that is not the case anymore because of the help received by you. I am very grateful also the Integral Heart Foundation and to all the sponsors who support families.
Keyla is happy because she can be studying and she also can bring juices to the school and food because of the help of her Godparents. She hopes no to disappoint you in her studies and God Bless You. Dona Consuelo."

And, as always, all of here at The Integral Heart Foundation want to express how grateful and honored we are by all of you, our loyal sponsors without whom all this work and smiles would never be possible. Thank you.