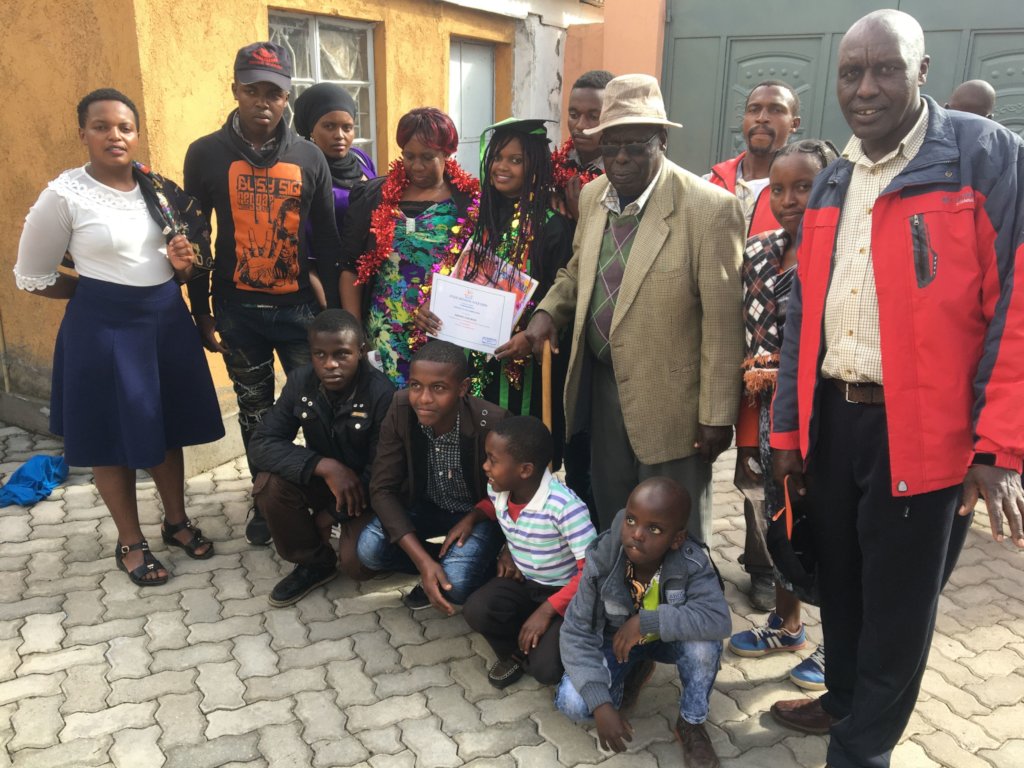 Meet Margaret, along with just a few of her very proud family members on Margaret's graduation day earlier this month.
Margaret comes from a family of twelve, four brothers and seven sisters. She is the last born in the family. Her father is a casual laborer and was not able to take her to college after her form four. Margaret was born as a normal child, able to hear and talk. She went to her nursery class as a normal child. When she was in class two, she developed recurring headaches. She was hospitalized for three months, during this time the worst happened and she lost her hearing ability completly. Her parents could not believe what had happened to their daughter, but afterwards enrolled her into Ngala school for the deaf. During her last year of high school, she lost her mother, who had been struggling with poor health for several years. This left Margaret devastated. She says life has never been the same since losing her mother, until she came to Springs of Hope Foundation's Kijiji Mission project and now sees a bright future ahead
There is indeed a bright future ahead for Margaret, along with the other young women who recently graduated from our 12-month course earlier this month. They have all been offered jobs at a local company. That's right…ALL of the young women, including our hearing-impaired students.
It can be very difficult for the deaf to find employment in Kenya, or anywhere else in the underdeveloped world for that matter, so we are thrilled to know that they will all go on to paid employment when they return from a very well earned Christmas break in January.
We are so very grateful for your continued support in 2019. As we look forward to a new intake of young women in the new year our wish is that you continue to include Springs of Hope Foundation in your charitable giving.
Wishing you and your loved ones a wonderful Christmas and a New Year filled with Many Blessings.
Jennifer Hughes-Bystrom
CEO
Springs of Hope Foundation.org