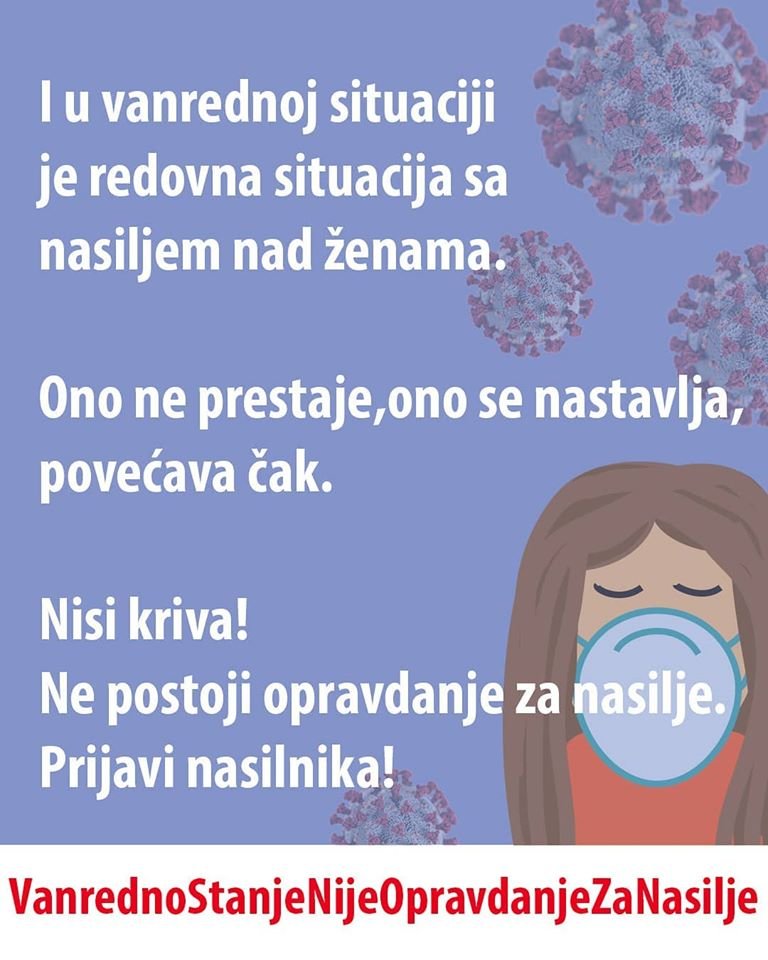 In the last 3 months, our SOS phone rang so many times. 19 different women contacted us asking for help because they are in a situation of violence. In addition to support in the form of conversations, we provided psychological and legal assistance to some of them. You can see what else we did in the fight against violence during the pandemic that hit the whole world in the text below.
A state of emergency is not an excuse for violence
At the beginning of the state of emergency in Serbia, we launched a campaign called "A state of emergency is not an excuse for violence." In addition to our SOS telephone, the posts also promoted the telephones of the organizations we cooperate with and whose work we can stand behind: Pešcanik - Kruševac, Iz Kruga - Vojvodina, EGAL - Belgrade, which we continue in the further course of the campaign. You can see the whole campaign on our FB and Instagram page.
Design of posts: Sanja K.
The emotional creature spoke on International Women's Day
In Niš, 10 activists told the life stories of girls and women who are changing history by changing established rules and traditions. We are very proud of them and on our longstanding contribution to empowering girls to speak publicly about violence.
At the very end, we joined female friends from Croatia with the performance Patriarch Rape! and we sent support to female fighters Latin American women.
Carrying the message "Silence does not protect us" we were together and with our friends from Banja Luka.
We thank our friends from Le Zbor and Oštra Nula for inviting us to join the action.
Photo by: Aleksandra N.
Remembrance Day for Women Victims of Violence

On the occasion of the Day of Remembrance of women victims of violence in Nis, activists of the Center for Girl carried out a street performance "Women's Cemetery," in the crowded Obrenoviceva Street in Niš. During the one-hour performance, passers-by could hear 315 names and surnames of women killed in the last 10 years in domestic and partner violence. The activists of the Center for Girls were joined during the performance by two women, a representative of the organization "Iz Kruga" and a fellow citizen. Today's action caused a lot of comments and was seen by over 1000 people. Interested fellow citizens could take the "Wheel of Violence" with them.

Audio recording: Mariana P.
Photo by: Sanja K, Ivana M.
"Women's Cemetery" Performance, June 2, 2020
During the hour that the performance lasted, passers-by could see the names and surnames of 3 women who were killed in the last 15 days in Serbia in domestic and partner violence, as well as messages about violence against women and femicide. Femicide is the murder of a woman by a man, motivated by hatred, feelings of superiority, ownership over women, and their bodies. Women are most often killed in their homes by their partners, and this is preceded by long-term violence. We distributed pamphlets about violence against girls to our fellow female citizens, as well as the wheel of violence. Many of them commented and photographed the performance, which was seen by more than 1,500 people.
Photo by: Marija V.
Let's be responsible for ourselves and take care of our health
May is the Month of Women's Health, which we have been celebrating for the eighth year in a row. Due to coronavirus measures this year, instead of workshops, we recorded conversations with four women about women's health and ways of caring during this period of quarantine and general concern. They were interviewed and recorded by Silvija M. You can find that interviews on our FB and Instagram page.
As every year on the occasion of May 28 – the International Day for Women's Health and Reproductive Rights, Obrenoviceva Street was full of women's activism today. With another street action where they held a banner and distributed promotional material, Center for Girls' activists pointed out the importance of taking care of ourselves and our health. More than 500 leaflets on the topic of cervical cancer were distributed to passers-by.
Be responsible for yourself and take care of your health because that is the most important thing.
Photographers: Sanja K. and Marija V.
Stay tuned because we can do more together!