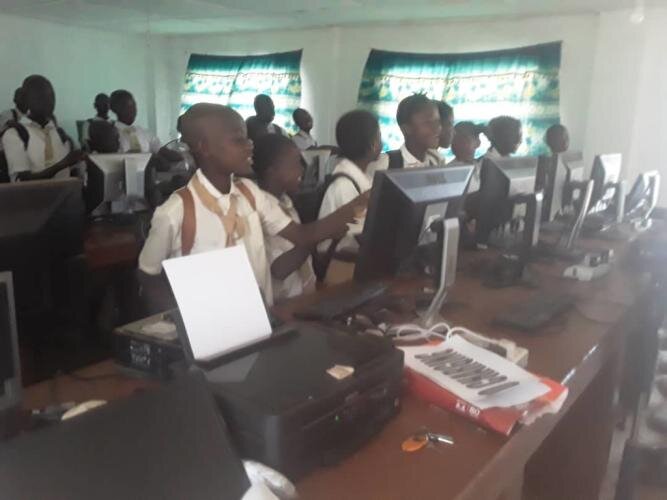 We are super excited to report that computer training has started a new computer lab.
This computer lab is located at the Kamakwie Wesleyan School, in Kamakwie. Kamakwie is approximately 168 miles from Freetown (the capital city), population (around 8000). Many youths in this community have never had access to any computer training - making this an ideal location for this intervention.

Last month, teaching commenced at the computer lab with enthusiastic support from the children, teachers, parents, and community. Currently, the children are receiving an introduction to computers / basic computer training.
The lab was set us as part of a partnership between Develop Africa and Gen Hybrid Systems, LLC.

We are very excited about this opportunity to empower the youths and prepare them for success in our computer-driven society. This training will provide the foundation and the vital proficiency needed for future success.
Your donations will help to cover the cost of chairs, an overhead projector and other equipment we need to enhance learning.
Thanks to you, more youths and young adults are getting the computer training they need for success in today's technology-driven environment.

Our recurring donors are truly making a lasting difference for these future leaders in Sierra Leone. If you haven't had the chance to sign up for a recurring donation yet, we warmly welcome your ongoing support to continue to provide children in Sierra Leone with the educational resources they need to be the future leaders of Sierra Leone.

Please share this project with your contacts and invite them to consider supporting this ongoing project. If you have any questions, please feel free to email us at GlobalGiving@developafrica.org.
Warm regards,

Amy and the Develop Africa team
Links: