Project Report

| Jun 22, 2023
Field report from IT Staff - Support Visit to Kamakwie Computer Lab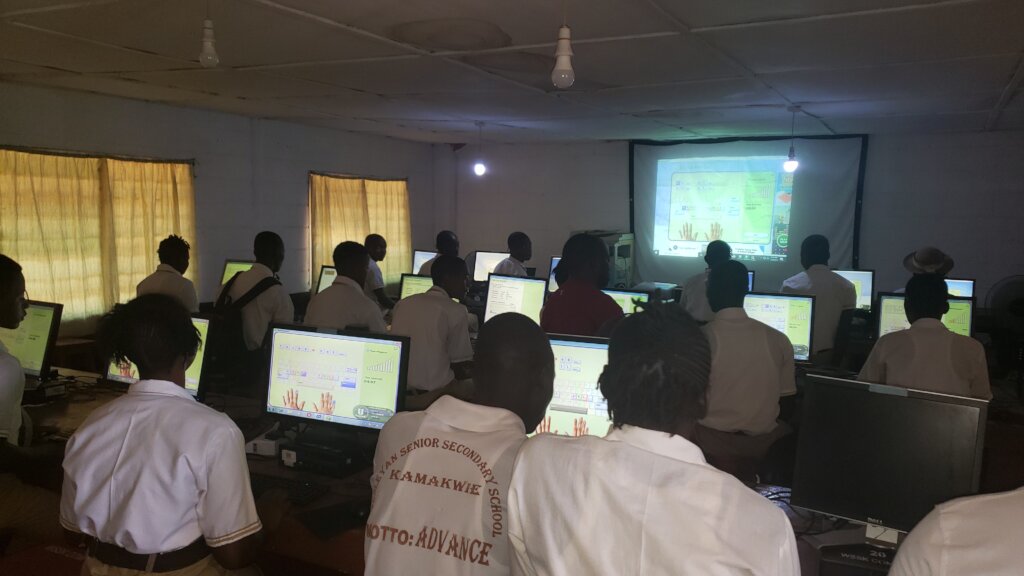 The Kamakwie Computer Lab struggled with regular power outages disrupting computer classes. Thanks in part to donor support, Develop Africa was able to provide the computer lab with a refurbished generator as well as other needed items.
Field report from IT Staff-
Community computer labs are a great boon for poor students to learn new skills in this era of information and technology. And thanks to Develop Africa, I got this golden opportunity to set up a computer lab in the little town of Kamakwie. Here is a report of how things got done.
First of all, I am thankful to God and the sponsors, and the community for affording me this great opportunity. I traveled to Kamakwie to set up the lab at the local school. Some of the equipment I took along was the generator, the computer hardware like CPUs or the system units, monitors, speakers, mice, keyboards, and VGA cables and power cords. We have also equipped the lab with a projector, power extensions, and a standing fan.
We were informed that electricity supply is a big problem in this area and so to ensure that there would be an uninterrupted supply of power to the computer lab, we first arranged for a generator. Hameed Alabere Generators provided us with an old generator which was adequately checked, oil replaced, and a fuel tank filled and taken to Kamakwie computer lab. We successfully set up the computer systems, powered it with the generator, and did a test run of sorts for over three hours to ensure smooth running and solve any problems that could crop up. Luckily for us, there weren't any major hiccups.
Video of updates to the Kamakwie Lab
The next day, at around 8:30 am, I arrived at the lab and powered on the generator. Then, I powered on the computers to complete the installations of software like MS Office, Typing Master, etc. After the software installation, we had one training session with some students for a couple of hours before returning to Freetown.
The entire school appreciated the new development that Develop Africa Sierra Leone provided to them. Apart from the students, we had a good audience from the other members of the community and teachers from the school who were pretty excited to see the new development and to see their children get the opportunity that they had missed out on.
The experience was pleasant and enriching. Again, I am thankful for having gotten this opportunity and feel truly blessed.
We deeply appreciate your ongoing support for the future leaders of Sierra Leone. If you haven't already, we warmly welcome your continued support through a recurring donation. We also encourage you to share this project with your contacts and invite them to consider supporting this valuable initiative.
If you have any questions or inquiries, please feel free to email us at GlobalGiving@developafrica.org.


Warm regards,

Amy and the Develop Africa team
Links: