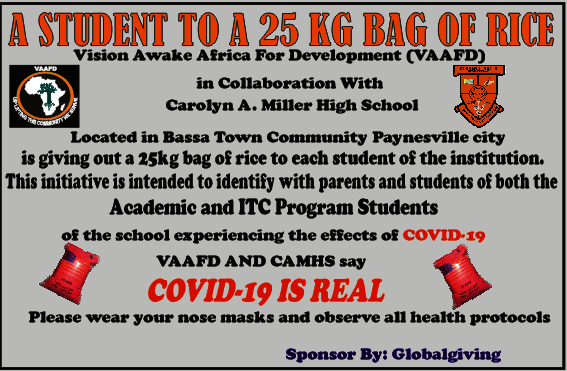 We, appreciate the generality of our donors, friends, and supporters, especially during this pandemic. With
With the support of one of our supporters, we were able to provide our students 25kg bag of rice each of them.
This initiative was done by us who has given her commitment to our project and the children of Liberia.
With our request and the need at the time with COVID-19 and the shortage of rice in the country at that time, it was like giving a child the whole world.
The COVID-19 has negatively affected the entire world especially in the educational sector, kids have to stay home.
The government allowed kids to return to school to complete the school year, that which went on successfully, and school finally resumes in the first week in December.
It has been difficult for our students during this time since they 90% of them are self supporters and we do not have the full support to meet up to their need.
The greatest support we have had for our students has been an education that we continue to provide.
We are grateful for all of the support and love you continue to show to the children of Liberia.