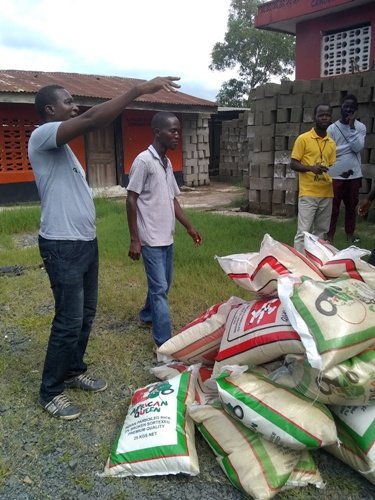 We want to thank our sponsors, donors, friends, and supporters for standing at this point in time with all their love and we want to let you know that we are doing fine and keeping safe.
Liberia like any other country in the world has been hit by the COVID-19 and due to that, schools and all social gatherings have been shut down by the government in order to keep the health rules. It has been a real challenge for our students, teachers, and the entire community in turn of food and basic social need.
We are dealing with students who are vulnerable 80% of our students are self-supported, they do street selling after school to be able to survive and this time really critical them as well our teachers who are paid between $50-150.00 per month.
We are institution was to provide for each of the teachers a bag of 25kg rice to enable them to have small food for them and their family while on lockdown.
In the meantime, we are in partnership with Mentor without Border providing for 16 students computer skills in programming, mobile app development, website designing, and graphic design. Before the lockdown, they all were meeting at the school to do their study but they all are now staying in their various homes to do their studies as the health protocol required.
Their mentors meet them every Saturday and they give them the entire week to study. The government has announced the reopening of all students sitting for the West Africa Senior Secondary Examination in August this year.
We are currently undertaking a renovation and preparing the school campus for the reopening of school this month. We seeking support for our Internet connectivity to enable our students to be able to go online to their study, do research, school assignments, and the CC camera at the school which only works with internet connectivity.
We will need $150.00 as a flat rate for internet data every month to help us smoothly run ITC programs. We want to ask our donors to kindly help us in this direction. We want to thank you very much for all of your help, support, and endless love for the children of Liberia.
You are doing a great job and making a great difference and we are so proud of you and we want to say that we appreciate your love.