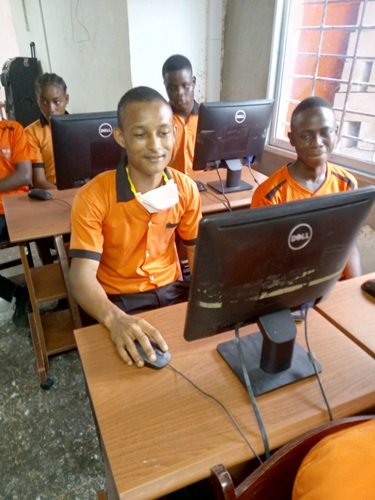 We are grateful to Globalgiving, our partners, supporters and donors for the support they continue to give our organization over the years. We want to inform you that we have finally completed the installation of the solar system at the school, the computer lap is running, and the science lab are now a great benefit to the students at the Carolyn A. Miller School.
Both staffs and students are effectively taking advantage of this great opportunity given them to have a complete access to computer education, school don't to go through the stress of allocating resources to buy fuel and run a generator that is very expensive and unhealthy.
We are grateful for this opportunity great given us, it hasn't been easy for us to do our school work; every school work we did in the past was always expensive to be done and being delayed since we had to either take out outside the campus to café to be done or run a generator.
We really want to thank the donor and his family for his farsightedness and commitment to our project and the children of Liberia.
Our school music class has also getting started since we now have current at the school and they can be able to use their instruments and more time to practice. We got the donation of the musical instruments a couple of years ago from a student from the Laurence School in California but it has really been difficult for us to use them since we never had current.
Many thanks again to globalgiving, our donors, supporters, and friends for their continual support to our project.
We also want to inform you we need an internet connection for the solar system it is use to monitor the system and we also need the Internet connection for the student resource center that will help them with their studies as well as teachers research.
We have been making cement blocks for the school project and we are hoping to get it started this dry season therefore we are asking for your support and donations.
Thank you again and we are proud of you, you are making a difference if it hadn't been for you we couldn't have been able to continue this work. We are asking for support to enable us to undertake and complete our school construction project.
The current building we are using is an old building and it was originally constructed for dwelling not for school therefore we want to formalize it as a school building for the kids.
Thank you and we are happy that we have your support.