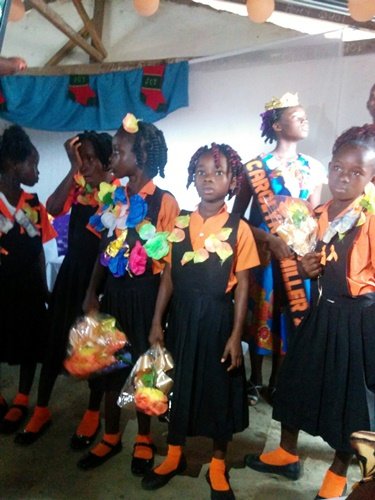 We had a successful academic school year and the Kindergarten had a wonderful graduation which was held on July 24 and the grade 12 graduation will be on August 25, 2018. We are thankful to our donors and supporters for their continuous love and commitment to this institution and the children of Liberia. Finally, our science Lab equipment has arrived from India and the chairs are production and we hope that by the end of this month the production will be completed and transported to the school for the kids use. The school computer lab has been down for years due to many factors including a lot of electricity, computers breakdown etc. The kids Pen Pals program with Laurence High School was very interesting and many kids are happy to join the project and we are grateful tot he Laurence High School family for their love and relationship with our school.
We are so grateful to all of our supporters, donors, and friends who are making all of the sacrifices with their resources to support this project and you are playing a major role in the reconstruction of Liberia thank you very much.

In remembrance of all the gifts we have received last academic school year, on behalf of our students, staff and the entire institution, we want to say thank you for your involvement by supporting this cause and this organization. Thank you for investing in the future of the needy and the vulnerable kids of Liberia and Africa. Donations and gifts received were wonderful especially those toward the chairs and science lab equipment. The students have been out of seats and that has an embarrassing situation but many thanks to the entire GlobalGiving team for all their help and support by advertising our project and organizing all of our donations.


Many thanks again to our donors and supporters and as much as the financial aspect of this project is very important to us; we also take into consideration your ideas, your participation as well as your total involvement. Please feel free to contact us with your ideas, questions and please be aware that you are a major and a noble player of this project, therefore, you need to know how your resources have really been managed. We also need you for decision making since you are a shareholder in this project. The survival of this project is 100% dependent on you. Without your donation, we will have no means to run a free school for these kids.
We have been involving with renovation fo the building and this has cost us so much money to do and all of those funding came from you thank you. In our next report, we will present pictures of the current work ongoing. We need a bigger space for our science lab, therefore, we are seeking donors for the of construction that space.

Thank you so much for supporting us and your commitment to this project to the Liberian kids. We highly appreciate all of the kindness and the love you continue to show. We want to say thank you, and you are a good team player, as you keep us in your loving heart. We want to hear your views and ideas as we build a team and a network with VAAFD and Carolyn A. Miller School in helping the poor kids of Liberia.