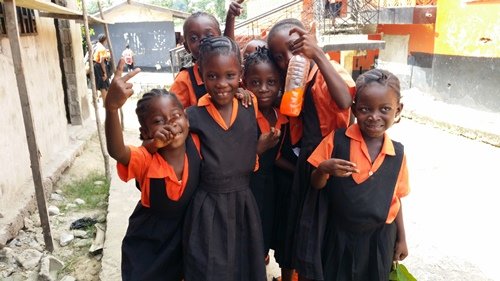 We have three most months to come to the end of the 2017/2018 school years we are having an excellence school year really. Our grade 12th students just completed the WSSCE examinations on April 20, 2108. We want to give our donors, supporters and sponsors for job well done and we want ask for continual to make this program a success.
We are happy to have you as our supporters and donors, the decision you have made is making a significance impact on the lives of the children of Liberia thank you very much.
Our institution continues to build a strong relationship with the Laurence High School family and we are really experiencing a major growth in this relationship. On April 11, 2018 our both schools had a live video chat and that it was really interesting and that has created a lot of bond between the two institutions. Interesting it was the first time for many of our kids do a live video chat and to interact directly with American kids.
We are so proud of the Laurence high school family for their love and great relationship we all continue to build over the years. The interesting thing about this program is that the both schools students have the opportunity to learn about each other country and cultures.
We want to thank our donors and supporters again especially those that continue to undertake special project in the school. We are so proud of you and we appreciate your love and your commitment to this project. We are thankful to our special donor who has paid for the entire science LAB equipment for the school we really appreciate you. Science LAB is now a major requirement for all schools in Liberia since Liberia has now joined others ECOWAS countries to write one common exam WSSCE.
The school is faced with a lot challenges right now there is no chair and desk for kids to sit for their learning and this has been a troubling to us but one of our special donors and supporters has promised to undertake this project and we so proud of her. She is always there for us giving her support and love to this program and the children of Liberia. We remain grateful to her and her entire family for their love and cares.
Others major challenges faced with the school are the reconstruct of school and qualify teachers. The current building being used to operate the school is an old existence building which built for dwelling and since we own it now we want to make it out of actual school building. But we want to do this development gradually, if anyone is touch to give us their support and contribution. No amount is small for this project $10.00 can buy a bag of cement, $240.00 can a truck of sand, $14.00 can buy 14 inches steel rod, $6000.00 can build entire classroom and print your family name on it. We will right away start this project as soon as donations start coming in so that we be able the kids will have a conducive learning environment. The issue with the qualified it is a major challenge that is facing the entire country, most of the teachers are not qualified therefore it is affecting educational system in the country. We want to gradually send our teachers to teacher training institutes in the south region to enable the institution get qualify teachers that will be able to prepare our students.
We are so thankful to them and all those who continue to give their love and support, you are making a difference and building the human resources of Liberia to reduce poverty which is a killer disease that kills millions without curse.

Please continue to give your support and love without you we will not have such a program to support these less fortunate kids.