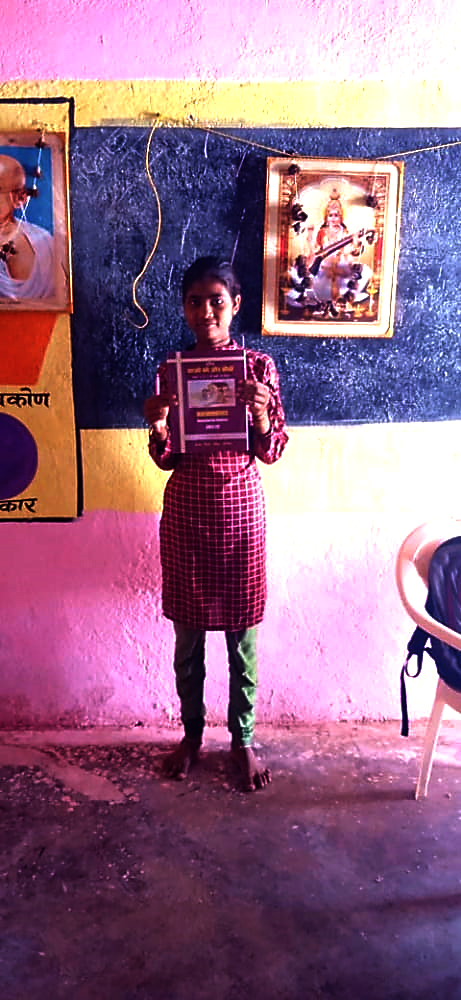 13-year-old Anjali* of a remote village in Madhya Pradesh, India had to drop out of school to help her family in farming when she was just 8 years old. She loved reading and writing, but her family considered education a waste of time and money. They believed that instead of going to school, she should work on the farm with other family members to save labour cost. Her dream of continuing her education came to an unexpected halt.
Anjali spent most of her time in the farm fields and doing household chores. Seeing her working, other people of the village also got their girls out of school. During the absence of regular classes during Covid, most of the parents felt that girls should not go to school again but work on farms.
Educate Girls' Field Coordinator Dinesh Rawat got to know about the situation of the village from the school teacher.
"When I reached there with our Team Balika (community volunteer), we were shocked to see young girls working on the farms. We immediately made a plan to speak with the parents of the children," shared Dinesh. "We went to all the farms to speak with the parents of the children. However, some asked us to talk later, and some ignored us. We decided to speak with the Sarpanch (head) of the village and urged him to help us speak with the parents," he added.
The village sarpanch decided to call a meeting, where he invited the school teachers and all the parents. In the meeting, Dinesh told everyone about the importance of girls' education, how educated girls can support their families, and government education support schemes and benefits. While most families agreed, Anjali's father refused saying she has been out of school for many years and she can't study now.
After hearing this, Dinesh informed everyone about Camp Vidya (Camp of Knowledge), a community-based learning initiative by Educate Girls, where children learn in a fun and interactive way in their safe environment. He urged everyone to send their children to the camp for 2 hours daily and explained that the team is following all the guidelines and safety measures.
Finally after multiple meetings, the parents got convinced to send Anjali and the other girls of the village to the camp daily. Anjali studies for 2 hours a day, and after that, she helps her family. "I am going to Camp Vidya daily, I love studying maths. I couldn't even write a word when I first went to the camp, but now I can write an entire sentence and even count numbers. I even help my father with calculations. I am excited to go to school again after 5 years!" shared Anjali.
Learning about Anjali's progress, her family decided to enrol her back in school and support her education. Anjali is now enrolled in Grade 5.

*Name changed to protect the identity of the minor.
Links: